Want to use essential oils but unsure where to start? If you`re still wondering how to use essential oils for skincare to reduce the use of synthetic-made facial creams and serums then this post is for you.
We`ll look at how essential oils are beneficial and how to use them safely and achieve the desired results.
The term essential oil is often seen in the beauty industry. Wondering what these essential oils are?
Then, here is all about essential oils for you.
These oils are plant extracts that are concentrated.
Most people are familiar with rose oil, lavender oil, and tea tree oil. Apart from these, thousands of essential oils are prevalent in the world. Each has its benefits, texture, and smell.
If you think that only the beauty industry makes use of essential oils, then you need to update yourself.
They are used for cleaning and inhalation too. Few oils are pain inhibitors. Aromatherapy with lavender oil can alleviate stress.
It also has fantastic benefits for improving menstrual pain.
When it comes to skincare, the myriads of choices for specific uses can make you confused about which one to be chosen for use.
Why Patch Test Is Required Before Using Essential Oils
A few essential oils are phototoxic.
They contain bergamot, for instance, lime and lemon oils include this substance and citruses too.
Which means they cannot be used for more than 0.5 % on the skin.
Also, the extraction method decides the phototoxic nature of the essential oil.
When distilled or steamed, bergamot does not lead to phototoxic nature.
But, it does when it is cold-pressed.
Using certain essential oils like clove and cinnamon can lead to irritation on the skin, even on the non-sensitive skin.
This is also the reason why a patch test is recommended on the skin surface before using any essential oil.
Dilution Of Essential Oils
Diluting essential oil is also a wise choice. The risk of adverse effects is brought down when diluted.
Mixing it to parts of carrier oil is called dilution.
Usually, argan oil or coconut oil is the choice. Check an earlier post on the uses of coconut oil and benefits.
Dilution does not bring down the positive effects of the essential oils. These oils are loaded with positive results, further adding to the overall impact on the skin.
Here`s A List Of The Best Essential Oils For Skin Care
Read on to know about the top essential oils and their uses so that next time you have a specific skincare need, you`ll know which essential to look for.
This brief note gives a complete picture of using essential oils for your skincare, and other effects.

The amazing smell of the oil can soothe the mind, and it is an excellent option for aromatherapy.
This oil has lots of anti-inflammatory properties. Wounds can be healed with ease, this oil helps in collagen production.
Collagen is necessary to improve the elasticity of the skin, and this is why lavender oil is always part of the anti-aging skincare routine.
You can mix aloe vera gel with 3 lavender oil to apply on the skin. Wash off after 20 minutes for a brightening effect.   
This is an essential oil for people with dry skin. It is loaded with anti-inflammatory properties and anti-microbial properties.
When you are looking for oils to improve the skin tone and texture, then rose oil must be included in your skincare routine.
If you want to keep the skin hydrated then Rose oil should be your go-to.
Rose oil is mainly useful when it comes to managing conditions like psoriasis dermatitis.
Studies state that inhaling rose oil alleviates stress. When stress is the reason behind aging, using rose oil can reduce the aging, and remove acne triggers.
Tea Tree Essential Oil
This is a standard-essential oil for ace clearing.
If you are searching for oil to remove blemishes off from your face, then trust tea tree oil.
It can remove the bacteria that lead to acne breakout.
In an earlier post, I discussed other ways of dealing with acne and you can find the post here if you missed it.
You might also like
Best cleanser for acne-prone skin
The triggers are prevented in the very initial state. You can mix this oil with honey in the ratio of 6 drops per teaspoon of honey.
Apply for 15 minutes and then wash off then using your usual skincare cream.
On a side note, some may find Tea Tree essential oil smell overpowering, but mixed with honey, you`ll not be able to smell it as much.
This oil has an antibacterial effect. This can be used for healing wounds. Take 10 ml of carrier oil. 
Any oil you choose is fine, this can be coconut oil, argan oil, olive oil, etc. Mix 2 drops of clary sage oil. Apply on wounds too.
To clean your face of acne scars, apply on your face, leave it overnight if you can.
Wash your face in the morning. You can try this till the acne clears and heals.
Geranium Oil

This non-toxic and non-irritating oil can be used to alleviate congested and clogged skin, eczema, and dermatitis.
Take coconut oil in a spoon and mix 3 drops of geranium oil. Apply on the face when you are ready to go to bed.
Try this every day or on an alternate for clear skin.
Rosemary Essential Oil
Using rosemary oil, you can prevent free radicals from damaging your skin, and boast a youthful complexion.
For this effect, mix 6 drops of Rosemary essential oil with a spoon of aloe vera.
Apply on the face, and leave it there for 15 minutes. Wash off. Try this daily for the best effects.
Rosemary Essential oil is very highly rated by many users check here to view some very positive reviews.
Consider using lemon oil for anti-aging effects. Take a generous amount of safflower oil. Mix 20 drops of lemon oil to it.
Apply all over the face and neck. Massage thoroughly, and leave overnight. Wash off the next morning.
Mix 1 spoon of almond oil with 4 drops of sandalwood oil and lemon oil. Massage with the mixture on the face and neck. Check more tips on diluting essential oils.
Leave for half an hour. Wash with water. This can relieve from acne and other skin infections.
Check an earlier post on removing teen acne here if you missed it.
The smell of sandalwood oil can also enhance your mood. It also has properties to reduce the chances of skin cancer.
Are Essential Oils Good For Everyone?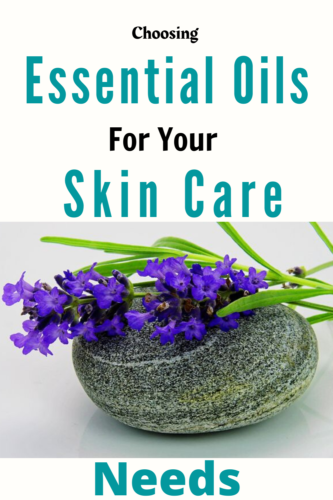 Just like everything else, essential oils will not suit everyone, some people have great success with essential oils.
Others may not see positive results or even have skin problems requiring other treatments to minimize the damage caused by the use of essential oils.
If they're working for you, then there's no reason to give them up.
But if you`re just getting started with them, go slow and do a patch test on every product you're introducing to your skin.
Remember essential oils are not like chemical mixed skincare products, they may take longer for you to see results so be patient.
Conclusion On How To Use Essential Oils For Skin Care
Plant-based products are always better choices than chemical-based cosmetics products.
So, use these oils to suit your needs and enjoy clean, bright, and blemish-free youthful skin.  
Most essential oils are antibacterial but can also be used to balance our minds, bodies, and spirits.
Essential oils are highly concentrated liquid derived from a plant's flower, wood, or leaf.
Best Place To Buy Essential Oils Online
There are more essential oils than mentioned here, this means that your local essential oil shop may not have what you`re looking for.
Online stores have a large selection of stores where you can buy essential oils safely and at affordable prices.
CBD has a large selection of essential oils that you can choose from.
Amazon is another online store where you can buy essential oils.