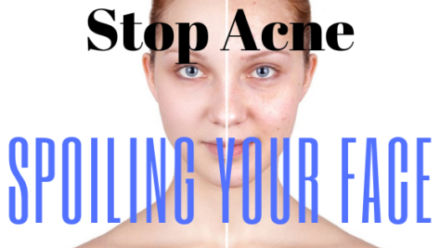 How can you know what are the best acne cleansers for YOUR skin?
If you are suffering from acne, the best way to deal with it starts with proper cleansing.
Not with just any product, as you probably already know, not all skin care products give the same results.
Acne is an extremely common skin problem. It is not just a teen skin problem. These pesky zits and pimples can very well break out at any age.
There are several acne preventive creams, serums, and treatments available.
However, a specialized face wash is needed that is suitable for your skin type. This protects your skin from recurring acne.
Some of the acne cleansers and face washes can harm your skin while others can be too mild to treat acne issues in the first place.
No Time To Read The Whole Post? Check Our Top Recommended Products
Acne Treatment Body & Face Wash
Glycolic Acid Exfoliating Cleanser
Salicylic Acid Cleanser 
The Acne Control Regimen
Causes Of Acne:
Acne does not just occur, things like oral contraceptives can trigger an acne attack, you can read more in detail from the Mayo clinic here.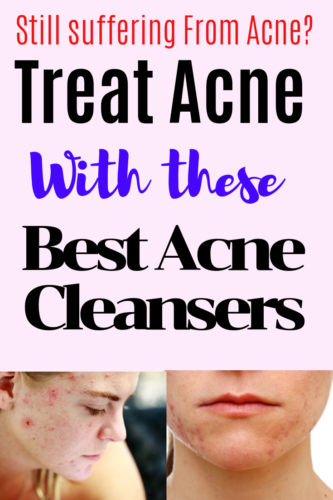 Hereditary conditions,
Junk food consumption,
Makeup,
Pollution,
Unhygienic face products
Blocked pores,
Hormonal imbalances
People who are suffering from skin acne have mildly sensitive skin.
However, this is not always the case because the change in weather or even too much oily food intake can cause a change in skin texture and type.
There are four skin types:
Normal skin- well-balanced in the secretion of oil.
Oily skin that secretes excess oil throughout the day.
Dry skin that secretes less amount of oil.
Combination skin is at first dry skin that turns oily later.
These skin types are further classified as sensitive and non-sensitive.
Before selecting any skin care product, you must always be aware of your skin type and whether the product is suitable for your skin type or not.
How to Wash Acne-Prone Skin The Right Way
The proper way of washing your face if you have acne matters, don`t end up buying product after product and seeing no positive results.
So there`s the right way to do it correctly.
Wet your face with warm water
Lather the cleanser of your choice over all of the face
Use your fingers or skin-cleansing brush system and give your face a good gentle scrub.
Rinse well with warm water to remove the lather entirely.
The acne cleanser ingredients will stay on your skin after rinse off, but the cleanser's foaming agents, as well as built-up dirt, oil, dead cells, and bacteria, will be rinsed off of your skin."
Sometimes we buy the most expensive acne cleansers but do not use them well, use that cleanser if you want to fight your acne and succeed.
For best results, wash your face twice, morning and evening, to thoroughly remove dirt, cleanse and deliver acne-fighting ingredients to your skin.
If you feel you can`t do it twice a day, make sure to remove your makeup every day before bed, the dust, dirt, and sweat do your face no good if you make it a habit of sleeping with your face unwashed.
Key Ingredients Of The Best Acne Cleansers
The best acne cleansers at the very least should have one of these key
ingredients:
Salicylic acid,
Glycolic acid
Benzoyl peroxide.
These ingredients can penetrate deeper into skin pores. It helps in the thorough cleaning of the impurities collected in the clogged pores.
Impurities like dead skin cells, leftover makeup, excess oil, and bacteria need to be cleaned.
This is because they are the root cause of irritated skin and end up making the acne worse.
The list given below features some of the best acne cleansers for acne-prone skin.
Jan Marini Bioglycolic Face Cleanser
One of the top choices of dermatologists. This is a gentle soap-free and non-irritating face wash.
It has the combination of cleansing and the exfoliation of glycolic acid with sorbitol which is a natural humectant.
Sorbitol is derived from berries. The formulation leaves the skin soft and hydrated.
Using this, the skin does not feel the need for a toner or astringent after use check the benefits of astringents here.
Misumi Clear Skin Salicylic Cleanser
This is the best acne cleanser suitable for all skin types a product really worth buying.
Misumi is a powerful blend of Lactic acid, Glycolic acid, and Salicylic Acid. Misumi has a calming effect on skin breakouts and softens the skin.
It also helps in the fast reduction in the redness and swelling caused due to breakouts.
This cleanser has a deep pore-penetrating power. This product works to remove impurities such as dead skin cells and excess oil from clogged pores.
It also helps in boosting collagen production and promotes healing. It helps reduce fine lines and wrinkles.
SkinCeuticals LHA Cleanser Gel
This acne cleanser features a potent combination of Ascapryloyl Salicylic, Salicylic, and Glycolic acids. It is an exfoliating powerhouse.
It can penetrate deeper into the skin to clean the clogged pores of dead and damaged skin cells. The result is smoother, softer, brighter, and blemish-free skin.
You might also like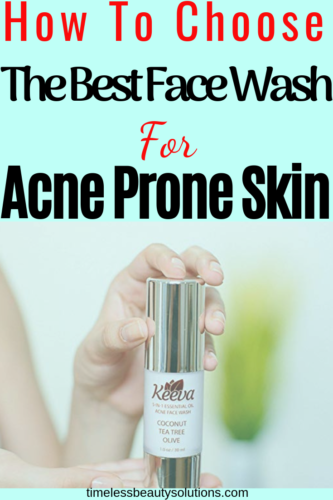 Facial Cleanser From Exposed Skin Care
The facial cleanser from Exposed Skin Care contains natural sage extract which detoxifies the skin.
It does not dry out your skin or cause skin irritation as Salicylic Acid in this cleanser is in a rather small, gentle concentration.
It is best suitable for oily skin types. However, it works on all acne-prone skin types. Those who have skin allergic to salicylic acid are the exception.

It is available at the best price that beats ProActive and some of its tough rivals by far. It lathers well and hence, a single bottle goes a long way.
The facial cleanser is pro-vitamin B5 which helps in regulating skin oil production.
iS Clinical Cleansing Complex
iS Clinical Cleansing Complex gives your skin a new texture to give it a smooth and blemish-free complexion. The white willow bark acts as the exfoliator.
It breaks up oil clogging the pores to boost cell turnover. It helps in tightening the appearance of skin pores.
The product contains antioxidants that are derived from chamomile and Centella Asiatica.
Antioxidants heal skin damage and prevent harm caused by free radicals on skin complexion.
This clarifying face cleanser is formulated for both men and women and all skin types. It can also be used to remove makeup and as a shaving cream.
Keeva Organics Clarifying Acne Face Wash

A refreshing face wash for a powerful deep cleansing.
It is soothing and refreshing to the skin. It has no chemicals and is made with Non-GMO ingredients.
This face wash leaves your face clear and smooth.
The main ingredients are organic tea tree oil and Aloe Vera. They penetrate deep into the pores and kill acne-causing bacteria within seconds.
It has disinfecting and soothing properties which won't cause any harm to the skin of its natural oils or cause any further damage. It is best for all skin types.
Do cleansers clear acne?
Although cleansers help, it`s not enough to clear your acne, you need to have follow-up products like skin peels to open clogged pores and toners to remove excess oils and dirt and products for acne creams.
The right acne cleanser will help reduce breakouts.
Proper and thorough cleaning of your skin will remove dead cells, open pores, and make your skincare be absorbed much better.
Conclusion The Best Acne Cleansers
Only using the face cleanser is not enough for acne-free skin. Half of the battle is won by washing your face properly with warm water and toning.
This should be done before using a face cleanser. It is also important to choose your product depending on your skin type.