Keeping your face clean by washing it regularly is very important in fighting acne and if you want to fight acne successfully, you`ll need to use the best cleansers for acne prone skin and this is what this post is all about.
 A large number of people end up worsening their acne problems by using a wrong face cleanser. This is because, a wrong cleanser for your skin type can lead to dry skin, flakiness and breakouts.
Those who are suffering from skin problems get adversely affected due to the use of the wrong kind of cleanser. Examples of skin problems: eczema or rosacea. Before you continue, read our earlier post on using Microdermabrasion to remove acne scars if you missed it as it`s an interesting post that informs you of other ways to remove acne.
Types Of Skin Cleansers
This type of cleansers produces foams due to anionic surface acting agents such as surfactants or detergents. They have the greatest cleansing potency. However, they work on removing lipids from the surface of the skin and tend to damage the protective barrier. That is why only the people who have skin with excess sebum production should use it.
This type of cleansers is creamy and milky without foam. It has a neutral PH level. These non-foaming cleansers are most suitable for people with dry skin. It doesn't work well while cleaning oily skin.
Salicylic acid (SA) type cleansers have anti-inflammatory properties.  Salicylic acid can penetrate deep into the skin pores. Hence, they prove most effective in cleaning the clogged pores. They work for people with oily skin, sensitive skin or rosacea.
The deeper exfoliation of the skin enhances barrier penetration. Salicylic acid helps with that.
Antibacterial Facial Wash
Antibacterial cleansers constitute of ingredients that reduce P. Acne another skin bacteria. Benzoyl peroxide, silver and sodium hypochlorite are the main ingredients. Benzoyl peroxide can be irritating for the dry skin so know your skin type before deciding on what to use.
Choosing The Best Cleansers For Acne Prone Skin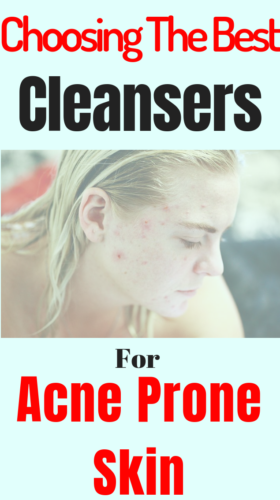 Choosing the best cleanser for your skin depends on your skin type. Is it oily, dry or combination type?
Foaming cleansers never work with dry skin that is prone to acne.
People with sensitive skin suffering from acne should never use scrubs, loofahs and any other type of rough exfoliation.
Salicylic acid (SA) cleansers work wonders in preventing clogged pores and help exfoliate dead skin.
Creamy cleansers come with the additional advantage of being effective at makeup removal.
First Aid Beauty Facial Cleanser
This cleanser is good for all skin types: Normal, Dry, Oily, Combination, and Sensitive skin. It is a gentle cleanser and fragrance-free. It is very effective in the removal of make-up, dirt, and grime. The result is soft and supple skin.
It helps in dealing with dryness and redness of the skin. It has a whipped texture which gets transformed into a sumptuous cream when you blend it with water.  The face cleanser is infused with a powerful antioxidant blend.
The antioxidant helps in safeguarding skin against environmental aggressors and prevent skin irritation. First aid beauty cleanser also helps in maintaining natural skin pH level and reduce any flair-ups.
It has no parabens, sulfates, and phthalates. It is non-allergic and safe for sensitive skin.

Philosophy-Purity Made Simple Cleanser
Purity Made Simple Facial Cleanser is suitable for all skin types.  It is a face wash for easy and one-step face cleansing.
The product deals with skin concerns such as clogged pores, dryness of skin, dullness and uneven skin texture. It is free of phthalates.
(this product has almost 2000 five star reviews from users)
It is an award-winning and America's number 1 facial wash. It washes away the dirt, oil, and makeup from the skin. It hydrates the skin so that skin is perfectly cleaned and comfortably balanced.
This cleanser is gentle enough that it can be applied around the sensitive eye area. It offers deep cleansing of the pores. It leaves no residue behind.

This cleanser is suitable for all skin types. It is a mild cleanser with medicinal properties that help fighting skin acne. It deals with skin problems like acne, skin blemishes, clogged pores, and excessive oil production.
Clinique is a gentle cleanser. This cleanser fights acne breakouts effectively leaving behind soft and smooth skin.  It has no parabens, sulfates, and phthalates. It has been allergy tested. It is fragrance -free.

This cleanser is suitable for all skin types. It is a very powerful cleanser. The two types of salicylic acid found in it works to purify the clogged pores and treat acne. It deals with skin problems such as acne, skin blemishes, oiliness, and clogged pores
It helps prevent future breakouts. The green tea extract present in it helps in soothing any skin irritation and making skin look and feel healthy. This cleanser is cruelty-free and is formulated without gluten.
Conclusion On The Best Cleansers
Many of us have had been through stages of life where we had our fair share of acne. Skin acne in adults is just as common as it is in teenagers.  
And there is no miracle all-cure for acne. It is an ongoing battle. Acne can lead to physical and psychological scarring. There are a lot of treatments that do deal with acne with results. They help prevent flair-ups. However, it is essential to know your skin type before you go ahead with any of these treatments.
You Might Also Like