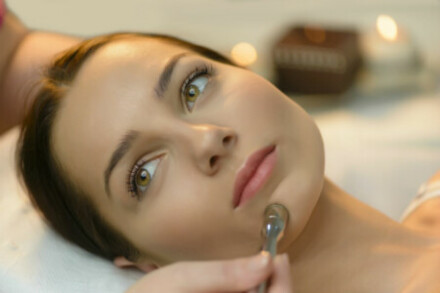 Zeny Pro Diamond Dermabrasion Microdermabrasion Machine
The Zeny Pro Diamond Dermabrasion Microdermabrasion Machine gives you the freedom to enjoy a skin treatment right at home. No more appointment hassles, and no more spending hundreds of dollars after spa treatments!
The product claims to brighten dull skin, make the skin tone even, remove the dead cells, improve skin texture and reduce any age spots. The proper exfoliation of the skin also enables skin care products to properly get absorbed into the skin.
This Pro Diamond Dermabrasion Microdermabrasion Machine does not use any crystals or laser technology. It is easy to use at home.
Easy to assemble product meant for personal use
It reduces wrinkles and fine lines
It can be controlled easily without any side effects
It is a safe and reliable product
It is safe to use for all skin types
It does not include any chemicals or crystals
The device works well for home use
The required max suction power range is 65-68cmHg
Pros:
Zeny Pro machine has the perfect suction like the professional machines at spas. It comes with several heads, so you can choose the one that suits your skin type. The suction power is strong and you can adjust it as per your preference to get perfect results.
The tips and wands that come with this product are professional-grade. Customers who have used this product say that they experienced visible results after a single use.
The product comes with an easy to read manual with instructions on how to set up the machine and how to use it for best results.
This microdermabrasion machine is suitable for all skin types. It helps in healing the enlarged skin pores, fine wrinkles, blemishes, and aging skin.
At the time of writing this review, the price of this machine was $141.99, which is pretty reasonable for home use.

Cons:
The Zeny Pro machine is bigger than expected and some customers did not find it comfortable to use such a big product at home.
The instructions are translated from an Asian language so there are a few grammatical errors but it is not difficult to understand.
Summary:
If you are looking for a low cost yet professional-grade microdermabrasion machine then the Zeny Pro device works best. Although a little bulky, it comes with excellent suction power to rejuvenate your skin and make it look great.