We all have different requirements for our skin over the course of a lifetime, but one thing is certain: how you treat it will make a difference.
 If your favorite foundation isn't working anymore and/or there's nothing available that seems perfect enough to fit what needs matching with yours then let me introduce some top-rated products that will make a difference.
I explore in this article why mature-skin-friendly products exist (and which ones), so keep reading if anything interests or concerns you.
As we age, our skin changes and we get dry skin, the way you care for your mature skin will make all of the difference when choosing a new foundation.
 If your favorite product no longer works well on mature or dry patches but feels too rich in other areas such as around the nose area due to lackluster coverage then I would recommend the best coverage for mature skin that will not disappoint you.
Changes to your skin as you get older
Although we all know the signs of aging on your skin, such as wrinkles and sagging – it's important not to forget that mature or aged skin can also be considered a sign of a life well lived.
Premature changes occurring due to Photoageing (or sun damage) include brown spots from hyperpigmentation caused by UVA rays. You can check more here according to Eucerin, a cosmetic company I love and trust.
The changes that happen to your skin as you age are inevitable. While they might not be ideal, you should take pride in your mature looks because this is just one sign of how much life has gone by!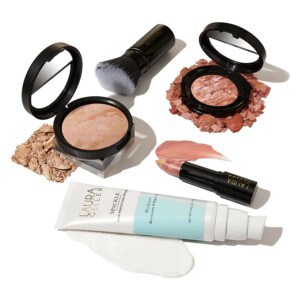 How To Reduce The Effects Of Ageing And Wrinkles
Let`s be realistic, it`s impossible to maintain your 20-year-old skin into your 40s or 50s, there are steps you can take to minimize the effects of aging and the appearance of wrinkles on your skin.
We all love the sun, but try to cover up when going to the sun.
Wear SPF even in the winter when the sun is at weakest
Use the right skincare products
Moisturizer should be your best mate
Improve your lifestyle
Reduce smoking if you can`t stop
Minimize your alcohol intake
Establish a skincare routine that works for you
The Best Foundation For Mature Skin
What type of foundation is best suited to cover age spots and pigmentation? You might lean towards a heavy-duty formula with full coverage, but these products can often settle into lines.
The key thing about mature skin:
It's not just about hiding wrinkles or blemishes – you want your favorite product to have a matte finish and not look like bad patches.
The skin often needs to be moisturized before applying any type of foundation, this is especially true for those who have mature skin.
The best way around dryness caused by aging affects your makeup application skills as you age, try using a rich serum or oil based on organic ingredients like jojoba oil which will help keep everything looking fresh without feeling heavy in the heat.
Mature skin is often more difficult to cover up than youthful-looking models.
There are many reasons for this, including dryness, wrinkles, and age spots that may not respond well with heavy formulas or full-coverage foundations – but there's no need to worry!
Time after time we've seen how Loreal True Match Nude helps hide all those unwanted lines + pores while still giving your face a good coverage level and a natural radiance once again with a healthy skin tone.
Mature" skin is more about certain characteristics, like fine lines, age spots wrinkles, dark spots, and a loss of elasticity than a specific age.
How to Tell if You Have Mature Skin
Instead of considering your age as a defining factor for mature skin, you should be looking at age spots, fine lines, and wrinkles; loose or sagging body tissues such as the neck and eyelids and be glad you reached this far.
Preventing aging is key to maintaining healthy-looking skin. The appearance of fine lines and wrinkles and loose or sagging skin that leads to jowls (also known as laugh lines) can all be prevented by taking care of your lifestyle choices.
For those who are seeking an all-inclusive list of their favorite products for mature skin, look no further than this article.
We'll be providing you with links and descriptions of some perfect foundation makeup options for coverage level and different shades so don't forget to check them out!
Best Full Coverage Foundation for Mature Skin
This is one of the best full-coverage foundations for mature skin, what we love most is that it can also be used on any skin type.
The name "double wear" can be off-putting, but if applied correctly this product wears incredibly well and never looks cakey on your skin.
It also provides lightweight natural-looking color that's buildable to suit your needs in terms of how much protection you need each day.
Whether it's just basics like putting on some foundation to hide large pores before going out or if you want lighter coverage but with an airbrushed finish look.
Estee Lauder has foundations for all skin types, just find your personal preference, from a natural look, and bare skin look to a luminous finish there is something for everyone.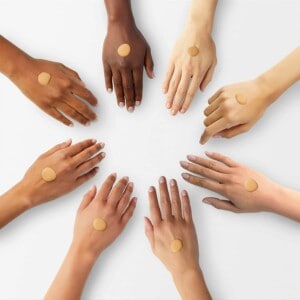 Best Skin-Like Foundation
Maybelline Fit Me Matte Poreless Liquid Foundation
This is the perfect foundation for those days when you want a sheer to light coverage, powdery finish that evens out skin tone without looking too heavy or cake-like on your face.
It's also amazing because it keeps shine at bay which helps me stay feeling fresh through long hours in hot environments where humidity can really wreak havoc with anyone`s makeup routine!
Best Budget Foundation For Mature Skin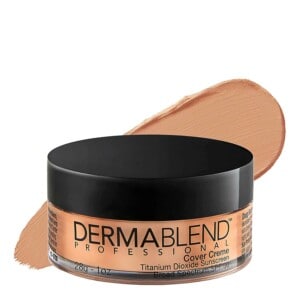 Dermablend Cover Creme Full Coverage Cream Foundation with SPF 30
This might not be the cheapest on our list, but we put it as the best budget because it goes a long way.
Mature skin deserves the best foundation, and you can find it at any price point. Whether your goal is buildable coverage or broad-spectrum SPF protection—you'll be satisfied with Dermablend.
With so many different foundations out there, it might seem like you're wasting your time trying to find the perfect one. But don't worry!
They're all available at any price point and will work for mature skin just as well- maybe better than some cheaper formulas because they offer more coverage without being too heavy on top which is what happens when people over 30 years old need heavy-duty products.
Mature Skin: For those of us who have dry patches or wrinkles beginning in our mid-thirties.
Best Vegan & Cruelty-Free Mature Skin Foundation
e.l.f. Flawless Finish Foundation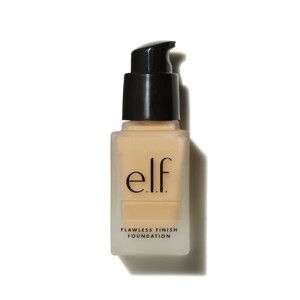 This Lightweight, medium coverage & semi-matte skin foundation never looks cakey. This is my go-to, not only does it blend perfectly into any skin tone flawlessly, but also provides great long-lasting formulas with a nude skin-like radiant finish.
We love this foundation because it naturally blends into the skin, uneven skin texture is well concealed and skin texture appears even with the first application.
You will be glad to know that this product is fairly priced and will not ruin your budget.
Best Drugstore foundation for Mature Skin:
L'Oreal Paris Age Perfect Radiant Serum Foundation
Giving your skin all the protection it needs is a must if you're looking for an even complexion.
This lightweight serum foundation offers more, with ingredients like vitamin B3 and hydrating serum, it helps keep mature complexions hydrated throughout each day!
If you want a natural-looking face without the feeling of makeup, this is your go-to.
Again budget friendly with a coverage level to admire. It comes in 30 different shades so no matter what your skin color, you`ll find a perfect match.
And now to a question, many do have
Q-Should I use a foundation or a tinted moisturizer for mature skin?
A-I love Tinted moisturizer when I want that youthful healthy glow without using any makeup. Tinted moisturizers give that lighter coverage without you needing makeup products. You can check out the Tinted moisturizer post here if you missed it.
Q-When applying foundation, should I use a foundation brush or sponge for mature skin?
A-I think this is a personal choice, I sometimes dab my foundation with my fingers, but using a makeup sponge will give you an even, natural-looking coverage with everything well blended in.
Conclusion
That's the beauty of foundation – there are so many options! Whether you want full coverage or something light and sheer, we've got it all.
Bobbi Brown is a luxury brand loved by celebrities (and everyday women) alike for its creamy formulas that provide buildable Illumination and help create natural-looking finished looks without feeling too heavy on the skin.