Anyone planning a beach vacation wants to know how to look beautiful without makeup. You know, like those pictures you see of celebrities in their bikinis and tankinis looking slim, pretty, and apparently barefaced.
Or if you`re like me, you just want to let your face breathe once in a while without any foundation, face powder, or anything of that nature.
Well, apart from photoshopping all your pics, there are a few things you can do pre-holiday to cheat your way to gorgeous skin and accentuated features.
I`m talking about not having mascara running all over your face after a dip in the swimming pool, or your primer looking out of place.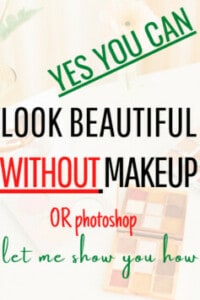 And imagine being able to just rinse off after the beach, put on a clean dress, and maybe just dab on some lip gloss and be out the door for sunset cocktails looking amazing.
That's always been a holiday fantasy for most of us.
Now, with just a little forward planning you can kind of, almost do just that, step outside looking beautiful and confident with no makeup to help improve things.
Obviously, it's a lot easier to get ready for a beach trip or sundowners quicker when you've already waxed (no more hastily digging around for a razor or electric lady shavers, some top ones mentioned in this earlier post).
You don't have split ends and you took care of your manicure/pedicure on a quiet night in or visited a salon in time.
Now we're stepping it up a level so you really could just carry that lipgloss!
I'm talking about Eyelash tinting, curling and maybe extensions, permanent makeup, and spray tans.
Now, for anyone experienced in self-care, the key with these is you must know what look you're going for; develop a vision, take along photos to support it, and ask questions.
Personally, I like subtle; I don't want that permanent "stripper like makeup"(if you know what I`m talking about) or an "oompa loompa tan".
I just want to look how I normally would with my makeup and hair done.
You know, before my mascara runs and my hair starts to frizz and maybe with a slightly more even skin tone…but with a picture being worth a thousand words you bet I'm going to take along some pics.
---
Let's take a look at the pros and cons of these ideas;
How To Look Beautiful Without Makeup
Eyelash Tinting
If your pet peeve is mascara running (and whose isn't?) you might like to consider eyelash tinting.
This is an in-salon process though, home kits are available but personally, I wouldn't consider doing anything like this at home.
It usually takes 30 minutes and of course allow extra time for delays and whatnot.
But depending on where you work and your proximity to a reputable salon you might be able to sneak this into your lunch hour.
---
Pros
Being able to skip mascara.
Affordable
Quick
Cons
There are limitations. You can only go darker, you won't get any extra volume.
So this is probably something best for fair people who will actually be able to see the results.
I couldn't see much of a difference when I had mine done even though I did what was recommended and went for blue-black.
There was a subtle difference but I think I missed the added volume of the mascara.
---
Eyelash Perming
I've had mine done and loved them though I didn't love how long it took (it should take about an hour but mine didn't "take" the first time and they had to redo them) and you don't get the color.
If you can be bothered going to get it done every six weeks it will save some time and flipped up eyelashes are always pretty, and add that youthful look. I also think they hold onto mascara better, helping it to not run.
Save time by perming your lashes and retiring your eyelash curler.
Pros
Not having to mess about with eyelash curlers. We all know curling our eyelashes makes a big difference but when you're in a hurry it's a step we tend to skip (or at least I do).
Cons
You have to be patient enough to sit still while the esthetician does the work, for me things like that are a little tedious. Headphones next time maybe.
DIY False eyelashes
For nighttime events there's a very good argument for false eyelashes; the color won't run.
I'll try those out again one day, I've always lacked patience and I spent quite a bit on some false eyelashes and glue a while ago and then couldn't be bothered with them but we'll see.
DIY Fake eyelashes come as a strip that you glue on yourself and yes it is a bit fiddly but with some patience and practice, it`s easy.
Pros
A beautiful result that doesn't run.
Cons
Not easy to apply and I was afraid that even if I got them on right I might end up with them half off halfway through the night and not notice!
But if applied well, these should stay put.
You can have extensions applied in a salon that lasts 6-8 weeks and again you won't have the problem of running mascara but they do require a little maintenance and you have to be a bit careful with them.
For this procedure, you'll be in the salon for about 2 hours but time well spent if you`re looking for ways on how to look beautiful without makeup then you can sure spend two-hours.
Eyelash extensions are applied lash by lash so you need patience, book an appointment when you have time to spare.
Pros
Again, if you're willing to spend the time and money the results are really lovely.
Cons
The time and money but also you need to be very careful with your lashes and take steps to stop them from getting coated in hair products and oily makeup remover, some people even wear goggles in the shower.
Water is ok so swimming on your holiday should be fine after the first day or tw0 (check with your esthetician about this).
There are dangers associated with eyelash extensions as there are with any other beauty treatment done by someone not qualified to do it.
Do find a professional to do yours than cutting corners to save some pennies.
---
Permanent Make-up; eyeliner, eyebrows, lipliner
Permanent makeup has really come a long way with great results for eyebrows, eyeliner, and lipliner.
Eyebrow tattooing could be the answer for those who over-plucked in the 90s.
Again this is not for everyone, as it`s permanent, be sure it`s what you want now and you`ll still want it next year.
Check this in-detail post about permanent makeup if you missed it so you`ll understand exactly what permanent makeup is and when you should consider it plus the cons in detail.
Pros
Imagine, the following work by a skilled technician you could get by without eyeliner and brow liner and its potential to run.
Permanent makeup is tattooing on your face so every precaution needs to be taken.
No need for makeup every morning, you wake up, wash and you`re ready to go.
Cons
Make no mistake, permanent makeup is actually tattooing and carries all the associated risks of tattooing (including just not liking the result) and more because it's done on the eyes and face. You can read about the risks in more detail here.
Permanent makeup is that PERMANENT, be prepared that it can go wrong.
Really painful, having permanent makeup especially on the lips and eyebrows is not for the faint-hearted.
Has to be repeated for it to last, just like a tattoo, if you want the best results, it has to be repeated for the color to really hold.
No reversing if you`re unhappy with the outcome, or else you`ll have laser removal which again is expensive.
---
Professional Spray Tan
I like to go for an all-over professional spray tan if I have a big event and including my face means skipping foundation altogether, though I might use a little blotting powder and blush for the evening.
A spray tan helps with body confidence and means you can go virtually makeup-free!
I go for a natural-looking tan and I was told the one I get is the level that brides usually go for and it's plenty intense enough for me.
Any darker and I would definitely feel like an oompah oompah….usually with the tan, I get people just think I look good or have been on a holiday but not one person has asked me if I have a spray tan.
Before and after your tan
Before your tan, get waxed at some stage and then exfoliate the day before.
Apply the nail polish to your fingernails and toenails even if it's clear just to protect your nails from staining.
Get your workout in before you get sprayed as you need to avoid sweating in the hours after.
Don't wear any makeup, moisturizers, or deodorant, and check with your salon for any further instructions.
Wear light, loose-fitting clothing. Go for long sleeves and pants if it looks like rain to protect your tan for the first few hours.
Pros
A great look, I always feel more confident with a professional spray tan. I don't need to wear makeup and I feel like I look slimmer and healthier.
Cons
The downside is that professional spray tans are pricey and they don't last as long in the tropics as they do in a cooler climate; save them for when you really need to shine!
---
With Every Beauty Treatment
Always find professionals.
Don't be tempted to get any beauty treatments done somewhere just because it's cheap.
Even if the worst doesn't happen, like a health complication, you can still end up paying serious money to fix something that isn't done right (I am actually thinking here of all the bad hair dye jobs I did at home when I was younger that then had to be fixed, at considerable expense, at a salon but you get the idea!).
Check on beauty forums, ask friends, ask to see credentials, look at the products being used. Look at photos of their work (though be sure it is their work, anyone can get photos; are the photos taken in the salon you are standing in?).
Have a conversation and ask questions, even if you already know the answer you need to know the person is competent and if they are not happy to answer questions that should be a red flag, if you`re not happy, don`t feel under pressure.
With all that said, I'm looking forward to stepping up my routine and trying some of these ideas. How about you? Have you tried permanent makeup?
Have you tried to get ready for a vacation without any makeup? Do you have any tips on how to look beautiful without makeup for your everyday look or for your beach vacations?
For me, my work does not support wearing makeup apart from lipgloss, luckily, I had permanent face makeup done long before I started there so I`m fine with colorless lipgloss and some colorless mascara.