Are you worried about your aging skin? Would you like to discover the best age spot remover that could work for your skin?
Pretty much every woman on earth dreads the first signs of aging. You worry most about the appearance of wrinkles.
There are many newspaper and magazine articles aimed towards tackling or reducing the signs of wrinkled skin.
As well as a whole gamut of creams and lotions that have been formulated to reduce the problem.
Now As much as we dread wrinkles and going gray, this is a part of aging but it does not stop there.
[wptb id=6133]
The good news is that we can try to "age better" because getting old is a must, but looking older than your age, your skin showing all the signs of aging is and making you appear older than you are is………not ok.
There is another obvious sign of aging skin that bothers women almost as much:
The Best Budget Facial Dark Spot Remover
Dark Spot Correction is a revolutionary treatment for all those who want a flawless, blemish-free complexion.TruSkin Vitamin C Serumwill remove acne scars and dark spots as well as minimize the appearance of age or sunspots.As a result, you get an even tone that lasts longer than any other product on the market!
Anyone looking for an affordable facial dark spots remover that works without breaking the bank should give this a try.
Best Overall Age spot Remover
What is the best overall age spot remover? it`s really hard to say for sure, creams, lotions, and moisturizers produce different results for different people, but if your skin needs some help in that area then this top-rated, budget-friendly product will do just what you need.
---
What Are Age Spots?
Technically known as areas of hyperpigmentation, these small dark patches are formed from the pigment in your skin called melanin.
When your skin suffers from long-term exposure to the ultraviolet rays within the sunlight.
Your body will overproduce melanin, resulting in these pigment clumps forming on your skin.
It is not just your face that is prone to developing age spots. Anywhere that can get an over-exposure to sunlight or tanning beds can be prone too.
Even the back of your hands, your shoulders, and your forearms, especially if you wear short-sleeved shirts and halter-neck tops while outside for many hours during the summer. You are not alone
Don't worry, you are not alone – many women are affected by age spots, even famous celebrities are prone to age spots forming.
They can spend a small fortune treating them with treatments like microdermabrasion or covering them up.
Check my earlier post on how microdermabrasion works.
For a long time, people believed that there was nothing that could be done about age spots, and many women had to learn to accept them as a natural and inevitable part of aging.
But things have changed and it`s now possible to buy age spot removers as easily as you can buy any skincare product.
---
What Is The Fastest Way To Get Rid Of Age Spots?
The fastest way to achieve skin rejuvenation is through laser surgery, but it's also expensive and not covered by insurance companies (for now), So that`s not something we are going to cover here.
If your budget allows for in-office procedures like chemical peels or Microdermabrasion treatments then these can help remove the brown patches caused by sun damage while improving texture across other areas too!

But it's worth mentioning that you can buy microdermabrasion machines for home use and reduce the cost of salon visits.
There is no single way to get rid of age spots, but there are some tips that can help. For starters, you should try not to expose yourself too much UV rays and wear sunscreen every day!
It`s also important and realistic to accept that age spots do not appear overnight but do so gradually, you too will need time to remove age spots.
---
You may likeFacial peels for hyperpigmentationMicrodermabrasion benefits and effects on your skin
The Quickest Way To Hide Age Spots.
Most women chose to cover up with thick foundation and face powder, but often this would leave them looking even older than they actually were.
These days we have far more options open to us, and there are professional treatments available if you really are being affected by your age spots and the condition of your skin.
---
What Are The Best Age Spot Remover Treatments Available?
You can choose to go down the often costly route of IPL (Intense Pulsed Light) sessions.
But these are quite lengthy and need to be taken regularly over a few weeks, so it is not an easy fix.
There are certain skin conditions that will also prevent you from having treatment.  However, over the long-term, IPL sessions are proving effective!
There is also a hydroquinone skin bleaching cream that you can get on prescription from your doctor.
It does work to fade age spots, but you can only use it for 12 weeks at a time and can take a few months to actually fade spots.
It is not a particularly gentle method of ridding yourself of age spots and can cause some skin sensitivity.
You will also need to continuously wear sunscreen while undergoing treatment for it to be effective.
But this should not be an issue as I believe you are already wearing good quality Sunscreen when going out into the sun.
Luckily, cosmetic scientists have been working on this problem for a while now.
They have found new ways of treating age spots using plant-based ingredients that in tests are proving just as effectively as chemical-based treatments, and are far more gentle on your skin.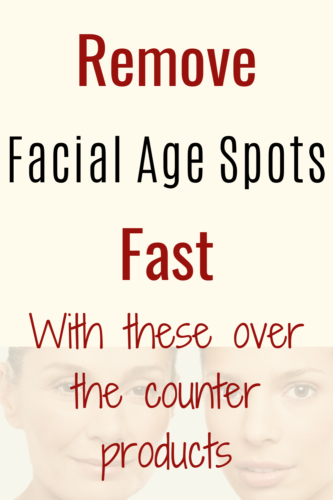 The best  age spot removers available
No 7's Lift & Luminate Dark Spot Corrector
is an example of the new breed of age spot removers that are giving great results.
Ingredients include natural products such as Kiwi water, sophora root extract, and vitamin C, but in recent studies.
This combination has proven more effective at age spot-fading than hydroquinone alone!
In general, when choosing an over-the-counter age spot remover, read the ingredients and look out for products that contain hydroquinone.
Read more here glycolic acid, deoxy arbutin, alpha hydroxy acid, or kojic acid.
These combinations have proven successful in tests, yet are not normally as harsh on your skin as prescription treatments can be.
Age spot removers are no longer a rare product for the chosen few they once were, today, you can buy the best age spot removing cream from drug stores or you can create your own using essential oils.
Paula's Choice RESIST Triple-Action Dark Spot Eraser is a budget-friendly product that fades age spots on face and hands in no time.
The good news is that you do not even have to use it in a special way as a spot remover, just apply like you`d any skin cream or moisturizer and watch the spots disappear.
---
What Is The Most Effective Age Spot Remover?
The most effective way to get rid of dark spots is what you can afford, options include laser treatments, microdermabrasion(as already mentioned), and others but they all have their own pros and cons.
It's best you explore what might work for your skin type before making any decisions about which one would be right for getting out those unwanted pigmentations!
---
So, What Age Spot Remover Do We Recommend?
The most effective age spot remover should have the following criteria: It mustn't irritate or burn your skin; be affordable, produces results,be skin-friendly.
But having said that, there are times I think that the most effective age spot remover is a touch of make-up.
A good concealer will help you hide the spots on your face, but there are also products out there for bigger problems like skin tone adjustments and removing wrinkles that can be used by all types of skin.
You may like
---
Now you know what age spots are and I have given you some of the best tips to deal with them.
Next time girlfriends ask about your new lovely face tell them about Age Spots, and how you found the best age spot remover.
But, as I have always pointed out, what works for one person might not work for the other, try to find what works best for you, there is no easy or quick fix that suits everyone.