In this Elf Poreless Putty Primer review, we`ll look at what the product offers and other alternatives should you want to look at other products. Makeup primer is a double-edged sword. Use it for a flawless look, or the worst part can be the danger of spoiling your look. You cannot afford to apply anything and everything to your face when it comes to this base product in beauty products.The key is to find products that are reliable and also work to give the desired results and the first thing to ask yourself is if you need a mattifying or aluminizing primer. Especially when you have oily skin finding apt products to deliver results is a tedious process. When it comes to primer, you need to be extra careful about this very reason. So what about the
elf poreless putty primer? Can you trust the primer benefit it promises like leaving your face not feeling caked and heavy but first things first.
What Exactly Is A Primer And What Does It Do?
Without using confusing words, a primer is a skincare product you apply before any makeup to help the makeup hold when applied.Most primers are of velvety texture to give your skin an overall smooth appearance and reduce large pores. A primer helps keep your makeup in place. Using a primer should be just as you use your concealer or moisturizer(not a second thought).A good quality primer will help hide fine lines, keep your face looking fresh but not feel heavy.
Here are things you need to know about E.L.F putty primer before you grab one from the shelf and take it home.
What To Expect From ELF Putty Primer


Elf putty primer is rich in antioxidants, and it`s easy to see why many compare it with a skin care spa at home. If you have fine lines and large pores, the primer can do the magic of tackling these flaws. Wear this primer with no additions if you want to as it`s that good but it can also be a great prep makeup if you`re going to wear any. Your skin absorbs this primer faster and with no hassles. So, if you are looking forward to wearing makeup for a longer time, then Elf putty primer is a good option. E.L.F features you will fall forThe primer is specially formulated to prevent the loss of moisture from the skin. This is a perfect primer for all-day wear. It has a velvety texture and is designed to glide over the skin, and helps in smoothening out imperfections without being heavy. As a result, pores are well covered, the primary purpose of any good makeup primer is to create a smooth base for your face makeup and ELF putty primers do not disappoint.You can use them when you want to blur imperfections and control shine without them feeling greasy and heavy during the day.There are three ranges of primers available from ELF. Matte putty primer, poreless putty primer( this has over 10,000 4 star rating on Amazon alone), and luminous putty primer are the names for a skin free from shine and has a dull complexion.Elf Primer range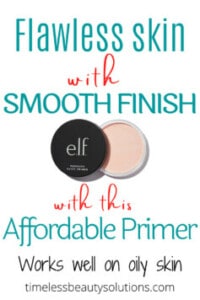 For radiant and glowing skin, a luminous putty primer is the right choice. Poreless putty primer is for those with large pores but wants a poreless and flawless finish NOW.One of the crucial pros of using the poreless putty primer or any primer from ELF is the texture. They do not stick and even after a long day, your face will not feel sticky and they will not leave a shiny gloss.

Also worth noting that e.l.f products are not heavy, they will not show that you have put on lots of makeovers. You can take a few drops and then rub them against the fingers. S
ee the sticky primer warming up and melting against the skin.
Although the cast may seem to be whitish and staying on the skin, as soon as you rub it on the skin, the cast is absorbed and the skin looks gloss free.
The best thing about the elf poreless putty primer is that you can wear it all day regardless of your skin type. Use it on dry skin, oily skin, and even a combination skin type.
You can get the exact results you like in a primer. Smooth and even texture that is devoid of pores. The makeup longevity goes up when you use this primer.
What Can You Expect From E.L.F Putty Primer?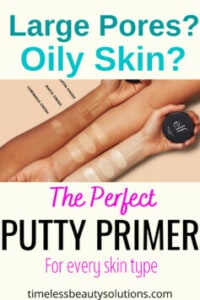 Apart from these features, there are also other alluring factors about this primer. It`s affordable and a little goes a long way.
The results you get match the cost, and you win here. The price is one of the most alluring factors.
Again, as the price is compelling, you cannot think that the primer is of lesser quality. Trust this primer for excellent results throughout the day.
There are no unnecessary accessories with the package to bring up the price, you pay for the product, NOT for some fancy packaging.
Elf Poreless Putty Primer Alternatives
If for a reason you don`t like the e.l.f line, there is the Tatcha Silk Canvas Primer that costs $24 for 0.7 ounces if you order it from Amazon. The package is excellent, and if you prefer a great gift for friends, try this.
Many people who`ve used both agree that e.l.f.'s primer is a close  Tatcha primer. Both primers improve the look and wear of your makeup and the choice is yours if you should splurge on Tatcha or save on e.l.f.
E.l.f is so similar to the Tatcha Silk Canvas primer it`s difficult to tell them apart when applied.
Not only that but the ingredients in both products are similar, squalane, green tea leaf extract, camellia. You could say the price tag is what separates these two very similar primers.
This post is about Elf Poreless Putty Primer review but it`s just fair to share other products so you can make an informed decision.
Tatcha Silk Canvas Primer costs $24 for 0.7 ounces if you order it from Amazon.
Laura Mercier Pure Canvas Primer of 1.7 oz can be got for $38 from Amazon.
Glo Skin Beauty Tinted Primer 1 fl oz is available at Amazon with the price tag of $38. 
When you compare with the other primers in the market, Elf has a competitive price too with brilliant results.
You might like
Best over the counter wrinkle filler
How to get rid of under-eye bags
The additional perks
In most primers, the smell can be awful or unpleasant even when the results are fantastic. You cannot stand an unpleasant odor when you want all-day makeup. In the case of Elf primer, you can be sure that the scent is not going to linger long.
When you look for the exact amount of primer to be used, a spatula is available for perfect measurement. You can choose the amount for each application.
The coin-shaped spatula is designed to offer ease of use. It is never too slick on the skin, which is tiresome when using any primer. Enjoy the velvety and light in weight texture. 
When you are all set for a primer to add to your makeover collection, elf poreless putty primer is the right choice, not only due to the price but it works also.
Do I Need A Primer?
This is a question that many people do ask and there is no correct or wrong answer, I think the best thing to do is to look at the finished product(your face after you`ve put on makeup).
Do you find large pores still visible, do you feel like your T-zone is still too shiny even with concealer and makeup? If you`re not happy with the end product, then maybe you should try a primer.
We hope that this Elf Poreless Putty Primer review answered your questions as to if this is worth getting, grab one before it is gone from the shelf, so you do not need to wait for it to be restocked again.
Leave below your comments and subscribe to the blog to get updated with more blogs!