Before spending money on microdermabrasion treatment, you`ll want to know if it`s worth the money or your time. We`ll check at microdermabrasion treatment benefits so you can reach an informed decision if it`s what you need.
But, just like any other skincare treatment, you`ll have to give it time and may be ready to have more than one treatment to see the true results.
There are multiple advantages of taking this microdermabrasion treatment for your skin, let's check them in brief below.
Microdermabrasion Treatment Benefits
Non-Invasive
Unlike other skin rejuvenating treatments, that need to be done by a dermatologist or beautician, microdermabrasion is non-invasive.
The microdermabrasion treatment is done by using crystal and diamond device, the treatment Is efficient and provides satisfactory results in a short period.
With the gentle exfoliating done by a microdermabrasion machine, your skin gets a bright and healthy appearance, so the treatment requires zero recovery time.
Microdermabrasion treatment is known as lunchtime facial due to the effectiveness and convenience, there is no downtime, you can have your face done and be back at work.
Painless
Microdermabrasion works on the surface layers of your skin so it should not be painful or uncomfortable.
Depending on what your beautician is using, Suction or diamond scrub (Most covered here).
Microdermabrasion treatment uses a little suction power for providing effective and brighter glowing skin so that there is no chance for pain or discomfort while taking the treatment.
Having said that, your beautician might be heavy-handed or a bit rough, then just let them know.
Perfect for all type of skin problems
There are multiple types of microdermabrasion treatment available as per the skin type and conditions as mentioned above.
You can choose the formulated microdermabrasion machine or microdermabrasion kit that will fit your skin perfectly and start the microdermabrasion treatment.
Neutrogena Microdermabrasion Starter Kit for home use has over 10,000 positive reviews on Amazon alone.
Microdermabrasion can be used by any age group and all skin types.
Can be done at Home
Unlike in the past when microdermabrasion treatment was reserved for the rich and famous, this is no longer the case. There are now machines, kits, and microdermabrasion scrubs for personal use.
Microdermabrasion treatments would cost high if you are taking them in any clinic or parlor, you can take multiple sessions with the purchased equipment at your home and this is a real plus when considering microdermabrasion treatment benefits(cost-cutting).
The best home microdermabrasion machines cost around $250, a fraction of what you`d need if you`re visiting a salon.
My machine is over 4 years old and still does the work properly, so it`s an investment worth making if you want to keep that saloon-like freshness longer.
Highly Effective
Unlike other products where it`s like try, wait, and hope to see results, with microdermabrasion treatments, results are guaranteed. Some may see fewer results depending on their skin type, but THERE WILL BE  a difference compared to before.
You might have tried other treatments for your skin to reduce signs of fine lines or large pores. Maybe you just want that healthy glow.
But, the glowing appearance and reduced skin problems can be achieved three times faster than other skin treatments if you`re using microdermabrasion.
Instant Results
With microdermabrasion treatment, immediate results can be seen right after your first time.
Your skin will have reduced wrinkles, fine lines, age spots, etc. You can see the huge difference before and after the microdermabrasion treatment.
Capture a picture of yourself before and after the treatment to compare the results because sometimes.
A regular cosmetic mirror might undertone the results unless you`re using a mirror-like the Large Lighted Vanity Makeup Mirror.
Better skin for a longer time
As microdermabrasion treatments do not only reduce wrinkles but also help in increasing skin elasticity, collagen production, and the renewal of your skin cells.
Your skin remains smoother, brighter, less wrinkled, less visible fine lines, and healthier for a long period compared to using topical creams.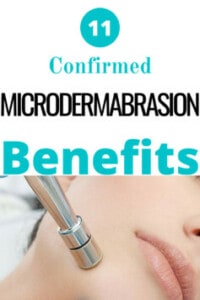 You might like
Best home microdermabrasion machines
Diamond microdermabrasion benefits
How to look beautiful without makeup
Best over-the-counter wrinkle fillers
How Microdermabrasion Works
With the help of the microcrystals, your skin gets exfoliated, and the upper dead cells are finely filed and removed.
This leaves you with a bright, smooth, and glowing texture to your skin. Apart from the increases in the elastin and collagen in the skin.
If you are adapting to diamond microdermabrasion, it uses the fine diamond tip to provide youthful skin without pain or discomfort.
Microdermabrasion has also been proved to treat skin problems like fine lines, age spots, stretch marks, sun-damaged skin, dry skin, oily skin, clogged pores, and wrinkles.
This is a must(should have) treatment for anyone who wants youthful skin without overspending on trial-and-error products.

What is the best home microdermabrasion machine?
Home microdermabrasion machines work the same, with similar results, you can choose to get Vacuum Suction or the microdermabrasion scrub.
My favorite is PMD Personal Microderm Classic – an at-home microdermabrasion machine with Kit as it`s for face and body.
What to expect after microdermabrasion treatment
As this is a non-invasive treatment, there should be no side effects to worry about.
How Many Microdermabrasion Treatments Are Needed?
The number of treatments you need entirely depends on your end goal and your skin condition. But generally, a single treatment is enough for you to see results.
But if you're looking to tackle a specific skin problem, like fine lines, clogged pores, and deep wrinkles, then you need more than a single treatment.
Like most skincare treatments, this is not a one-time-and-forget treatment. You`ll need a minimum of four microdermabrasion treatments.
How long do the effects of microdermabrasion last?
When thinking of microdermabrasion treatment benefits, it's sensible to think of how long you`ll benefit from a session until you need to have it done again.
The effects of a single treatment usually last for about 1 month but then it will also depend on your age.
Someone with deeper wrinkles may need more frequent visits. If you are younger and live a healthier lifestyle and also have a good skincare regimen, you should be able to stretch it to six weeks.
Conclusion On Microdermabrasion Treatment Benefits
Visiting a salon and having a facial is great. But, not many of us can spend cash every four weeks(the time you need between sessions). Home microdermabrasion machines will help you stretch the time between those visits.