Hyperpigmentation is referred to the discoloration spots on the skin. They are darker than the rest of the skin. The spots could be red, pink, brown, or purple. The higher level of melanin pigment than normal causes the hyperpigmentation of the skin.
Melanin is the pigment that is solely responsible for pigmentation of the skin. It gives it color. In excess, it causes hyperpigmentation. It can occur in the different skin levels such as epidermis, deeper dermis, or even on both the layers.On this post, I will share with you different peels for hyperpigmentation and help you understand how to know your peel tolerance.
Types Of Hyperpigmentation
Sun Spots:
It is the result of the Sun damage. Too much exposure to the UVA/UVB causes skin damage.
Post Inflammatory Hyperpigmentation (PIH)
The hyperpigmentation caused due to skin trauma, injury, or inflammation.
Melasma:
This hyperpigmentation is caused by the changes in hormonal levels usually during pregnancy, menopause, or while taking birth control.
Risk Factors Leading To Hyperpigmentation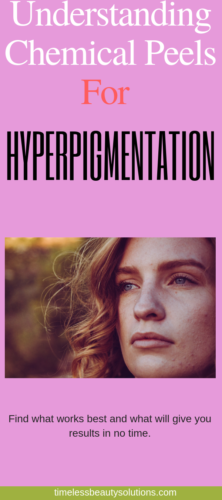 Spending too much time in the sun

Acne prone skin

Skin conditions such as eczema or psoriasis

Hormonal imbalances

Sensitive skin

Skin Trauma

Old age

Some medications

Genetics
Understanding Chemical Peels
Chemical facial peels have proven one of the most effective in the treatment of various skin problems such as acne, scarring, anti-aging, pigmentation, and melasma.
If you have never used a chemical peel before and know next to nothing about it, it can be very daunting to figure out which peel would work for you.
To make it easier, keep in mind that a stronger peel is not always the better peel. Also, note that different people have different skin types.
Hence, different peels work for different people. The peel is usually stronger than the regular over the counter skin care product.
How Does Chemical Peel Work?
Chemical peels are what we call acid solutions. They have a pH level which is significantly lower than the natural pH level of the skin.
When you apply a chemical peel on the skin, It can dissolve the adhesive substance that is responsible for holding build up layers of dead-skin buildup on the skin.
The dead skin, henceforth, will dry out and begin to disintegrate. It gets peeled off of your face giving way to fresh and new skin. This is a painless process.
Chemical Peels are no magic solution but they can help with:
Anti-aging

Acne

Scars

Wrinkles

Fine-Lines

Balance Skin Tone

Decrease Discoloration

Treat Hyperpigmentation

Decrease prominence of Sunspots and other UV related issues

Melasma

Smooth textural issues
Know Your Chemical Peel Tolerance Level
Level 1

is excellent for the first-timers. You may experience a light tingly or itchy feeling. People with high tolerance won't feel a thing.

Level 2

perfect for those who need more benefit than just the mildest acids can offer. You may again experience a light tingle or an itch but it can very well sting a bit too.

Level 3

is suitable for those who are receiving professional peels or for those who want to up the tolerance level. You may experience an intense stinging sensation and skin may become hot
Best Facial Peels For Hyperpigmentation
This is a light natured alpha hydroxy glycolic acid peel. It can either give a dramatic or very minimal result. It depends on the strength of the peel.
Glycolic acid has a small molecule. This molecule can penetrate the skin epidermis easily. Due to being water soluble, it is commonly used in treating common skin problems such as anti-aging issues, sun damage, wrinkles, and appearance of skin.
Using Glycolic peels for at least 6-8 treatments weekly or bi-weekly will get the job done.
Beta hydroxy salicylic is an oil-soluble acid. It is extremely beneficial for skin problems such as clogged pores and acne. It has anti-inflammatory as well as antimicrobial properties.
Salicylic acid can be tolerated by all skin tones and types. It has proven very effective for post inflammatory pigmentation, oily skin, and rough skin.
It is used for treating acne and acne vulgaris. Using salicylic peels for at least 6-8 treatments weekly or bi-weekly will get you very good results.
Alpha hydroxy mandelic acid peel is a milder acid peel. It gives excellent results when treating acne, skin pigmentation, wrinkles, and melasma. It does not possess the risks of PIH( post-inflammatory hyperpigmentation). Check for side effects here.
Mandelic acid peel has a larger molecule. This molecule can penetrate the epidermis at a slow and even pace. It has proven itself as an excellent acid choice for all the skin types. This is a safe peel. You can use it 6-8 times weekly or bi-weekly.
Alpha hydroxy lactic peel is another milder irritation acid which gives a subtle to no visible skin peeling. Hence, it is excellent for "light" peeling.
Lactic acid peel stops the tyrosinase enzyme activity directly. That is what makes it a good alternative to deal with skin pigmentation issues. It also helps in the improvement of dry skin. Again, 6-8 weekly or bi-weekly treatments will give you good results.
TCA (Trichloroacetic Acid) Peel
TCA is an acid with versatile uses. It can be used as a superficial peel, as well as for deeper penetration. All skin types and tones can generally tolerate TCA very well.
It is very effective in dealing with skin pigmentation, wrinkles, rough skin, photodamage, acne, and scarring. 6-8 weekly or bi-weekly treatments will produce wanted results.
Traditionally, Jessner's chemical peel has an equal concentration of resorcinol, lactic and salicylic acids, i.e., of 14%. It is a preferred peel for oily and acne prone skin. It is a safe peel.
Jessner's peel can work with all skin tones and types. You can even alternate it with TCA peels. The same 6-8 weekly or bi-weekly treatments will do the job. Swap to monthly after that to keep skin the way you love.
Conclusion On Facial Peels For Hyperpigmentation
Chemical peels have ingredients that help remove dead skin cells and work to reveal new fresh from underneath. There are certain precautions one should take before using peels to minimize the risk of hyperpigmentation.
While using chemical peels, keep in mind that there should not be any discomfort after the procedure. After using the peel, moisturize the skin with a healing ointment.
Consult a dermatologist if you require deeper penetration in facial peels for hyperpigmentation to discuss other options.
If you prefer not to use chemical peels, look at using microdermabrasion for your skin care needs, I wrote a lengthy post here on how Microdermabrasion works.
Want to check out any of the above mentioned facial peels for hyperpigmentation and skin discoloration then

I hope this post will help you choose the right peel to suit your needs. If you have any questions, please leave me a message below.