For many women, reaching the age of 50 can be a bit of a milestone. Being half a century old comes as quite a shock to some, especially when we notice more obvious changes in our skin in the mirror.
The once smooth clear skin starts getting dull, wrinkles here and there, under-eye bags appearing, no reason to despair, you can still have that healthy-looking skin with a list of the best skincare products for women over 50 that I`m about to share with you.
So what should we do to look after our skin at this age? What are the best skincare products for women over 50 that really work, and can address such issues as fine lines, dull complexion, and skin sagging?
It is important to keep up with a good skin-care routine at this age, but the usual three-step routine of cleanse, tone and moisturize that we have been following for years may need looking at a little more closely.
Changing Skin Needs Different Care
Our mature skin will now need skincare products that are specifically formulated for our needs.
We may not need such a harsh cleanser as before, and switch to a cleanser that doesn't strip our skin of all it's natural protective oils.
Because mature skin tends to be drier, we may need to use a more rich moisturizer during the day under our make-up, and a hydrating night cream that can penetrate our skin to a deeper level.
For night times, use a cream that contains retinoids (Vitamin A), Vitamin C, and Alpha-hydroxy acids, because these will help to resurface the skin and help to soften and reduce fine lines and tighten pores.
These creams work best at night while we are resting. If you`re one of those people who only apply skincare creams during the day, you need to start applying facial creams at night.
Not only do you need facial creams, you need to take more care of your under eyes. Check an earlier post on anti-aging undereye creams here if you missed it.
Use An Effective Moisturiser For Over 50'S Skin
The most important element of skincare for middle-aged skin is to keep it well hydrated with a good quality moisturizer. A nourishing moisturizer will help to replenish the natural oils on the skin surface and will prevent your skin from drying out.
Protecting our skin with a good moisturizer is a great defense against the drying effects of harsh environments such as central heating, sun exposure, and even drying winds.
 A good choice for aging skin is Marykay time wise replenishing serum. This serum has been specially created for women over 50 and contains a comprehensive range of ingredients that moisturize your skin while working to combat sagging and dullness.
When you are looking for the best skincare products for women over 50, you cannot go wrong with. Night Repair Melting Rich Cream.
At $39.50, it`s also quite affordable. The best place to buy is Amazon
This formulated cream helps to stabilize your skin's natural oil and moisture balance to help boost your overall complexion. The powerful combination of anti-aging ingredients works together to improve skin elasticity that helps to combat sagging skin.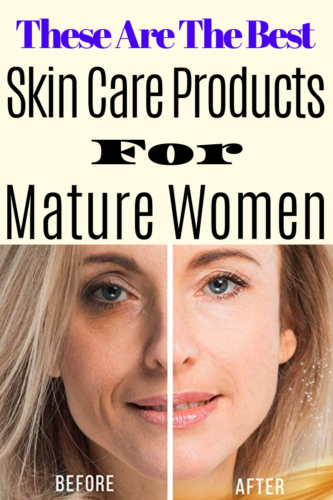 This really is an all-in-one solution for your skin. The cream gives good wrinkle protection while working to brighten your skin and reduce the damage done through UV sun ray exposure.
Using the right skincare products for mature women's skin can really help to restore our lost radiance, and give our skin a more lifted and youthful look.
Investing in age-specific skincare products will be the best thing you can do for your skin because you will be getting a head start at slowing down the natural aging process of your skin. But having said that, you don`t have to splash out, there are cheaper skincare moisturizers like this one that works so well and are affordable.
If you have lived half a century, you do not have to show your age, you do not have to age gracefully either.
Apart From Creams Pamper Your Face
We do not always have money to visit a beauty salon, invest in at home microdermabrasion machine so you can get that clear face with fewer wrinkles right at home. Microdermabrasion machines are affordable and can be done at home. Check here for our top-rated microdermabrasion machines for home use.
I  have given you the Best Skincare products for women Over 50 that will help slow your wrinkles showing and help slow down new ones showing.
Wrinkles and fine lines do not appear overnight so be patient and not expect them to be gone overnight because honestly, there is no facial product in the market that will remove your wrinkles overnight.
If you have any questions, leave me a message below.