The best skincare products for women over 50 or older are different from the products you used when you were in your 30s. Having said that, you don`t have to break the bank to find the best products for your skin in the market.
For many women, reaching the age of 50 can be a bit of a milestone. Being half a century old comes as quite a shock to some, especially when we notice more obvious changes in our skin in the mirror.
The once smooth clear skin starts getting dull, wrinkles here and there, under-eye bags appearing, no reason to despair.
You can still have that healthy-looking skin with a list of the best skincare products for women over 50 that I`m about to share with you.
So what should we do to look after our skin at this age? What are the best skincare products for women over 50 that really work, and can address such issues as fine lines, dull complexion, and skin sagging?
You should understand that as you get older, your skin produces less sebum and skin tends to lose its elasticity.
Although it might sound complicated, believe me, your skin care regimen as a mature woman is easier because you only need 4 things to keep that youthful skin(kind of)
Must-Have Skin Care Products For Mature Skin
Retinol-stimulate collagen production and also increase skin turnover.
Sunscreen–Don`t underestimate the damage done to your skin even if you think the sun is not shining bright.
Vitamin C–This will lighten the appearance of age spots adding them appear less visible.
Hyaluronic acid– As you age,

your skin produces less oil,and lose its resilience compared to when you were in your 30s, hyaluronic acid helps your skin retain moisture

Moisturizer-As already mentioned, your skin gets dehydrated faster as you get older, a good moisturizer keeps your skin hydrated.
 Glycolic acid– helps unclogs pores for a much cleaner healthy skin.
It is important to keep up with a good skin-care routine at this age, but the usual three-step routine of cleansing, tone, and moisturizing that we have been following for years may need to look at a little more closely.
As you get older, your skin gets drier and you need to moisturize more, look for moisturizers with oils and ceramides as they help replenish your skin's natural lipid barrier. Also, use products that help plump and rejuvenate the skin.
But, before we get to the products, we`ll first answer some questions you might have concerning skin barriers.
What is the skin barrier?
The skin is made up of layers, the outermost layer of your skin acts like a guard(or is a guard precisely).
It`s the front-line at protecting you against environmental pollution, toxins, UV, and everything else that could reach your organs. This is your skin barrier.
Without a strong skin barrier, water in your body will evaporate leaving you dehydrated.
As you age, your skin barrier weakens, but this may also have to do with genetics.
The most common causes of a damaged skin barrier
Genetics
Age
Aggressive skin care habits, such as overwashing and over-cleansing
Environmental aggressors, like UV exposure and pollution
Over cleansing, your skin with harsh and aggressive products will only strip your skin or its natural oils.
An easy way to know if your skin barrier needs better care is when your skin feels tight after washing and rinsing.
We always reach for chemical exfoliants to "thoroughly cleanse our skin, they are great at removing dead skin cells, but too harsh exfoliants will damage your skin by also removing healthy cells in your skin barrier.
This is why we always recommend using microdermabrasion, it's non-invasive and no chemicals are used.
Your skin barrier has to be healthy for good health so needs to be protected for it to function properly.
Changing Skin Needs Different Care
Our mature skin will now need skincare products that are specifically formulated for our needs.
We may not need such a harsh cleanser as before and switch to a cleanser that doesn't strip our skin of all its natural protective oils.
Because mature skin tends to be drier, we may need to use a more rich moisturizer during the day under our make-up.
A hydrating night cream that can penetrate our skin to a deeper level is a must as you get older.
For night times, use a cream that contains retinoids (Vitamin A), Vitamin C, and Alpha-hydroxy acids.
These will help to resurface the skin and help to soften and reduce fine lines and tighten pores.
These creams work best at night while we are resting.
If you`re one of those people who only apply skincare creams during the day, you need to start applying facial creams at night.
Not only do you need facial creams, but you also need to take more care of your under eyes. Check an earlier post on anti-aging undereye creams here if you missed it.
You may like:
How to find the best wrinkle cream on the market.
Use An Effective Moisturizer For Over 50'S Skin
The most important element of skincare for middle-aged skin is to keep it well hydrated with a good quality moisturizer.
A nourishing moisturizer will help to replenish the natural oils on the skin's surface and will prevent your skin from drying out.
Protecting our skin with a good moisturizer is a great defense against the drying effects of harsh environments such as central heating, sun exposure, and even drying winds.
 A good choice for aging skin is Marykay time-wise replenishing serum.
This serum has been specially created for women over 50 and contains a comprehensive range of ingredients that moisturize your skin while working to combat sagging and dullness.
When you are looking for the best skincare products for women over 50, you cannot go wrong with them. Night Repair Melting Rich Cream.
At $39.50, it`s also quite affordable. The best place to buy is Amazon
This formulated cream helps to stabilize your skin's natural oil and moisture balance to help boost your overall complexion.
The powerful combination of anti-aging ingredients works together to improve skin elasticity which helps to combat sagging skin.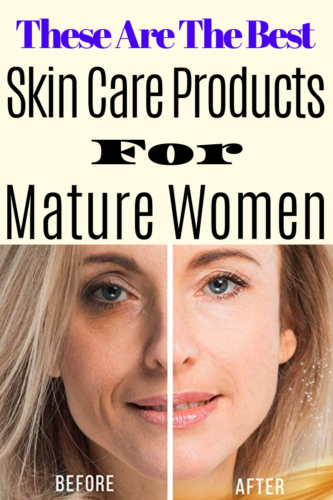 This really is an all-in-one solution for your skin.
The cream gives good wrinkle protection while working to brighten your skin and reduce the damage done through UV sun ray exposure.
Using the right skincare products for mature women's skin can really help to restore our lost radiance, and give our skin a more lifted and youthful look.
Investing in age-specific skincare products will be the best thing you can do for your skin because you will be getting a head start at slowing down the natural aging process of your skin.
But having said that, you don`t have to splash out, there are cheaper skincare moisturizers like this one that work so well and are affordable.
If you have lived half a century, you do not have to show your age, you do not have to age gracefully either.
Apart From Creams Pamper Your Face
We do not always have money to visit a beauty salon, invest in a home microdermabrasion machine so you can get that clear face with fewer wrinkles right at home.
Microdermabrasion machines are affordable and can be used at home saving you money as you can use it as many times as need be. Check here for our top-rated microdermabrasion machines for home use.
What is the best skincare line for those over 50s?
It`s difficult to say what product will work for YOU personally as it`s impossible for us to tell what your skin type is, no single product produces the same result for every skin type.
But below we`ve listed the best products you can use to reduce wrinkles and fine links, protect your skin barrier and moisturize the skin.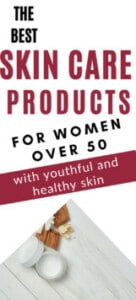 Cleanser:
Murad AHA/BHA Exfoliating Cleanser
A gentle product that helps you remove dead skin cells without damaging your skin.
This is suitable for normal, dry, combination, and sensitive skin, and the face skin moisturizer can be used daily for best results. (the link above is for a combo package)
CeraVe Hydrating Facial Cleanser
Cerave's Hydrating Facial Cleanser contains ceramides and hyaluronic acid to strengthen and hydrate the skin's barrier, it`s a non-foaming, non-irritating formula that is gentle on mature and sensitive skin.
Eyes
Cetaphil Hydrating Eye Gel Cream with Hyaluronic Acid to instantly hydrate and nourish the delicate skin around the eyes plumping the skin and making wrinkles and fine lines less visible.
It is non-irritating even for sensitive eyes. This product has been tested by dermatologists and is clinically proven to be gentle on sensitive skin.
Sun Protection
UV damage from the sun is a major factor in premature skin aging, you need sun protection even during cloudy days.
Eucerin Sun Allergy Protection Creme-Gel Spf50This is non-greasy and water-resistant.
Nighttime Treatment, Moisturize, and repair.
Your nighttime skincare should not be an afterthought, get a night cream with peptides, retinol cream, or lotion.
Be sure to use the night cream on your neck and the retinoid on your chest and the backs of your hands we find that these areas tend to be ignored or forgotten.
Richer Moisturizers
As you age, your skin becomes drier and thinner and you need products that strengthen and thicken the dermis.
You may like
Tinted moisturizers for your skin type
This means a heavier and maybe more moisturizer. You don`t have to invest in more, instead just get heavier ones.
Worth mentioning
Your skin will not look oily and fatty with richer and heavier moisturizers, as your skin gets drier due to age, it absorbs these products faster so there`s no oily residue to worry about.
Olay Regenerist Micro-Sculpting Cream Fragrance-Free
RoC Retinol Correxion Deep Wrinkle Anti-Aging Retinol Night Cream
Skin Barrier repair:
Zalens` Power D Treatment is covered in detail in this post if you missed it.
Your face basics are easier than you think once you find the right products, a brightening serum to lighten spots, retinol to increase collagen production and combat dryness, sun protection to stop more damage. Keep moisturizing and keep your skin healthy.
So, what is a good skincare line for over 50?
To be fair, any skincare product you use will largely depend on your skin type, budget, lifestyle (sounds strange I know), and your skin needs.
Sometimes even seasonal changes like winter or a sunny summer on the beach may require you to tweak your products to match your present need. This means that your usual must-have cream or lotion needs to change for a while.
As you age, your skin gets thinner and produces less oil which results in drier skin compared to younger skin and you just need more TLC.
But just because your skin has changed does not mean complicated skincare products, you will do brilliantly with just these products:
Retinol: to stimulate collagen production and increase skin cell turnover for that youthful, healthier glow. Check top-rated Retinol cream here.
Glycolic Acid: used to unclog pores and clarify skin texture, remove dull skin for that youthful healthy glow.
Hyaluronic Acid: As we already mentioned, mature skin is drier, hyaluronic acid is what will help your skin retain moisture.
Conclusion on The Best Skin Care Products For Women Over 50
I  have given you the Best Skincare Products for women Over 50 that will help slow your wrinkles showing and help slow down new ones showing.
Wrinkles and fine lines do not appear overnight, even with the best skin care products, be patient and do not expect them to be gone overnight because honestly, there is no facial care product in the market that will do that.
If you have any questions, leave me a message below.