Do you get a little overwhelmed and frustrated when trying to find the best wrinkle cream on the market?
With the rows of wrinkle creams on offer at your local chemist shop or supermarket do you wish it were easier to choose?
We seem to be inundated with creams and lotions that all promise miracle results, but quite often find they don't live up to their claims.
With so much choice available to us, it can be difficult to find the best wrinkle cream that not only does the job, but also suits our particular skin type.
How effective wrinkle creams can be is usually down to the ingredients they contain.
Knowing which ones will benefit your skin type will help, but also how strong the ingredients are, and if they contain clinical grade or lower levels of ingredients.
Recent strides in dermatology and skincare have developed some cutting-edge anti-wrinkle ingredients such as peptides and antioxidants that can really help to smooth out wrinkles.
But some traditional brands that have stuck to the same formula for over a decade, may not even contain them. It pays to closely read the ingredient listings.

What Causes Wrinkles?
Most fine lines and wrinkles that develop around the eyes are usually caused by smiling, laughing, frowning, and all other normal facial expressions we use every day.(read more from mayoclinic.org)
Now, we are not suggesting that you stop laughing or expressing your feelings through your expressions!
After all, what fun would that be? Another normal cause of wrinkled skin is through the aging process.
As we age our skin becomes thinner, and we lose our natural levels of collagen and elastin that helps to support and nourish the skin.
This can lead to sagging and wrinkling and is more prominent on our face, neck, and skin on the back of our hands.
How Do Anti-Wrinkle Products Work?
The best wrinkle cream on the market will contain cutting-edge active ingredients at high concentrations.
These creams are formulated to penetrate the skin and target the deepest layers of your skin to boost regeneration at a cellular level.
Many anti-wrinkle products will combine a number of active ingredients to work together to provide the best results.
For example, creams that contain vitamin C will help your skin to boost levels of collagen to plump up your skin naturally from within.
While stem cells can encourage new skin cells to grow at a basal level, Read about collagen supplements here if you missed it.
Are These New Wrinkle Treatments Expensive?
The old saying is very apt here – you only get what you pay for!
Many cheaper anti-wrinkle creams will not contain any peptides, for example, so even though it is cheaper, you will be losing out on the beneficial effect that peptides have on stimulating collagen production.
Many cheaper formulations or old-fashioned combinations will only be as effective at combating wrinkles as a good moisturizer would be.
If you want to have the benefits of effective anti-wrinkle ingredients, then you will have to look for those ingredients on the label, and you will find these formulas will cost a little more. But you also have to decide what part you need the cream for.
Face creams and hand creams may differ,(but that`s not for here or now) wrinkle creams for ladies and men may differ so know what you`re looking for.
Remember though – the longer you wait to treat your wrinkles, the longer you will need to continue treatment to get the effects you desire
Another great way of removing wrinkles and unwanted fine lines is by having facial microdermabrasion, this can be done at home at your own convenience and only needs to be done once a week. I covered this in an early post here.
 Any Side Effects From Using Anti-Wrinkle Creams?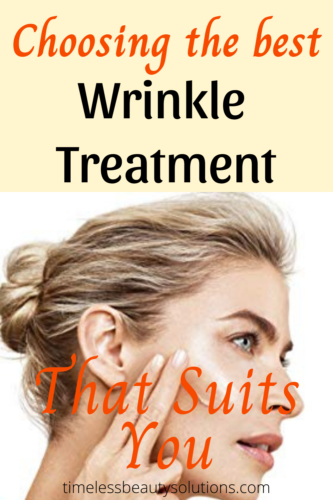 Even the best wrinkle cream can sometimes cause a negative reaction.
If you have overly sensitive skin or are allergic to any of the ingredients found in anti-wrinkle creams, then it would be worth consulting a dermatologist before trying out a new cream.
At the very least, if you are really worried, consider doing a skin patch test by dabbing a very small amount of cream on a patch of skin.
Like you`d dab a serum, check our post on using skin serums here if you missed it.
Leave it overnight to observe any negative reactions of sensitivity. This is quick and can spare you unwanted surprises.
Finding the best wrinkle cream on the market should not be too hard if you follow the above tips, and remember the best wrinkle cream is not always the most expensive on the shelf.
Can You Suggest A Good Anti-Wrinkle Cream?
Many of the leading brands have backed up their claims for good results, so you may try any of the following trusted brands:
Clinique promises to "Fade the look of stubborn deep wrinkles, including crow's feet, forehead & cheek wrinkles" so that "in 4 weeks wrinkles are reduced."
Olay claims to "Reverses the look of up to 10 years of wrinkles".
Roc "combines 3 powerful anti-wrinkle technologies to boost cell regeneration and to reduce the appearance of even deep wrinkles".
Now To Some Q&A About Wrinkle Creams
Q-Is there a wrinkle cream that really works?
A- If you`re looking for anti-wrinkle creams that work, look for products with Retinol.LilyAna face cream is affordable and produces results. You can purchase it on Amazon by going here.
Q-Are wrinkle creams suitable for all skin types?
A- Anti-wrinkle creams can be matched to your skin needs: You can check here to see out top recommendations for:
The best place to buy any of these creams would be Amazon as they do offer free shipping.
Now all the above wrinkle creams are affordable from over the counter, it helps to incorporate anti-aging products as early as in your mid-twenties.
It is easier to control wrinkles if you start before they appear, moisturizers, serums, and other eye treatments to improve the texture,  look, and feel of your skin.
Conclusion on Finding Best Wrinkle Cream On the Market
Most creams will promise to wipe your wrinkles and fine lines in a day.
If only it were that easy, but it`s not, even the best wrinkle cream on the market will require you to do your part, things like your lifestyle and using sun creams have a big impact on your skin appearance.