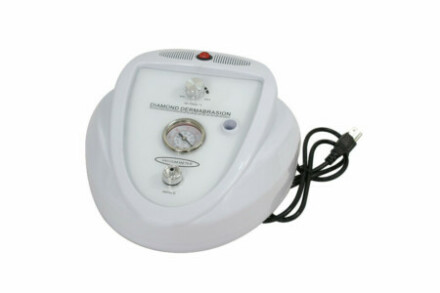 The Zeny Pro Diamond Dermabrasion Microdermabrasion is a safe device for the skin treatment that can be used at home.  Although it looks a little bulky, it is easy to install and use and recommended for personal microdermabrasion machines.
With this device, you can improve your skin appearance and fight the various signs of aging without having to visit a spa or clinic for multiple microdermabrasion sessions.
At the time of writing this review, the price of the product on Amazon is just $141.99 which is comparatively less than a microdermabrasion session at the spa which can be very costly if you need several treatments.
With this advanced yet user-friendly microdermabrasion device, you can treat various skin conditions such as enlarged pores, age spots, acne scars, sagging skin, wrinkles, fine lines, and much more. It removes the accumulation of dead rough skin cells to reveal smooth and flawless skin. It also promotes the growth of new skin tissues and cells.
The Zeny Pro Diamond Microdermabrasion machine comes with 9 diamond tips to be used in different skin types, 2 stainless steel wands, 1 PVC hose, 2 rubber strings, 2 fuses, one pack of a large cotton filter and one pack of a small cotton filter. The product comes with a manual containing instructions on how to use the device.



After the treatment, you must properly clean and sanitize the device using alcohol and a soft child's toothbrush. You may also use a mild soap for cleaning the filters and diamond tips.
You must apply a good toner followed by moisturizer on your skin after the treatment to prevent drying out of the skin and make it feel smoother.
Features:
The is a professional-grade device suitable for home use
Easy to handle and use
The machine is lightweight, hence easily portable
It is safe for all skin types, no side effects
It does not use any chemicals, crystals or lasers for treatment
It heals enlarged skin pores, fine wrinkles, blemishes, and aging skin
The maximum suction power range is 65-68cmHg
Pros:
The Zeny Pro Diamond Dermabrasion Microdermabrasion is a simple yet effective machine, with no frills. The quality of the product is at par with the professional units you see at the spa or a dermatologist's office.
The vacuum power of the device is really strong, and you can adjust it according to your requirement. As the diamond tip slowly works on your skin, the dead skins cells are sloughed away and you can see clean and youthful looking skin. Check the best microdermabrasion machines here if you missed it.
The machine is truly effective and it can take about 5 years off your face. You can start noticing the difference after 3 to 4 uses.
The skin treatment enables your skin to absorb the nourishing creams better and get healthier. It also encourages better blood circulation and promotes the growth of skin cells and tissues. But do remember that improving blood circulation you also have to improve your diet.Read more here.
Most customers who have bought this product are happy with the results and they feel that it provides good value for money. It saves you the cost of expensive microdermabrasion sessions at a spa or clinic.
The kit contains nine different types of diamond tips that can be used on different skin areas, fine tips for sensitive facial skin and coarser ones for the thicker body skin.
You can also use the device for treating acne scars in teenagers. However, make sure it is done under adult supervision.If you are looking for the best microdermabrasion machine for home use that`s easy to handle, Zeny pro is very user-friendly.
Cons:
The machine is big in size which makes it look unfitting for home use. However, it is not as heavy or complicated as it might seem.
The instructions in the manual have been translated from an Asian language which makes it a little difficult to understand. You can expect to find many grammatical mistakes there.
Overuse or wrong use of the device can cause redness or make your skin feel pulled out. So, always ensure you read the instructions carefully or seek advice from an expert before you do the treatment at home.
Verdict:
Overall, theZeny Pro Diamond Dermabrasion Microdermabrasion is a simple to use and effective device that you can use at home at your own convenience. You do not have to visit a spa or dermatologist's clinic regularly for multiple sessions, nor do you need to spend boatloads of money for each session.
This professional grade dermabrasion machine gives you spa level treatment within a few minutes of use. If you find the instructions in the manual difficult to understand there are many Youtube videos you can watch to see how to use the device. You can also check online videos to find out how to clean and sanitize the device after use.
Conclusion


The kit has everything you need to carry out the skin treatment at home and rediscover your lost youthful glow. If you are a beginner and wish to try out with a simple to use and effective microdermabrasion device then this product is good to go.
You can purchase Zeny Pro Diamond microdermabrasion from your local beauty store or you can also purchase from online stores like Amazon and benefit from free delivery.
If you liked this post, please do share to any social media of your choice, if you have any questions regarding Zeny Pro Diamond Dermabrasion Microdermabrasion review or if yu feel some info is missing, please do leave a message below.