An Honest Review Of The Best Anti-Aging Eye Cream Available:
With the many anti-aging products out there, what works, does one fit all and how can you decide if one is the right one for you?
I will look at one of the best anti-aging eye creams in the market and give you the pros and cons and also why I think it`s the best.
Shiseido, the Japanese maker of beauty care products, established a few centuries ago.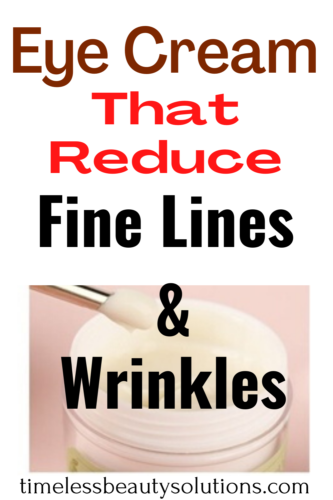 It has recently been in focus due to its leading women's beauty products and has been awarded the best of beauty breakthrough by Allure magazine.
Shiseido has an extensive line of cosmetics.
One of those products that I'd like to review today is Shiseido Benefiance WrinkleResist 24 Intensive Eye Contour Cream, considered the best anti-aging cream available today.
Shiseido is a high-performance night time skin cream specifically for wrinkles, fine lines, age spots, and skin discoloration caused by aging.
If you want to reduce the appearance of wrinkles, achieve a fresher and more healthy-looking skin, then Shiseido is your go-to anti-aging facial cream.
Description
Smell:
WrinkleResist24 Intensive Eye Contour Cream has a  feminine scent that is mild and isn't long-lasting.
Unlike some creams that the smell may linger longer than necessary, as soon as it`s absorbed into the skin, what remains is a fresh neutral scent.
What I like is, that you can use this cream with a delicate perfume and the aroma of the cream doesn't interfere with the smell of the perfume. This contains hexyl cinnamic the has a sweet floral scent.
The Ingredients
Shiseido has "elements" that are patented and include:
Microcrystalline wax,
Beeswax,  
Microcrystalline wax,
 Uncaria Gambir
Sodium glutamine,
Sapindus Mukurossi peel extract,
Sanguisorba Officinalis root extract,
Chlorella Vulgaris extract.
All of these elements are mixed with mineral oil, glycerin, and water that produces a binder.
To give it a floral scent that is mild, an orchid fragrance is mixed in.
How Well Does  Shiseido Work?
To be the best anti-aging eye cream it has to be pretty effective, right?  We all want those fine lines, crow's feet and corner creases around our eyes to be less noticeable.
What's great about this cream is its natural ingredients that actually prevent wrinkles, reduce their appearance, and reduce signs of aging.
It contains a burnet extract which is a herb that rejuvenates the fatigued cells.
This cream was created using the advanced technology of Shiseido, with some brand new ingredients, like hydroxyproline and Super Bio-Hyaluronic Acid N.
These ingredients supply very generous moisture to the skin. Check the more in-depth post here.
With continuous use, it produces collagen, which skin that is aging requires.
This eye cream uses some technologies that are pretty hi-tech.  Some of the technology that Shiseido uses are
 Optimal Balance Network, Bio-regenerative, Phyto-Capsule Emulsification.
Shiseido's cream restores skin with PCA, which is sodium-based and vitamin E which soothes dry skin and also does a great job at repairing your skin cells from the inside out.
Check my earlier post on reducing wrinkles with home remedies here.
Application:   
Apply the cream after cleaning the skin thoroughly with a mild cleanser.  For optimal results, it should be used twice a day.
If you are putting on makeup after the application, it's best to allow 10 minutes for the cream to absorb.
Doesn't seem like too long to wait to obtain the benefits from the cream, now does it?
Price:
This product, although very, very good, has a price tag of $55.  This is for a 0.5 oz jar.
But, I feel that this non-greasy, hassle-free and floral accented cream is totally worth it! This will be money well spent.
Pros:
 Prevents fine lines, Moisturizes with a specially made formula.
Removes all types of wrinkles, Leaves skin soft, supple, and tender.
Ultra-rich but lightweight.
Can be used by men and women so you don`t have to buy 2 different jars.
Cons:
Best Place To Buy
You can buy Shiseido Benefiance offline from your local beauty shop or if you shop online, Amazon has the best prices, offer free shipping and same-day shipping so you have your item in no time.
Conclusion
This anti-aging eye cream is ultra-rich and helps remove all types of facial wrinkles.
What I think is especially brilliant about the formula is it helps prevent the subtle fine lines that crop up.
Its amazing formula enhances the production of collagen, which helps make the skin feel as soft as velvet.
Out of all the many creams out on the market today, I do think this is the best anti-aging eye cream available.
Are you ready to try Shiseido Benefiance WrinkleResist24 Intensive Eye Contour Cream?  It's well worth it!  I highly recommend this product and am giving it a 9/ 10.
But having said that, remember what I`ve always said when trying to fight wrinkles, there is no one product fits all, what works for me may not work for you.
The second rule I always remind my readers is to be patient, you can`t apply an anti-wrinkle today and expect results next week.
Be faithful to any cream you`re using to see the real results, applying it today then forgetting to apply 2 days………..well, it just doesn't work that way.
If you have any questions, leave me a message below, if you found this post useful, do you think someone would like it in the social media? please share.