Tape-in hair extensions are an affordable and easy way to give yourself the hair of your dreams if you want long hair like yesterday.
If you ever wanted to try a new hairstyle and not had the time or money to go through a salon then this is for you. Or maybe you want your hair to grow out, but are tired of waiting?
If so, then this article is for you! Whether you're a mom with little time, or just want some more hair volume and length without the commitment, hair extensions can bring out your inner diva.
This article will outline everything that goes into getting them installed, as well as what they feel like once they're in place.
It will also go over what kind of hair extensions to buy, how to care for them, and what the advantages and disadvantages are.
What Are Hair Extensions?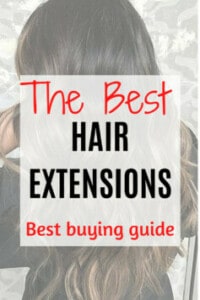 Hair extensions are fake hair links that are applied to existing hair(you can call them artificial hair if you like). They're usually made from real human hair, but some companies use synthetic hair instead.
They can be used to lengthen your locks or to give you more volume. Extensions come in a variety of colors, textures, and lengths, and can be applied by both professionals and people who like a bit of hair DIY.
Each set of extensions varies depending on the type, but they can last anywhere from few weeks to 6 months with proper care and maintenance.
Hair extensions vary widely in price, as well as quality. You'll find them starting at $60 up to over $1000 per set, depending on the quality and quantity you're looking for and what you're willing to spend.
Click here to check our top choice hair extensions
Advantages of Hair Extensions
There are a lot of benefits to using hair extensions:
Now what you consider an advantage might not be the same for the next person, and every product is not the same, but we`ll look at the most common and worth knowing clip-in extensions.
If your hair is thin or fine, using hair extensions can make it look fuller and thicker.
You, don't have to style your hair for them to look good. Just leave them in and go about your day.
They come in a variety of lengths, styles and colors, giving you a lot more options than wearing a wig or using clips that cover just one section of your head.
Hair extensions are perfect for people who have an appreciation for low-maintenance hair days. They don't need to be washed every day because they don't get dirty like regular hair.
Artificial hair can also help you decide whether you want long or short hair on any given day, giving you the option of either.
Extensions are a great solution for people who aren't sure yet about what kind of hairstyles their hair can handle and what styles would look good on them.
With hair extensions, you can use a lot fewer styling products than long-term wigs or clip-in extensions, which are more expensive in the long run.
They look great with updo hairstyles, and can even add natural flowing volume to braided styles.
The application process is easy. You don't have to go to a salon or have someone else do them for you. In fact, you can do it yourself at home with the proper tools and the right amount of time.
They're cost-effective! Hair extensions come in all prices and qualities, giving you options to suit your budget.
Disadvantages of Using Hair Extensions
Hair extensions aren't bad for your hair by any means, but they do require some maintenance in order for them to look good (just like real hair!).
If you're looking for something that is going to make your hair look better without any work, then hair extensions are not the solution for that.
There are also some other disadvantages to consider:
 You can't put your hair up for long periods of time with extensions, or else you'll run the risk of damaging them.
If your hair is curly and you want to use hair extensions that are straight, look elsewhere. The curls will not take to the straight hair extensions well at all, and it may end up looking frizzy or messy instead of neat.
 They can feel uncomfortable when first applied if they're tight enough.
You have to make sure they're the right length for your face, otherwise, you'll end up with a hairstyle that either makes your face look long or shortens it unnaturally.
 Hair extensions can take a lot of time to put in, and some people may not always have an extra 3 hours to spare.
If you're out and about during the day, be aware that hair extensions can become very hot. Extensions are normally made from real human hair, which absorbs heat like nobody's business.
You don't want to use hair products with silicones on them when you have extensions in. The ingredients in the product can build up on the extensions and cause them to look dull or change color over time.
 Hair extensions can't be colored as effectively as natural hair because they're not grown out from your scalp like your real hair is.
Now, most of the above-mentioned negatives are easy to overcome with practice and patience, as extensions are temporary, negatives are easy to fix.
Worth Knowing 
Also, if you're thinking about getting professional-grade hair extensions, or doing it yourself at home, make sure you know what you're getting into and follow all instructions carefully.
Hair extensions if you not handled correctly, there's a chance that the bonds could cut or snap off some of your natural hair when removing.
If you're choosing to do them yourself at home, it's important that you use the right kind of glue for your type of hair. If not, they won't stay in place and your natural hair will be damaged and possibly even fall out.
To sum it all up, if you're going to use extensions, whether they be clip-in extensions or regular ones, do your research and make sure that whoever is doing them has the proper tools and knowledge to do it correctly.
The last thing you want is for your hair to fall out because of bad extensions!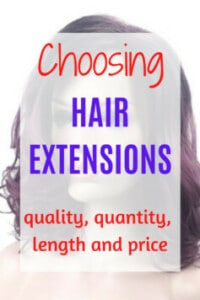 You might like
Using bikini hair removal creams
The Costs Of Hair Extensions For Your Budget
Hair extensions come in a wide variety of sizes, quality levels, textures, and lengths. Extensions are some of the most popular hair products available, but they're also one of the hardest ones to shop for.
The best thing to do is try and go into a salon or beauty supply store and talk to an expert about what option would be right for you.
They can help you decide what kind of style, quality, and size will work with your own hair.
Sometimes it`s convenient to shop online especially for those who live in areas where there are no shops selling artificial hair.
In case you want to shop online, go ahead and do so! However, make sure that wherever you buy from has a good return policy.
If the extensions don't fit well or aren't the quality they're supposed to be ask for a refund or exchange. It's better if you can send them back in exchange for something similar.
Hair Extension prices
As far as the prices go, it's safe to say that there are no extremely cheap hair extensions. If you're looking at a good quality type of hair, it's not going to be particularly economic.
However, if you're willing to shop around and compare prices online. It might be possible to save a little bit of money.
Don't go for the first set of extensions that fit within your budget; look for the highest quality you can afford! You want these to improve your hair, don`t let price be the decider.