This post is full of tips to using bikini line hair removal creams safely and in the end, you`ll be an expert at this intimate task.
The pubic hair is not harmful or cause any concern. Nor do their removal is of any known benefit.
Many of the women are uncomfortable with pubic hair as they limit their chances to wear swimsuits or short skirts.
Not to forget that the menstrual cycle can make things very messy. There are different methods you can use to remove bikini line hair.
This post will look at using bikini line hair removal safely if you`ve never used any or if you are just uncomfortable using creams to remove pubic hair.

So, keeping your genital area hair-free could be important care for them.
Maybe even more important than hair removal from other areas of the body.
Want to shave your bikini line instead of using Chemical depilatories? then check this top-rated lady shaver.
Removing hair from the delicate genital area can be a scary process for either gender especially if you`re doing it for the first time.
There are different ways that you can go through the process of removing hair. Bikini line hair removal creams are one of them.
Different Bikini Hair Removal Methods
This post is about bikini line hair removal creams but I felt I`ll just mention some other ways, but if you want these in detail, you`ll have to check my other posts.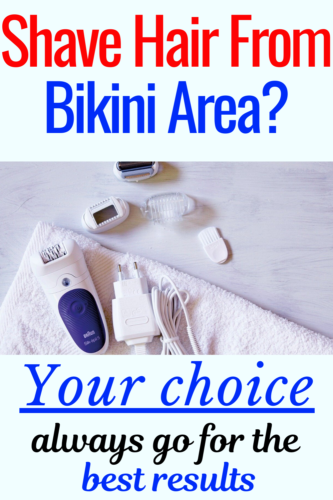 You might also like:
Facial hair removal tips women trust
How to avoid razor bumps and ingrown hair
Shaving
The shaving method requires the use of a razor blade.
This method is steadily declining in its popularity as the blade often leave cuts on the skin.
Women who still prefer to shave are now mostly using electric razors to shave. Check this Number 1 ranked women electric shaver on Amazon.
This method also just cuts the hair from the surface of the skin and we know that pubic hair grows back within a couple of days.
So, shaving constantly and so frequently leaves the sensitive skin there to get uncomfortable.
Waxing
Waxing is the faster and the most effective method to achieve a smoother bikini line for a longer period of time as this method works close to the hair root.
The results last up to 4 weeks without any complication.
Several brands have now introduced waxing strips that are easy to use at home.
The regular waxing or use of waxing strip can result in fewer and softer hair growth with time.

One other way to go about removing pubic hair is through hair removal creams.
They are easy to apply and remove. The best hair removal creams work effectively and without any hassle.
The hair removal cream works on breaking down the chemical bonds of the hair.
After a couple of minutes, the hair becomes weak to be easily scraped off with a spatula.
Some women prefer this method over the other two for pubic area hair removal as this method is quick and painless. 
How To Use Bikini Line Hair Removal Creams Safely
Testing 
The first step is to test the cream through a patch test to check for skin irritation before you even put it to use.
Apply a little of the cream on a small portion of the skin to check for skin sensitivity and irritation.

Wait for about 10 minutes and rinse it immediately on irritation.
If there aren't any changes then clean it off with a damp towel.
Wait for an extra hour or two for any signs of skin allergic reactions to be sure.
A reddened or bumpy skin means that the cream isn't suitable for your skin.
Trimming
Proceed to the second step after the cream has passed the skin patch test.
Trim the pubic hair beforehand to make the hair removal easier as the trimmed hair is easier to break down and clean off.
In this way, you will need to use a lesser amount of hair removal cream which means less exposure of chemicals to the sensitive skin.
Areas to Avoid



Whatever you do, do not use the cream on the genital area as it is a sensitive area and would burn and may cause some serious harm if the chemicals in the cream came in contact with that area.
Read more on chemicals and ingredients used to produce hair removal creams.
Bikini Hair Removal Timing
Don't leave the cream on the skin longer than instructed on the box. The time limit of 6-8 minutes is long enough for the cream to work on the hair.
Leaving it for long may hurt the sensitive skin of the pubic area.
Repeating the application is preferable than leaving it for a longer duration in case of thicker hair.
Washing
After you are done, gently wipe the residual cream off your skin using a damp soft towel.
A warm damp towel would be better. After wiping, rinse the area with water and wash it away with antibacterial liquid like this one here to prevent infection.
Avoid using any soap for at least 24 hours. A light moisturizer may help soothe the skin.
Pros And Cons Of Bikini Hair Removal Creams 
Pros
No need for professional assistance.

Quick, painless, and fast method.

Affordable

Easily accessible

No cuts or burns to deal with unlike with shaving and waxing

Depending on your hair type, results stay for at least 4 to 5 days.
Cons
Sensitive skin is more prone to get an infection

Regular use cause skin darkening

Results only last for 4-5 days while waxing results can last for 25 to 30 days easily

Ingrown hair. (check tips on avoiding ingrown hair here)

Hair tends to become thicker.

Skin irritation

Itching for some people

Use of chemicals
Points To Remember
Always do a skin patch test 24 hours beforehand

Never leave the cream on for longer than instructed

Use a mirror to apply the cream to know exactly where it is going

Avoid genital areas and apply to outer areas of skin only

Remove the cream and hair with a damp washcloth

Keep out of the sun for at least 24 hours after application.
Two Top Rated Bikini Depilatory Hair Removal Creams
: This is made specifically for sensitive skin. If you want to remove hair that`s easy to use, affordable without being messy, this is your go-to, in just a few minutes even stubborn hair will fall off.
With Aloe Vera, not only remove unwanted pubic hair but at the same time it that helps moisturize and soothe your skin.
This comes in a pump-style bottle for easy dispensing, you can see exactly how much you`re using.
I love the fact that it`s dermatologically tested so if you use it with the timer suggested.
There`s no chance of overprocessing because hair removal cream if left too long, you`ll feel like chemicals are melting down your skin and this can be very unpleasant.
Still, it`s super smart to do a patch test first.
Don`t forget to check Veet sensitive product range or Veet hair removal for men(that is not for here or not anyway)takes into account the needs of sensitive skin.
Face & Body Hair Depilatories will not be complete without Nair hair removal cream. If you want smooth, radiant hair removed fast and pain-free then you should check out Nair hair removal cream.
Ingredients line Almond and calendula oils make for smooth and painless hair removal.
It`s best on clean and dry skin to achieve the maximum out of the product. that smooth radiant skin will be a reality, bushy armpits and the rest is a no-no for a lady.
Conclusion
Pubic hair is a bane in a girl's life as it is too sensitive a skin to experiment with.
Waxing, by far, is the best way to get rid of pubic hair, but, even that can go wrong.
The other easier way would be to either shave or use a hair removal cream.
There are other methods mentioned in an earlier post here so choices are endless.
Shaving isn't a practical approach for pubic hair as it tends to thicken the hair.
Using hair removal creams whichever you choose is only fine if you know how to do it the right way.