Today we are going to talk about a somewhat taboo subject, women's facial hair! There, I said it. Women have facial hair, and many of us are very embarrassed about it. The best women facial hair removal is not generally a topic of discussion at the office or a night out with the girls.
It's a topic that some women may feel uncomfortable and embarrassed talking about, however, many women experience this problem for several reasons.
Fortunately, there are a few ways to take care of facial hair and today, I'd like to discuss a few of the best facial hair removal products women trust.
What Are The Causes Of Women Facial Hair
Before we go into the methods of women facial hair removal, I'd like to talk about the causes, and why some women are more prone to it.
Women can have light hairs, dark hairs, thick hairs, and also thin ones growing on our faces, and they are most prominent on the upper lip and around the chin. So what can do for facial hair removal women want?
Heredity
Just as you can attribute your eye color, good complexion, or your skinny wrists to genetics, you can also thank for how much body hair you have.
People whose ancestors came from South Asian, Middle Eastern, or Mediterranean lands have a tendency to be hairier.
Excessive Male Hormones
If you have facial hair that is looking like a typical male pattern, you might have too many male hormones in your body which can cause a condition that is called hirsutism, which basically means excessive hairiness.
This type of facial hair in women is a symptom of something else going on in the body and should be discussed with a physician.
So, if you think your hair growth is excessive, you should see your doctor. It may be more complicated than figuring out the best way to get rid of that mustache.
If a woman suffers from PCOS (Polycystic Ovarian Syndrome), facial hair can become a real problem, and will often be more obvious than with other women.
So, What Are The Best Women Facial Hair Removal?
We woman have to put up with a lot when it comes to health and beauty, but having facial hair doesn't make us any less feminine, so we should try not to let it get to us.
It really is OK to sprout some unwanted hair on our faces. After all, we have become really skilled at removing hair from our underarms and legs, so why not our faces too?
Here are some tried and tested methods of dealing with unwanted facial hair that many thousands of women use with success.
It may be a case of trying each one out for yourself before deciding which method is right for you and your skin type.
1. Shaving  
Rumour has it that such legendary beauties as Cleopatra, Elizabeth Taylor, and Marilyn Monroe used to shave to remove unwanted facial hair.
It is easy to do and very quick, and you can even do it in the shower before you shave your legs.
Shaving can save you an absolute fortune on creams and waxes, so many women with busy lives choose this option for it's convenience.
However, you have to shave regularly to keep on top of new stubble appearing, and you have to be careful not to knick your face while shaving, just like men have to!
2. Waxing
OK, waxing is painful! Let's not beat around the bush here. Waxing your face is a lot different from waxing your legs or underarms.
The skin on your face is much more sensitive too, so waxing can leave your face a little red and feel quite tender.
You can buy facial waxing strips that are made for sensitive skin, so it would be a better option to go with these wherever possible. Try to wax your face before you go to bed at night.
This way you will give your skin a chance to recover, and you will not have the embarrassment of going into work with a red face the following day.
3. Hair Removal Creams
Another of the best women facial hair removal ladies trust are the hair removal creams.
You can get some facial hair removal creams that are specially formulated to deal with facial hair.
These tend to be much more gentle on your skin than creams made for use on the body.
So please be sure to check before you purchase to avoid having to return it or, you can still use it on your body.
You may prefer to use a hair removal cream if you really cannot bear the thought of pain from waxing, or are scared to shave.
Some creams may not work very well on stubborn hairs, so you may need to tweeze away a couple of hairs after treatment.
Be careful to follow the instructions carefully, and don't leave the cream on for longer than is recommended, this can cause some serious damage to your skin.
4. Tweezing
Tweezing is great for keeping on top of a few unwanted hairs and also to maintain the odd growth between waxes or other treatments.
However, tweezing will not cope with lots of fine facial hairs, and can be uite time consuming if you have lots of hair, don't forget tweezing can also be painful, so it is not for the faint-hearted.
5. At Home Laser Treatments
If you are fed up with the constant effort of keeping your facial hair under control, and you have a little spare cash to hand, then something more permanent could be your best solution.
Home laser treatments like this one may cost a lot initially, but over the long-term think about how much money you would be spending out on waxes and creams. And I consider this to be one of the best women facial hair removal and more permanent.
These handy machines do offer long-lasting results, and over time with some persistent use will be able to thin your hair, or completely eradicate it eventually.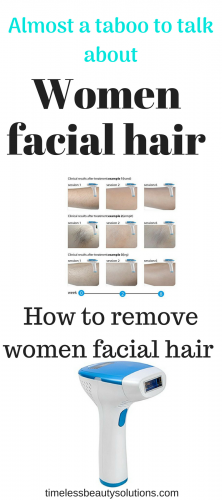 6. Bleaches
If your facial hair is mostly fine and short, then bleaching it may be a better option for you.
You can get bleaching creams that are made for facial hair, and are formulated for the sensitive skin on your face.
Never try to bleach your facial hair with household bleach or bleach that you would use to lighten the hair on your head.
These are not made for the delicate skin on your face, and you could risk burning your skin as a result.
Your bleached facial hair will eventually grow out, so you will have to repeat the process when you notice new hair growth.
These are the main techniques and the best women facial hair removal that almost all women use, it is up to you which one will work best for you.
Conclusion
There are several best women facial hair removal methods available. One that I did not discuss was facial hair removal prescription creams.
This is by prescription only and may take weeks to be effective. Whatever you decide, if you find that method is not for you, try another.
Hope my post has helped you decide which is the best women facial hair removal for you, any questions just leave me a message below.