We all want to experiment with different hairstyles once in a while. But what if you`ve cut your hair too short and feel limited on how to style? There is a quick fix, find the best hair extensions for short hair for immediate length.
Are you wondering whether you can use extensions for short hair? You will be glad to know that it is possible to add these to your short hair.
Using extensions will give you that beautiful transformation you want without having to spend an arm and a leg on hair growth supplements as these take time to have an effect.

However, you have to address some crucial considerations before you get started with synthetic hair for your short hair.
For starters, you have to consider size, color, length, type, and the ideal hair extension method for your hair type.
These things shouldn't put you off though, using fake hair still has so much to offer.
If you are considering false hair for your short hair, keep reading to discover everything you should know about hair extensions.
Understanding Hair Extension Basics
Also known as artificial hair integrations, hair extensions have grown in popularity in the last couple of years. Hair extensions add volume and length to natural hair.
There are various types of color extensions and numerous integration methods.
Common false hair integration methods include clip-in, clip-on, tape-ins, fusion, and weaving methods. Integrations can be sewn, glued, or clipped to natural hair.
Extensions can transform your appearance in the short-term or long-term depending on your preferences and the type of extension you have.
You can use artificial hair to cover your short hair altogether or to add length to your existing hair.
Moreover, you can use hair extensions to add volume and color to your natural hair.
However, integrations are also susceptible to hair loss, commonly known as traction alopecia.
The Best Hair Extensions for Short Hair
With numerous false hair types in the market, finding the best option for your short hair can be quite a task.
Learning more about each type of false hair is the secret to finding the ideal type of extension for your short hair.


Let's discuss various types of hair integrations below so you will know what extensions are best for short hair and what will suit you best.
No time to read the whole post? then click here to check our top recommended products.
Extensions Depending on Usage:
Let's start by exploring different types of extensions depending on your preferences and needs:
Temporary hair extensions are one of the most popular, thanks to their flexibility and adaptability. They are easy to integrate and remove than other integrations.
However, you have to remove these every night before retiring to bed. The good news is that you do not need any skills and specialized tools to integrate it back in the morning.
These extensions should be your go-to option if you are not ready to spend an arm and a leg on salon services.
However, you should know that temporary artificial hair is susceptible to breakage due to the act of removing and integrating them back every day.
The better news is that high-quality temporary extensions are more durable than their cheap alternatives. Common types include ponytail integrations, halos, and clip-ins hair extensions.
Semi-Permanent Extensions
Semi-permanent integrations can be integrated on your natural hair longer than permanent hair extensions. This makes these integrations the perfect option for individuals who have busy schedules.
You don't have to use too much of their time to attach these extensions to your short hair each day as is the case with permanent integrations.
It is important to note that semi-permanent extensions are not inherently permanent. The good news is that they are more durable than permanent hair integrations.
In most cases, they last for more than 5 weeks. However, their duration depends on various factors such as the type of false hair, the level of maintenance, and the quality of your extension.
You may like
Instant volume and length for your hair.
One downside of this hair extension is that it must be attached by a professional in a salon.
You can also do it on your own if you have the skills and the tools. Popular semi-permanent false hair examples include weave-ins, wefts, tape-ins, fusions, and micro links.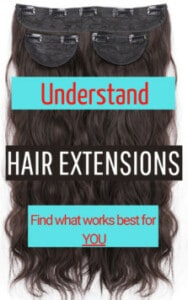 False hair Depending on Method of Integration
Extensions are also classified into different categories depending on the application methods. Here is what you should know about different integration methods.
It is safe to say that this type of artificial hair is one of the most popular among hair extension users.
Almost all clip-in hair extensions are temporary and do not require expert or specialized tools. This makes them the go-to option for beginners and individuals who want to change their appearance for a short time.
There are already clip in colored hair extensions in the market, so anyone will find the right color without having to dye anything.
Moreover, clip-ins are cheaper than most extension types. However, you should avoid these artificial extensions if you have thin hair.
This is because your thin hair might fail to cover the extension completely. This clip-in extension will work for you if you are looking for a flexible and versatile option.


Are you looking for an extension that will complement your busy schedule? Then halo hair extensions should be your go-to choice, easy and fast.
You will never have to use your time to attach these additions to your hair as is the case with clip-in false hair. What is more, these hair extensions are less damaging than other extensions.


Tape-ins are perfect for individuals with thin hair. This is because these extensions are small in size, which means that they can be covered completely.
Although you can attach these extensions on your own, it is advisable to seek professional salon services for better results.
The major downside of tape-ins is that they can disappoint you if you are going for a specific hairstyle.
Moreover, they might be difficult to hide once your short hair starts to grow.
are perfect for you if you love your hair in a ponytail and just want more volume.
These extensions will add volume and length to your ponytail. They can clip or wrap around your natural ponytail depending on your preferences.
Ponytail extensions are great for when you are having a bad hair day, pull everything up and tie it together with your ponytail extension.
Hair integrations can also be synthetic or natural. As the name suggests, synthetic hair extensions are manufactured while natural hair extensions look and feel like human hair as they are harvested "ethically" for young healthy women.
Final Thoughts
When looking for the perfect hair extensions for short hair, be sure to keep these essentials in mind. Don't forget to think about your preferences and budget too.
Find hair that you can wash, dye, and heat style as you`d your natural hair, this is achievable with natural hair extensions as artificial extensions are chemically treated and mostly do not accept hair color.
I hope you enjoyed this post and will not make an informed decision when looking for immediate length and volume, be it for a night out or a party weekend.
If you have any questions, please leave a message below.