In beauty and skincare, there are just those skincare products you must-have, the products everyone seems to be talking about. Drunk Elephant is one such brand.
Are Drunk Elephant products really that good?
Now as we`ve always said, in skincare, there is no one size fits all.Since we all have different skin,that means  we need to find the perfect product for OUR skin types!
The following is a list of Drunk Elephant's bestsellers according to their customers' reviews and recommendations, as well as our own research into which items work best among those who suffer from dryness or oily patches on top of other concerns such as acne-prone complexions or fine lines."
What is the most popular Drunk Elephant product?
The answer may surprise you! To me, it`s their iconic Facial Cleanser.
It's a triple-threat—cleaning, moisturizing, and hydration all in one!
It`s non-irritating and although made for sensitive skin, it`s suitable for all skin types.
I love the fact that this cleanser doesn't dry out your skin as many other cleansers can.
It`s made with natural ingredients which also makes it gentle enough for those sensitive areas around our eyes or face.
It can get uncomfortable when using harsh products such as astringents or toners but you can use this cleanser to help remove makeup applied beforehand.
But that`s just one product, let`s check some MUST HAVE Drunk Elephant skincare products( they have hair care products too but this is about skincare products).
These are Drunk Elephant products worth buying.
We`ll not have this in any specific order, this way, we hope you`ll read the whole post so you don`t miss anything.
Drunk Elephant C-Firma Vitamin C Day Serum

What makes this stand out is because it`s paraben-free, has no artificial fragrance, no sulfates, and is not tested on animals.
Unlike some other Vitamin C serums, it does not irritate the skin even sensitive skin.
Drunk Elephant's C-Firma™ Fresh Day Serum is the perfect way to start off your day with a healthy glow.
This powerful antioxidant serum will hydrate skin all while delivering an even complexion, fill fine lines, and firming up those wrinkles!
Packed with an antioxidant complex of 15% l-ascorbic acid and 0.5% ferulic acid that delivers a brighter complexion for the whole day!
Made from real pumpkin ferment extract as well as sodium hyaluronic fillers so you experience all these great benefits without any uncomfortable side effects.
Most users gave this product a 4 out of 5 stars. Check user reviews here.
Drunk Elephant Protini Polypeptide Moisturizer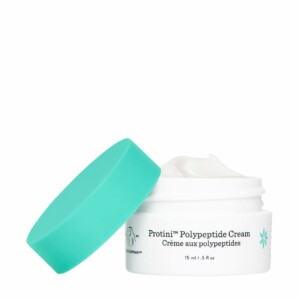 No skincare is complete without moisturizing and Drunk Elephant Polypeptide moisturizer is a must-have if you want the best.
The Drunk Elephant Protini Polypeptide Cream is a miracle worker for all your dry, cracking skin woes.
Packed with the latest in collagen building technology and peptides to help maximize its effectiveness on wrinkles as well as other damage including scaling from excessive moisture or sun exposure (polypeptides are actually what give elephants their characteristic bumpy appearance).
It's hard to find a moisturizer that actually compares. The Drunk Elephant Protini Polypeptide Cream saves the day!
With its creaminess and advanced peptides; it'll keep your skin looking young while repairing any damage from stress or pollution.
In addition to preventing new ones from oncoming, without causing irritation which is essential because we all know how sensitive our faces can get with some products.
The breakthrough protein moisturizer is a must-have for all skin types and appearances. The moisturizer is designed to immediately improve the appearance and tone of your skin.
Ingredients include signal peptides, growth factors as well as supportive amino acids for visible results in a matter of days!
You may like
Using Microdermabrasion machines correctly
Drunk Elephant F-Balm Electrolyte Waterfacial Mask
This easy absorbing mask should be a must in your nighttime routine, and you can safely wear it to bed instead of a moisturizer.
Apply while concentrating on problem areas to tackle those wrinkles and dry skin.
Your skin is noticeably fresher, softer, with fine lines plumped, and feel refreshed.
The only negative might be the somehow high price tag, at $55, it`s not really budget-friendly.
Drunk Elephant A-Passioni Retinol Cream
A retinol anti-wrinkle cream that brightens age spots, gets you an even skin tone. This cream nourishes the skin and fighting deep wrinkles and fine lines, get that youthful with little effort.
Like other Drunk Elephant skin and hair care products, this too has no added ingredients to mask it`s natural scent.
Marula oil, Zinc Oxide, Thermal Mud, Fruit Enzymes, and Vitamins for a refreshing and reassuring scent.
Confirmed users have given this product a 5/5 on Amazon. You can check user reviews here.
Drunk Elephant Beste No. 9 Jelly Cleanser
As mentioned in the beginning of this post, I love cleansers, nothing feels better than a face free of oils and sweat from a long day.
This gentle face wash and makeup remover work well on all skin types.
Use it to remove all traces of makeup and grime without having to use a separate makeup remover. The main ingredient in Jelly Cleanser is Glycerin with  hints of Marula oil, Zinc Oxide, Thermal Mud, Fruit Enzymes, and Vitamins.
It`s filled with ingredients that will keep your skin barrier balanced. Works well on all skin types so there`s no need for a separate skincare product.
Alternatively You May Like
Drunk Elephant T.L.C. Framboos Glycolic Resurfacing Night Serum
Resurfacing Night Serum is a great way to get rid of fine lines and wrinkles. This serum will smooth out your skin in just one week!
For an instant boost of radiance, try Resurfacing Night Serum.
The soothing and moisturizing formula will leave your skin smooth with a healthy glow that lasts all night long and wake up feeling refreshed.
This gentle chemical exfoliation helps you achieve a smoother complexion by breaking down the outermost layer of your skin that holds dirt.
It's also perfect for getting rid of dark spots and Targeting all types of concerns from dullness to dryness because it contains salicylic acid as well!
If you want a dual-action, deep exfoliation to remove dead skin cells and target dark spots (and everything in between), this serum will do the trick.
The AHA/BHA formula is gentle but effective for achieving an even complexion that's smoother than ever before!
It's hard not having any breakouts or irritated redness on your face when dealing with clogged pores from old acne scars
It can also become tedious trying out new products every day just because they might work better than another brand we like so much already—especially if a said product doesn't come cheap either.
It`s time to stop trial and error, when I think of the best Drunk Elephant products worth buying, this comes to mind.
With the help of a power combo of AHAs and BHAs, this serum can target pretty much all complexion concerns. It is designed to be gentle while also providing an effective exfoliation that will leave your skin smoother. Another must-have for me.
Drunk Elephant Umbra Sheer Physical Daily Defense Broad Spectrum Sunscreen SPF 30
The SPF factor is not just about protecting your skin from sun damage, it also helps you look young!
This sunscreen has antioxidants and essential moisture to leave you feeling well-protected while giving you a healthy youthful glow.
The best way to keep your skin looking youthful and healthy is with this rich Sunscreen that is an antioxidant-rich daily moisturizer. This product leaves you feeling refreshed all day long!
It's been proven to protect your skin against sun damage. The SPF rating should be higher than what is currently advertised on the product label for UVA/UVB protection.
This one does offer some relief from wrinkles and other signs of aging due to its free-radical fighting abilities.
The broad-spectrum power means it can also help combat all those pesky pre-maturely aged cells that we are inevitably prone to as we age!
Broad-spectrum UVA/UVB protection and the prevention of free radical damage are just two benefits that this product offers.
Drunk Elephant Lala Retro Whipped Moisturizer With Ceramides
Get your skin to feel like silk with the Drunk Elephant Lala Retro Whipped Moisturizer!
Ceramides are a key component in the ability of this moisturizing serum, so you'll be sure not only do outstanding hydration but also have amazing protection from environmental stressors.
The whipped texture allows for maximum absorption of all those good-for-you ingredients and enables effortless application every time .
It provides just enough glide without being too heavy or greasy; making certain that even sensitive areas get treated well.
Made without fragrance or parabens it leaves no residue on clothing and its positively charged moringa extract sloughs away dead cells while simultaneously providing vital nutrients for youthful-skin
Although I don't have too many wrinkles yet…I Make use of these bad boys in both my elbows before summer's end!
Drunk Elephant Virgin Marula Luxury Facial Oil
This concentrated face oil is formulated with 100% unrefined, virgin marula oil, naturally rich in omegas and antioxidants, which intensely nourish skin for a healthy, radiant complexion.
Marula oil is naturally rich in vitamin C, which helps to fight free radicals, and is  60% higher in antioxidants than Argan oil, the combination of which gives your skin a bright, youthful glow.
Use for a glowing radiant and healthy complexion.
What is the most popular Drunk Elephant product?
Now, this is hard to say, we all have different needs, but I have to say all Drunk Elephant products are very popular with users.
Most people who`ve tried the products swear by them and there are never really any complaints or complications. From skincare to hair products, it`s a win-win.
Is Drunk Elephant Overpriced?
Now this is really hard to answer, but they may be expensive but surely not overpriced. Most of the products start at $50 so, some people may find them overpriced.
Having said that, remember in skincare just like in everything else, you get what you pay for, all Drunk Elephant skincare products are worth every penny.
The Best Drunk Elephant Products for All Skin Concerns?
Most drunk elephant products work with all skin types, oily, dry, mixed, sensitive, mature you name your skin type, you can use Drunk elephant-
I think the best drunk elephant products will be those you can afford!! Drunk Elephant cosmetics are all trusted by anyone who`s used then and I`m sure you`ll love them too.
Let me know what you think, I`d love to hear from you and your experience.