Forget the rest of  TruSkin Vitamin C Facial Serum Review, we will look at the benefits, cons, alternatives, and how to use the product for the best results in your skincare.
Remember all skin care products even those with five-star reviews will not necessarily give the same outcome to every single person, we all have different skin types so results will always vary when you use a product.
Product Name: TruSkin Vitamin C Facial Serum
Overall Ranking: 4.2 out of 5
Price: $19.99
Product Type: Serum
Manufacturer: TruSkin Naturals
Introduction To TruSkin Vitamin C Facial Serum
TruSkin Naturals Vitamin C Serum gives a noticeably brighter, more even skin tone, reduces redness, and an overall glowing complexion. This is what`s considered as a must-have by skincare star players.
But before we go on, let`s make something clear:
You`re looking for TruSkin Vitamin C Serum Reviews because you are unsure if it`s right for you.
That`s just fair, not all skin lotions, creams, and serums produce the same results for each and every person.
Truskin works well with both sensitive and acne-prone skin and offers a noticeable decrease in breakouts, encourages collagen production and increase skin radiance.
Moreover, the skin feels smooth and soft after regular use even mature skin looks and feels fresh.
It has a very lightweight texture but still feels extremely hydrating.  It gets absorbed into the skin well without leaving any greasy residue.
TruSkin offers a definitely decrease in aging signs such as fine lines and wrinkles and increases skin brightness.
Ingredients In TruSkin Vitamin C Facial Serum
Aloe Vera
Hyaluronic Acid
Witch Hazel
Pros of TruSkin
This is a cruelty-free product from a cruelty-free product. No testing is done on any animals during its manufacturing, processing or its formulation.
TruSkin is safe for both sensitive and acne-prone skin. It also works with topical skin conditions and may help to treat ailments such as acne, skin eczema and sunburns.
The product is very light in texture in comparison to other skincare serums available in the market.
It does not leave any greasy or sticky residue behind.
It helps in reducing the appearance of acne and other skin scarring.
This Vitamin C serum delivers pretty unbelievable results in comparison to its competitors at  2-5 times less price.
This skincare product lasts long even with daily use.
This Vitamin C serum can be applied under the eyes and visibly reduces the appearance of fine lines, dark spots, dark circles, and wrinkles.
It is safe for use on all skin types, colors, and complexions except for any specific allergies.
Cons of TruSkin
The only shortcoming of this serum is that users experience an allergic reaction to Vitamin C. In such a case, it is advisable to do spot testing before using the product.
Who Is It For?
TruSkin vitamin c serum may just be the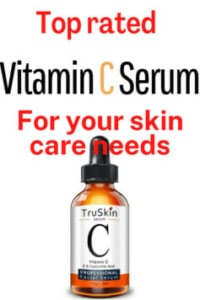 It works for all skin types excluding specific allergies.
Anyone looking for a skincare product that produces results should try this product.
Those with dark circles, sun spots, acne scars, dry skin, and uneven skin tone get this bestselling Truskin vitamin c serum.
Overview Of TruSkin Vitamin C Serum
TruSkin vitamin C Serums come highly recommended by dermatologists and beauty bloggers. Hence these serums are extremely popular.
Vitamin C is known as a powerful antioxidant. It stimulates collagen production.
It helps in reducing signs of aging by repairing the damage caused by free radicals and harmful sun rays. (read more about sun damage here)
It also helps in protecting any future damage from occurring to the skin.
However, this serum does not claim to be a substitute for sunscreen. It delivers much brighter and firmer skin with decreased appearance of fine lines and wrinkles, and an even skin tone.
Dermatologists recommend adding Vitamin C to your regular skincare regimen.
This is based on reliable evidence that Vitamin C offers long-term benefits and protection to the skin.
It gives better results than taking it orally.  It delivers improved skin tone, texture, and complexion. Vitamin C is potent so you can only use a few drops for every application.
It is very important to stay regular and consistent with your vitamin C regimen to get the best results.
Taking good care of your skin can be hard and often expensive but it is necessary if you want healthy and glowing skin.
TruSkin's Vitamin C Facial Serum, however, comes at a reasonable price with all its benefits.
Moreover, it comes with a rating of 4.2 and over 7000 rave reviews on Amazon.
TruSkin Vitamin C Serum has already been tried and tested by all these people with good results.
These people have put TruSkin's age-defying skin radiance booster to the ultimate test with successful results.
This serum formula has several anti-aging properties. It features vitamins C and Vitamin E along with botanical hyaluronic acid.
It is specifically formulated to target the most common and persistent signs of aging. It is one of the best vitamin c serums out there.
Remember what I told you at the beginning of this post?
Not all products produce the same results, so even after reading TruSkin Vitamin C Serum Reviews here or anywhere else, you still make an informed decision if it`s worth investing in or not.
TruSkin serum is plant-based and cruelty-free.  It also contains active botanicals like aloe vera and organic jojoba oil that nurture and soothe skin.
The serum formulation does not contain any synthetic fragrances, dyes, or stabilizers. I`m sure there are many TruSkin Vitamin C Serum Reviews out there but none so thorough.
The change is noticeable in the skin in a matter of days. After regularly using it for a few days, your skin becomes more radiant and smoother to touch after one week.
It also clears the skin's appearance and evens the skin tone besides reducing skin blemishes, scarring, and aging signs
The best part about buying this serum is the brand offers a 90-day money-back guarantee.
If you are not satisfied with the serum you can return the product (used or not) within the first three months. You will receive a complete refund. This definitely makes it a no-loss product.
You might also like
LilyAna Naturals Retinol Cream Moisturizer 
The Best Skin Care Routine For Oily Skin Concerns
What Does Microdermabrasion Do For your Skin?
Wrinkles?Natural anti-aging solutions
Should you refrigerate vitamin TruSkin C serum?
Now not many of us have the luxury of having a skincare and makeup fridge.TruSkin Vitamin C serum and similar products should be stored in a fridge if possible to stop them from oxidizing faster.
But it`s ok if you do not have a beauty fridge, keeping your products in a dark cool place should be enough to give your product a" longer shelf life"
I hope this answers your question as to why most retinoids and vitamin C creams and serums come packaged in dark bottles.
Stop Doing This When Using Vitamin C
While Vitamin C is a great addition to any skincare routine, keep in mind that when using it, you may need to adjust your other skincare products.
Retinol and benzoyl peroxide can compromise the effectiveness of vitamin C, while AHAs could potentially cause excess irritation for some users.
If this sounds like something you'd encounter with your regimen, consider breaking up application times or alternating between ingredients!
Your skincare routine or health doesn't have to suffer too much from sun sensitivity either.No matter where you read  TruSkin Vitamin C Serum Reviews, they will let you know to do the same.
Be sure to always finish off by applying sun protection, before heading outside into the day's light. Obagi Medical Sun Shield SPF 50 is my go-to for sun protection, it`s PABA-free, fragrance-free, and works on all skin types.
Products Similar To TruSkin Vitamin C Facial Serum
If you want to fight the most common signs of aging like wrinkles, fine lines, and dark spots, these Truskin Vitamin C serum alternatives work just as well.


Do they work better? I`ll leave that to you to decide, as we`ve always stressed, products do not always give the same results.
Most products below are lightweight,non-greasy, and contain the good stuff like Hyaluronic acid,  Ferulic Acid, and anti-aging properties that your skin needs.
You`ll achieve visibly smoother skin as these products will lock in moisture and fight the appearance of fine lines and wrinkles.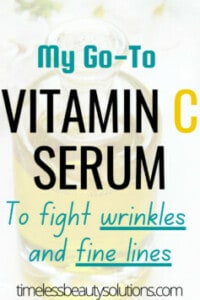 Amara Beauty: A natural product without harsh chemicals, no parabens, and no artificial colors or fragrances
Please Note
Vitamin C is an incredible ingredient, but it's important to note that prolonged exposure can cause deterioration.

Be aware of any darkening or discoloration as this could be a sign your serum has reached its expiration date.

Maximize effectiveness by keeping the bottle out of direct sunlight, away from heat and chemicals; these are surefire ways to preserve the potency!
Final Verdict On TruSkin Vitamin C Serum
TruSkin Naturals Vitamin C Serum is without a doubt one of the best skincare products that you can find out there. The serum treatment is worth the money paid as it delivers surprisingly good results.
It provides all the skin brightening and softening benefits that you get from branded and expensive skincare products at a much lesser price.
This is a brilliant and affordable product but you need more to have that lovely skin you`ve always wanted, you need to give your skin a proper cleaning using this product to remove dirt and oil that washing with your hands can not do well.