You might be asking why learn how to make homemade moisturizers? or why make any in the first place when you can easily and cheaply buy any skin moisturizer you choose.
Well … in spite of there being so many beauty products on the market today, there's nothing more satisfying, affordable, and money-saving than making your own creams.
You`ll know exactly what ingredient went into your moisturizer or any other product you are using to cleanse or hydrate your skin, you can reduce and increase ingredients to exactly suit your needs now.
It`s more convenient than feeling tied down to that expensive product you bought that you can`t just accept leaving half-finished even though you feel it`s not working for you.
So let's take a look at How to make homemade moisturizer, along with affordable, easy-to-come-across ingredients you may care to use.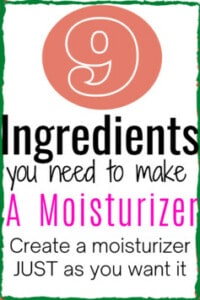 Some of these ingredients you might already have at home or are very affordable from your local stores.
Ingredients like Honey is something you already have in your kitchen.
Aloe vera might already be in your back garden,
Teatree oil is again something most of us do have at home and so is the case with the other Essential oils we`ll mention here.
We already mentioned some other uses of essential oils in an earlier post that you can check here is you missed it.
If you don`t have any of the mentioned products, don`t worry, we`ll give you links to other easy and effective home beauty recipes at the end of the page
How To Make Homemade moisturizer
Who's not heard of essential oils?
For those of you who are unsure of what they are, essential oil is a liquid that's distilled from different elements of a plant – leaves, stems, bark, flowers, and roots.
In spite of their name, essential oils are not oily at all, but clear liquids, though some may look yellow or amber. The name does confuse many people and they think essential oils are oily/fatty. This is not the case.
These oils contain the very essence of the plant they come from.
Essential oils will be of tremendous benefit to your physiological system.
They're known to help cell regeneration, act as an antiseptic, and have anti-inflammatory and other healing effects.
For all these reasons, they've become more and more popular in natural skincare, each one having its own particular forte.
Tea tree oil, for example, is renowned for its antiseptic and anti-
fungal properties. Pour a few drops into a foot bath to aid toenails problems … use to treat uneven skin pigmentation … as an aid to acne or oily skin.
Side effects of tea tree oil in skincare
Although used in many skincare products, side effects of tea tree oil in cosmetics include skin irritation and allergic reactions.
The side effects of using products with the ingredient "tea tree" may cause mild to severe rashes, itching, burning sensations on the scalp or face.
Despite the side effects, tea tree oil is rich in anti-bacterial, anti-fungal, anti-septic, and anti-viral.This is the main reason it is effective in healing wounds and skin conditions.
Gentle rose oil is suitable for treating different types of eczema and will benefit mature skins.
How To Make Homemade Moisturizer With Aloe Vera
is often present in skincare products as it's a wonderfully gentle healer and improves such conditions as dry skin, eczema, sunburn …
Commercially, you'll find it in many shampoos, conditioners and body lotions, as well as products that can be taken internally in drink form.
If you live in a warm climate such as Spain, like me, aloe vera plants are easily obtainable and extremely easy to grow.
Just cut off one of its leaves, slice open, and rub the gel direct onto your skin.
Or, scrape the gooey gel out, and mix together in your food processor with other ingredients to make a cream, cleanser or mask suitable for your skin type.
How to make natural moisturizers – products in your kitchen
One of the most important things you can do in order to enjoy beautiful hair and skin is to eat a healthy and varied diet.
So, you're bound to have an abundance of healthy food in your kitchen, aren't you?!
These products are wonderful for you when taken internally … but they will also benefit skin and complexion if applied externally.
For example …
Honey works as a wound healer, calming to sensitive skin, and masks based on it are very good for dry skin.
Yogurt and avocado pears also work wonders in masks for mature or dry skins.
Cucumber and lemon are more astringent, and better in recipes for younger or more oily complexions.
Cucumber slices are excellently placed on your eyes, as are slices of potatoes.
Fruit slices can be applied to the face for an invigorating effect after a hectic day at work, but fruit juice and pulp can also be combined with other natural ingredients to prepare face and body creams and moisturizers.
Extra virgin olive oil is an absolute "must"!…
Mix half-a-cup together with either a couple of spoons of sugar or sea salt for a wonderfully gentle and effective exfoliant.
Or, just rub extra virgin olive oil into dry or mature skins … its moisturizing effects are superb!
…And those are just a few examples of natural products you can experiment with at home.
How to make natural moisturizers – storing
Home-made moisturizers are clean without preservatives so they might have a short shelf life.
The only disadvantage to homemade products is you must store them with extra care, for they don't last as long as commercially prepared ones, which contain preservatives.
For this reason, don't prepare large amounts and keep any leftovers in the fridge.
Since these are moisturizers you can prepare for yourself in your kitchen, there should not be a fear of running out.
Sources: Nih on What are essential oils?