Eczema is not fully curable, but treatment and care ease the symptoms by subsiding the irritants. With the best body wash for eczema, you can reduce flare-ups.
Eczema or atopic dermatitis is a skin condition that makes skin itchy, scaly, inflamed, cracked, rough-textured, and with oozing blisters at worst.
There are many soaps and shower washes that are tender and good for hydrating the skin.
Having the best eczema body wash does not mean you should ignore your skin, but we`ll get to that at the end of this post when we`ll answer some common questions you should have like what is the best treatment for eczema.
Below is enlisted some of the best body washes for Eczemathat will help you in relieving the symptoms of Eczema.
New York Biology Antifungal Tea Tree Bodywash
Tea tree, along with other essential oils have antibacterial, anti-inflammatory, and hydrating properties.
Some of the key ingredients are
Cocos Nucifera water, Melaleuca Alternifolia Seed Oil, Tocopherol, Azadirachta Indica Oil, cocoa seed butter, eucalyptus oil, peppermint oil, and much more. It keeps the fungal attacks at bay by moisturizing the skin surface.
Newyork biology body wash prevents the unpleasant smell from the foot and body.
This is the best alternative to a chemically loaded, harsh topical antibiotic application.
It is a dermatologically tested and clinically proven body wash.
The product is natural and free from alcohol, paraben, and sulfates. Check similar products with the same good qualities here.
CeraVe Eczema Soothing Body Wash
Stamped by National Eczema Association, CeraVe body wash is an ideal pick to abate eczema.  It is one of the best body wash for Eczema in the market.
Check an earlier post on CeraVe moisturizer and Cerave products in an earlier post where we discuss this brilliant skincare product in detail and why it`s a must-have brand.
It has ceramides I, III, and 6-II whose function is to lock the moisture and helps in the reconstruction of the protective layer of the skin. Omega oils present to make it ultra-gentle to provide hydration to the chapped skin.
It is free from chemical preservatives as paraben and sulfate.It is suitable for general dry skin, psoriasis, and itching in the skin. The presence of Hyaluronic acid alleviates dry skin episodes.
No artificial fragrance add-ons. Skin pores will not be blocked, only repair mechanisms.
Find other products here.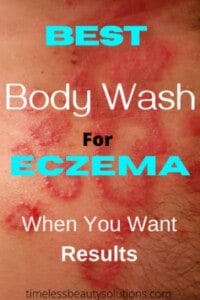 Tree to tub soapberry for the body 
It is made from the soapberry from the eco-reserves of Taiwan specifically for those with sensitive skin and dry skin.
It helps balance your skin's pH. Formulated with wild-grown soapberries, shea butter, cucumber, aloe vera, and chamomile uplift the bedew property.
No silicones, parabens, gluten, DEA/MEA sulfates, or artificial fragrance are added to the body wash. The product is dermatologically tested.
Maintains the pH of the skin as 5.5 as microbes grow in an acidic environment. This is a soothing cleanser for the skin. Preferred for dry skin, Eczema, psoriasis, rashes, and skin allergies.
Worth Mentioning About Body Washes for Eczema
It's worth mentioning that on occasions, manufacturers may alter or change their ingredient lists in a product.

Sometimes, product packaging and ingredients used may have more or fewer ingredients as expected.

You should not always rely on the information you read on the "last" packaging.

Always read the package whenever you buy a product. Do look for new warnings or any directions that might have changed before using a product.
Splendor Santa Barbara Pure coconut oil soap
This is a soap bar loaded with antibacterial, anti-viral, and anti-fungal properties. Check an earlier post on Coconut oil here if you missed it.
It is formulated with coconut oil, aloe vera juice, cocoa butter, oats, chamomile, and calendula.
No artificial fragrance is added; instead, chamomile imparts the mild scent to the bathing bar.
Made with olden day's slow cold-processed way to retain every bit of natural glycerine.
Coconut oil imparts hydration to the skin.
Guaranteed vegan product.
Colloidal oats and aloe juice soothe the skin with rash and itching.
Eco-friendly recyclable box packaging.
Aveeno Daily Moisturizing Body wash
As in all Aveeno products, Aveeno body wash has active ingredients in all Aveeno products are colloidal oats or oat extracts.
You can learn more about Aveeno products and the company here.
Aveeno is a name that`s trusted for their results-producing skincare products at very affordable prices and this is no exception.
It works to protect and repair the skin barrier.Colloidal oatmeal protects and nourishes the skin layers.
The texture is very creamy. It is a dermatologist-recommended product for sensitive, dry skin. Makes skin softer, smoother, and healthier.
Maintains the natural hydration of the skin.No artificial scents and dyes are added. The body wash is enriched with "two moisturizing oat formulas."Oat helps in maintaining the optimum pH of the skin.
First aid beauty ultra repair gentle cleansing bar
This is an excellent choice to effectively clean and hydrate the skin.The composition includes colloidal oatmeal, allantoin, shea butter, squalene, and essential vitamins. Antibody boosters are added to it as they consist of Licorice root, Fever Few, and White tea extracts.
Helps in the maintenance of the skin barrier and healthy-looking skin.
Vitamins E and A acts as conditioning agent and suppress the skin irritants in the environment.
Squalane is a humectant derived from oil for smooth skin.
Shea butter consists of essential vitamins, minerals, and fatty acids. These ingredients are the key to moisturizing and protecting the skin barrier. Check an earlier post on the best skin barrier cream here if you missed it.
Artificial color, parabens, fragrance, alcohol, propylene glycol, Phthalates, petrolatum, and sulfates are not present is the bathing bar.
Easy to rinse the creamy lather formed by the soap bar.
It qualifies as a good option for eczema problems.
Dove sensitive skin body wash
Easy available and easy on-the-pocket option for smooth, moisturized healthy skin. Number 1 dermatologically recommended hypoallergic product.
An innovative technology, Dove's Nutrium Moisture Technology is used in the formulation of the dove to enhance its qualities.
Maintains the pH and microbiome on the skin.
It is a gentle cleanser with no sulfates.
Loaded with moisturizing agents to replenish the dry, chapped, and itchy skin caused by eczema and skin allergies.
True to its motto of beauty is a source of confidence and not anxiety.
Other Eczema Body WashWorth Mentioning
Eucerin Skin Calming Body Wash
Does not lather as much but does the job, leaving your skin clean without stripping it of its natural oils. Fragrance and detergent free. It soothes itchy skin caused by eczema.
African Black Soap Beauty Bar
Unfortunately not available in local shops, you can mostly purchase this soap only online.
This soap suits all skin types and moisturizes the skin and eczema-prone skin is no exception.
What I love about it is that it's made of natural ingredients: Shea butter, palm oil, and cocoa pods and is  100% chemical-free.
I feel like the two soaps mentioned above are the best soaps for eczema but you never hear them mentioned, so try them out, as said, African black soap can most probably not be brought at your local store.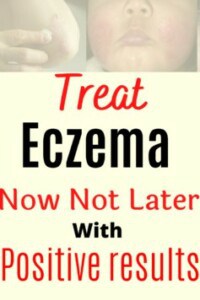 How to manage eczema symptoms
As mentioned at the beginning of this post, eczema can not be treated, you`ll have flare-ups now and then.
But taking care of your skin the right way can help you reduce the frequency of these flare-ups.
Get the right body wash or soap for your eczema-prone skin. When taking a shower, use warm water not hot water. Apply moisturizer soon after bath to lock in hydration.
Home remedies for eczema
Apple cider vinegar
Olive oil
Coconut oil Ground oatmeal
Tea tree oil
Aloe vera
The oils seal in moisture after an oatmeal bath, for example. Moreover, tea tree oil fights infection.
Add apple cider vinegar in your bath water and bathe as normal. Still, you should think twice about using vinegar if you have open wounds.
Even though it disinfects, it can be quite unpleasant in open wounds.
Eczema body wash products mentioned here are mostly online and some can be found at your local store. If you want to know more about any product mentioned above, just click the blue link.
Conclusion on the Best Body Wash for Eczema
Buying a body wash for Eczema is a crucial thing as the skin is very susceptible to some chemicals.
I hope that if you were asking what body wash for eczema you should use at the beginning of this post, you now have different options.
Check the list mentioned above and drop your comments below for how you feel about these soaps and body washes.
Also, subscribe to our blogs to keep yourself updated!