In the world of skincare products, you will get the myriads of choices, but only a few are reliable. One of the eminent products is Estee Lauder cosmetics, which is innovative and superiorly formulated.
The products of Estee Lauder have gained popularity because the brand makes use of science and technology to ensure the results are achieved to the core.
I love Estee Lauder cosmetics for many reasons, as these hydrates the skin.
They never leave my skin dry. Estee Lauder cosmetics are my destination for high-performance Skincare, Makeup and  Fragrance at prices I can well afford.
When you think of Estee Lauder cosmetics or fragrances, think of glamor, quality, and elegance for wallet-friendly positive results products.
Mostly, we talk of newer products like Drunk Elephant, we`re forgetting that this oldie is still a goldie. Estee Lauder makeup or skincare will not disappoint any day.

Now Abit About Estee Lauder
Born in 1908 in New York, Estee Lauder was inspired by her chemist uncle and started whipping creams from the ingredients. She launched her products in 1946, and the first blockbuster product came out in 1953.
The lifeblood concept of offering a gift with the product was started by Estee Lauder.
Estee Lauder started the company believing every woman is beautiful and I have to admit she was right.
No matter how beautiful you are if your skin is horrible, that beauty will not shine through.
I believe you`ve heard enough about the company so I`ll not go into it here but if you want to read more.
As this post is for the Estee Lauder cosmetics, I personally love and am sure you will too if you`ve not yet tried them.
Now, here are a few products of Estee Lauder, of which I can never find a replacement in the cosmetic and skincare industry.

Nutritious Radiant Vitality 2-in-1 Foam Cleanser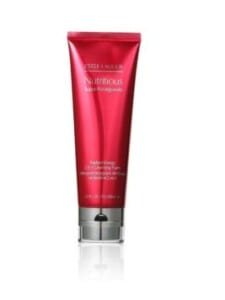 This is my favorite for 2 reasons- it is very affordably priced among the rest of the Estee Lauder beauty and skincare products.
Also, it can be used as an everyday cleanser but also as a mask that can be used once a week.
You need a little bit of cleanser only, and this lasts long.
The pomegranate scent has made the cleanser very popular.
When the cleanser is used as a mask, my skin becomes firm and tight for a short period.
As a make-up remover, this can also be used if you have no options. But don't expect it to remove the tough mascara, but for foundations and such, you`re good to go.
Ok, this is not to say you should abandon your makeup remover altogether, but as a quick fix, it`s ok.
The advanced night repair eye cream
The hydrating properties of the hyaluronic acid in the night repair eye cream helps in smoothening the skin around the eyes.
Apply this when you go to bed, as it will reduce the puffiness. It also does away the wrinkles. The serum is of a gel consistency, and you can use a little of this gel.
The quantity will go for long, as you need to apply only a small amount. The skin absorbs the serum faster, and the eyes look bright because the surrounding area becomes smooth.
This is the most iconic Estée Lauder product, which is the overnight skin treatment that was actually the first-ever serum.
At its core, this is a hyaluronic acid serum, it both hydrate and plump your skin and smoothes fine lines, large pores are reduced giving you a more even complexion.
The Advanced night repair sinks in fast and you can use it with your regular night skin cream.
Estee Lauder Bronze Goddess Whipped Body Cream
The Bronze Goddess Collection comes up with endless options each year.
This is a light in weight cream for your body, and you can find this cream suitable when it comes to making the skin bright.
It has a beachy scent, and every part of your body can become glowing and radiant.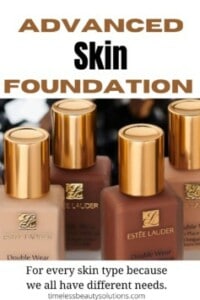 Estee Lauder Double Wear Light Stay in Place Makeup
This foundation comes with SPF 10. Most women face problems of spots and breakouts after using foundation. Check an earlier post on why you need SPF in your skincare.
I am one of those who end up with a long face after showcasing bright skin using the foundation the previous day.
Thankfully, I have never had a problem after using this light in weight foundation. The formulation keeps in mind women of all skin types.
If you rustle up for a party, apply this and skip the cleanser. It saves time and gives the required effect. The skin tone is improved, and your blemishes are well covered.
Estee Lauder Pure Colour Envy Paint-On Liquid Lip Color
Estee Lauder lip glosses and lipsticks come in all shades of color, you can purchase single items if you choose to.
If you are looking for some intense and gorgeous colors on your lips, then the Estee Lauder liquid lip colors are the must. Carry a couple of them in your bags, and you would never regret it.
The best thing I appreciate about these lip colors is that they stay on the lip even after I eat, drink, or snack.

For the lovers of bright red, the Controversial is a perfect option. A matte finish option and a combo of 3 colors are also available from the brand.
Estee Lauder Pure Colour Envy Matte
With the range of shades getting added, I love the Decisive.
The matte, intense, and pout-provoking lipsticks from the brand make your lips look smooth, soft, and sexy effortlessly.
The shape of the lipstick is designed to outline the sculpt of the lips, and you look gorgeous instantly.
Glide the stick with ease, and you will feel the matte color giving the best looks undeniably. The lipstick has a cream matte finish and medium to full coverage.
Liquid lipsticks are preferred lip care compared to sheer lip tints and glosses, but for longevity and ease of wear, they should be a  staple for every lip color lover.
Estee Lauder lipsticks, in particular, have incredible pigment, gorgeous colors, and an ability to stay put.
When you want a youthful lift, then use this face and neck cream, and you will garner the attention for sure.
The skin's radiance definitely goes better in the morning, and you do not need to worry about the absorption rate into the skin.
I have sensitive skin and never had any adverse effects because of the cream, which is a part of my night beauty regime, which I use for 3 days a week.
You can try it if you have oily skin, as certain people with oily skin find it messy after using it.
Worth Knowing
Synonymous with the Estée Lauder skincare brands for over 30 years.
Advanced Night Repair is a staple in women's cosmetics cabinets and beauty bags all over the world since its first launch over 40 years ago.
According to statistics, Advanced Night Repair sells 3 bottles every minute globally.

And Now To Some Questions You May Have
Q-Is Estee Lauder a luxury brand?
A-It`s safe to say Estee Lauder owns both luxury and affordable products so anyone can afford to buy their skincare and beauty products.Q- Are Estee Lauder skin products good for all skin types?A-
Most Estee Lauder products are meant for mature skin(from over 35s), but their other beauty products like lipsticks or Estee Lauder Perfumes.
Q-What are the cheapest Estee Lauder products?
A-In my opinion, Estee Lauder lipsticks starting from just $12 are a real value for money.
Conclusion On Estee Lauder Cosmetics
These Estee Lauder Cosmetics are few which I would vouchsafe for, and you must try to improve your beauty.
There are so many top-quality Estée Lauder products out there it's difficult to choose but I shared with you my top choices. You too can check these must-have products and see the difference.
You can share your experiences below in the comment section about these and the other wonderful Estee Lauder products!
If you know anyone who can benefit from these products, go ahead share with them this post on social media.