What is the best anti-aging hand cream for your needs? Can you still use the same hand cream you used 10 years ago or should you change to anti-aging hand creams?
As you get older, your skin will start showing the signs of aging like sagging skin, fine lines, wrinkles, and your skin, in general, getting drier.
Most people spend a good amount of money on anti-aging facial care and skincare products but totally ignore the hands.
This is a no-no, your hands are the second contact you have with people(after your face) so you should give your hands just as much love as your face.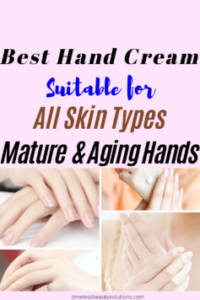 So just like anti-aging face creams, your hands too need the best hand creams.
Make them presentable and reduce signs of aging hands.
The best anti-aging hand cream should not be a second thought when shopping for your beauty products.
Hand moisturizers usually get forgotten when thinking of anti-aging products.
As we age, Our hands tend to become drier, and sometimes, especially in the cold weather.
The dryness can cause our skin to crack. This could be very painful and unpleasant.
Let' admit it. We all would love to turn back the clock and look as young and beautiful as we did 20 years ago.
When we look at ourselves in the mirror, we find ourselves pretty but then wonder,'' How can we make ourselves even prettier?''
Aging is a natural part of life. We all have to accept it, however, it's easier said than done.
We all wish that we could, by the snap of a finger, eliminate dark spots and wrinkles.
Over 50 years old
Once we hit the age of 50, it becomes more and more important to have proper skincare control.
Our skin needs to be protected from the sun, the cold weather, our unhealthy lifestyle and most importantly, the changing environment.
Today, you may already be treating areas with anti-aging creams such as your face, read my earlier post on face wrinkles under your eyes or even your legs, however, you mustn't forget your hands.
We tend to think that because people don't look directly at them that they are not important.
In reality, our hands should be the most important as they are the most exposed, along with our faces of course.
How To Choose The Right Anti Aging Hand Cream
There are so many different types of brands out there with many different ingredients.
How do we know which ingredient is good for anti-aging?
The cream that we choose also has to fit well with our skin type.
For example, choosing a silicone-free cream versus choosing one with it? What is the difference and what effect does silicone have on our skin?
It turns out that silicone is bad for our skin. It is derived from chemicals that make it so that the moisture stays into our skin. Therefore creeping its way into the fine lines making it look like our skin is perfect but in reality, isn't.
Another name for silicone is Demethicone or Methacone. So this doesn't confuse you when you are shopping for a good anti-aging cream, look for anything that ends in ''cone".
If it does, chances are its Silicone, here is an article from www.cir-safety.org on cosmetic ingredient review.
Although it's very rare to find products without Silicone in them, it's still doable.
So, now that we know that Silicone is no good for the skin, what else should we look for?
Omega 7
Ahhh, the fatty acids that everyone is excited about! Apparently, they are extremely good for our health and our skin.
For example, Macadamia nuts and cheese are very high in Omega 7.
When eaten on a regular basis, you can notice your skin feeling smoother and looking suppler with time.
With that being said, although Omega 7 may help your skin feeling great on the outside.
It can also help internally when ingested. Avocado and olive oil are two other examples of great Omega 7 fats.
Avellana (Hazel) Seed Oil
This is an oil that comes from the nuts of the hazelnut tree.
When it is put inside skincare products, it acts as an emollient leaving the skin soft and supple and act as a skin conditioning agent. 
Hazel oil also serves as an amazing antioxidant. We all know the benefits of antioxidants on our skin, don't we?
It is also well known for getting rid of oily skin and for tightening the skin while penetrating deep into it.
Blended Mill Protein
Non-irritating being its number one force, milk protein is beneficial for those who have dry skin or easily irritated skin.
Hydrolyzed milk protein, more commonly used in skincare products such as cleansers, moisturizers, and soaps. It is classified as being considerably low in toxic hazards.
Milk protein is mostly used by those who have sensitive skin, it is valuable for all skin types.
Camellia Oil
Also known as Tea Sead Oil, Camellia Oil comes from the plant that all tea is made from, including the green tea which is a considerably high antioxidant source.
This oil is utilized for therapeutic reasons too. Of all ingredients to choose from this is my ultimate favorite. It has so many beneficial properties:
-Cicatrizing

-Anti-aging

-Emollient

-Insecticide

-Anti-inflammatory

-Anti-allergic
Its sweet aroma makes it a very good candidate aromatherapy.
What should we expect from a good anti-aging hand cream?
Now that we have gone through the finest and the leading products that we should be looking for in anti-aging hand cream.
Let's go over the changes and ameliorations that we should expect to see if we were to use a hand cream containing all of the above products.
Ultimately, we want an anti-aging cream that will lock in moisture and protect our skin.
We want a cream that will target firmness and that will hydrate our hands accordingly.
We also want to make sure that this cream will be effective in preventing our skin to age all the while helping it look healthier and feeling smoother.
In the end, we want younger looking hands.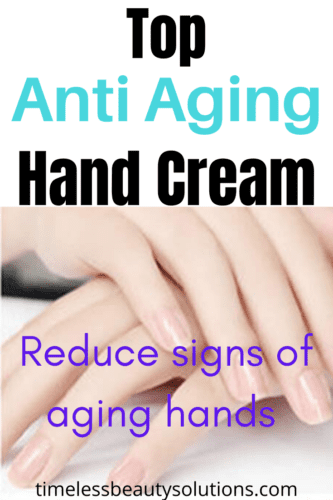 Well, we have found THE anti-aging hand cream that will give us all of the above results.
Not only will it help our hands look and feel younger but it will also rejuvenate and condition our nails.
What more could we ask for in a product?
Elemis Pro-Radiance Hand and Nail Cream is the next best thing, besides a fine wine of course!
This extra smooth, silicone-free, easily absorbed anti-aging hand cream is reconstructive, refreshing and revitalizing!
Its beautiful blend of white flowers, milk protein, Avellana ( Hazel) seed oil, Omega 7, Camellia oil, Virgin Plum, and Macadamia will give your hands the attention they deserve.
Elemis is currently the leading luxury spa and skincare brand in Britain.
With its innovative technologies and its natural ingredients.
Elemis Pro-Radiance hand and Nail Cream is one of the most influential anti-aging products in the industry today.
Conclusion On Best Anti Aging Hand Cream
With the best hand creams mentioned above, I'm sure you`ll find what works best for you, but having said that, remember the best of anything is what you can afford comfortably.