What is the best anti-aging hand cream for your needs? Can you still use the same hand cream you used 10 years ago or should you change to anti-aging hand creams?


As you get older, your skin will start showing the signs of aging like sagging skin, fine lines, wrinkles, and your skin, in general, getting drier.
Most people spend a good amount of money on anti-aging facial care and skincare products but totally ignore the hands.
This is a no-no, your hands are the second contact you have with people(after your face) so you should give your hands just as much love as your face.
How can I make my hands look younger?
That`s what most people ask as soon as they see the hands starting to look dry and crepey.
If you`ve been looking for a way to improve the appearance of fine lines on your hand, as well as minimize brown spots caused by aging, this post is for you.
Unfortunately, it seems like there's no quick fix! But don't worry – you're not alone in this struggle and we have an answer!
---
One thing experts recommend is using products like this one with retinol which will help promote collagen production from within your own body so that those deep cracks become less noticeable over time thanks also topical creams.
---
Most Affordable: Crepe Be Gone Skin Firming Hand Cream 
You don't have to live with dry, crepey skin! This lotion will smooth and plump your hands for a youthful appearance.
---
Highest Rated: Burt's Bees Hand Cream
Burt's Bees baobab oil ultimate care hand cream is a gentle, yet effective way to soothe and moisturize dry skin on your hands.
This hypoallergenic formula does not contain phthalates, parabens or SLS which means it will never irritate any type of allergic reaction for those with sensitive skins!
In addition, this product has been dermatologist tested for maximum absorption into the dermis layer without leaving behind too much greasy residue.
---
For Crepey Skin: Gold Bond Ultimate Intensive Healing Hand Cream
This hand cream is the perfect way to provide your hands with long-lasting moisture. it will give your hands the deep moisture they need, even after washing.
It's formulated with soothing aloe, plus seven intensive moisturizers so you can feel confident knowing this product will do the work(keeping your hands hydrated) without feeling greasy or sticky!
---
Recommended with SPF: EltaMD So Silky Hand Crème
EltaMD's So Silky Hand Crème is clinically proven to moisturize dry, flaky skin for up 12 hours.
It also enhances your natural luminosity against urban pollution and brightens the appearance of skin tone!
With luminous matters enhancer, It's made from only the finest ingredients so it will give you lasting results and leave behind a luminous skin tone.
---
The top-rated Dark Spot Corrector cream! It is made of all-natural and organic ingredients. The manufacturer has gone through many steps to ensure that it's safe for your skin as well as effective in correcting those pesky spots on the back of your hands.
STRICTLY AGAINST ANIMAL CRUELTY – PRO-ANIMAL RESCUE! The revitalizing dark spot and age spot corrector is carefully crafted with the topmost quality ingredients to provide your skin with radiance properties.
The manufacture strongly opposes all forms of animal testing. This product naturally contains no filler, parabens or silicone which are found in many commercial products as additives for coloration purposes only
This should have been my number one overall top rated, but it`s abit bulky to put in a small handbag.

---
Best for Wrinkles and Dryness: O'Keeffe's Working Hands Hand Cream
O'Keeffe's Working Hands Hand Cream is a concentrated hand cream that heals, relieves and repairs extremely dry hands.
The rich formula instantly boosts moisture levels to help prevent further moisture loss while creating an effective protective layer on the skin surface for healthier-looking palms!
O'Keeffe's proudly presents their new line of products designed specifically with the working professional in mind. This hand cream is a clinically proven hand cream that instantly repairs dry, cracked skin.
---
 All-Day Hydration Top Choice: Clarins Hand & Nail Treatment Cream
From the beauty experts at Clarins, this hand cream is specially formulated to provide long-lasting relief for dry skin. Maintaining your nails and cuticles will be easier with regular use of this product!
You don`t have to be using hand cream that smells like fruit or flowers to keep your hands soft, it's time for an upgrade. This all-day-long formula is designed with skin nutritionists and will leave them feeling young again!
---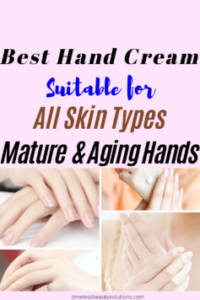 So just like anti-aging face creams, your hands too need the best hand creams.
Make them presentable and reduce signs of aging hands.
The best anti-aging hand cream should not be a second thought when shopping for your beauty products.
Hand moisturizers usually get forgotten when thinking of anti-aging products.
As we age, Our hands tend to become drier, and sometimes, especially in the cold weather.
The dryness can cause our skin to crack. This could be very painful and unpleasant.
Let's admit it. We all would love to turn back the clock and look as young and beautiful as we did 20 years ago.
When we look at ourselves in the mirror, we find ourselves pretty but then wonder,'' How can we make ourselves even prettier?''
Aging is a natural part of life. We all have to accept it, however, it's easier said than done.
We all wish that we could, by the snap of a finger, eliminate dark spots and wrinkles.
---
Your Hands Also Age 
Once we hit the age of 50, it becomes more and more important to have proper skincare control.
Our skin needs to be protected from the sun, the cold weather, our unhealthy lifestyle and most importantly, the changing environment.
Today, you may already be treating areas with anti-aging creams such as your face, read my earlier post on face wrinkles under your eyes or even your legs, however, you mustn't forget your hands.
We tend to think that because people don't look directly at them that they are not important.
In reality, our hands should be the most important as they are the most exposed, along with our faces of course.
---
How To Choose The Right Anti Aging Hand Cream
There are so many different types of brands out there with many different ingredients.
How do we know which ingredient is good for anti-aging?
The cream that we choose also has to fit well with our skin type.
For example, choosing a silicone-free cream versus choosing one with it? What is the difference and what effect does silicone have on our skin?


It turns out that silicone is bad for our skin. It is derived from chemicals that make it so that the moisture stays into our skin. Therefore creeping its way into the fine lines makes it look like our skin is perfect but in reality, isn't.
Another name for silicone is Demethicone or Methacone. So this doesn't confuse you when you are shopping for a good anti-aging cream, look for anything that ends in ''cone".
If it does, chances are its Silicone, here is an article from www.cir-safety.org on cosmetic ingredient review.
Although it's very rare to find products without Silicone in them, it's still doable.
So, now that we know that Silicone is no good for the skin, what else should we look for?
---
Omega 7
Ahhh, the fatty acids that everyone is excited about! Apparently, they are extremely good for our health and our skin.
For example, Macadamia nuts and cheese are very high in Omega 7.
When eaten on a regular basis, you can notice your skin feeling smoother and looking suppler with time.
With that being said, although Omega 7 may help your skin feeling great on the outside.
It can also help internally when ingested. Avocado and olive oil are two other examples of great Omega 7 fats.
---
Avellana (Hazel) Seed Oil
This is an oil that comes from the nuts of the hazelnut tree.
When it is put inside skincare products, it acts as an emollient leaving the skin soft and supple and act as a skin conditioning agent.
Hazel oil also serves as an amazing antioxidant. We all know the benefits of antioxidants on our skin, don't we?
It is also well known for getting rid of oily skin and for tightening the skin while penetrating deep into it.
---
Blended Mill Protein
Non-irritating being its number one force, milk protein is beneficial for those who have dry skin or easily irritated skin.
Hydrolyzed milk protein, more commonly used in skincare products such as cleansers, moisturizers, and soaps. It is classified as being considerably low in toxic hazards.
Milk protein is mostly used by those who have sensitive skin, it is valuable for all skin types.
---
Camellia Oil
Also known as Tea Sead Oil, Camellia Oil comes from the plant that all tea is made from, including the green tea which is a considerably high antioxidant source.
This oil is utilized for therapeutic reasons too. Of all ingredients to choose from this is my ultimate favorite. It has so many beneficial properties:
Cicatrizing

Anti-aging

Emollient

Insecticide

Anti-inflammatory

Anti-allergic
Its sweet aroma makes it a very good candidate for aromatherapy.
---
What should we expect from a good anti-aging hand cream?
Now that we have gone through the finest and the leading products that we should be looking for in anti-aging hand cream.
Let's go over the changes and ameliorations that we should expect to see if we were to use a hand cream containing all of the above products.
Ultimately, we want an anti-aging cream that will lock in moisture and protect our skin.
We want a cream that will target firmness and that will hydrate our hands accordingly.
We also want to make sure that this cream will be effective in preventing our skin to age all the while helping it look healthier and feel smoother. In the end, we want younger-looking hands.
You May Like
---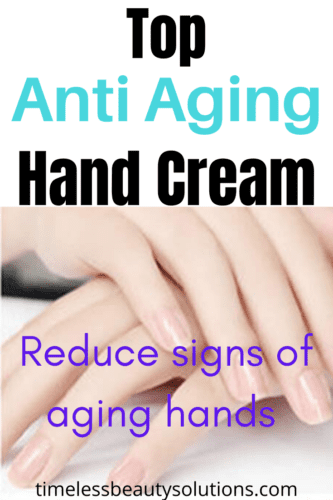 Well, we have found THE anti-aging hand cream that will give us all of the above results.
Not only will it help our hands look and feel younger but it will also rejuvenate and condition our nails.
What more could we ask for in a product?
Elemis Pro-Radiance Hand and Nail Cream is the next best thing, besides a fine wine of course!
This extra smooth, silicone-free, easily absorbed anti-aging hand cream is reconstructive, refreshing and revitalizing!
Its beautiful blend of white flowers, milk protein, Avellana ( Hazel) seed oil, Omega 7, Camellia oil, Virgin Plum, and Macadamia will give your hands the attention they deserve.
Elemis is currently the leading luxury spa and skincare brand in Britain.
With its innovative technologies and its natural ingredients.
Elemis Pro-Radiance hand and Nail Cream is one of the most influential anti-aging products in the industry today.
---
Conclusion On Best Anti Aging Hand Cream
With the best hand creams mentioned above, I'm sure you`ll find what works best for you, but having said that, remember the best of anything is what you can afford comfortably.