What is the best electric razor for women for pubic, bikini area, and facial hair? (yes some women have facial hair).
Should you get lady razors or is it ok to use just any shaver?whatever you choose,it should give you a quick shave with silky-smooth finish. Read on and find which shaver suits your needs.
As much as we do not want to talk about it openly, many women have a conversation(maybe by themselves at first) on what razor to buy.
Once you start shaving, you`ll have to think of what kind of razor to buy, there are things like, whether it will be a manual razor blade, or are you going for an electric razor?
Wondering what`s the best electric razor for your needs? You don`t have to settle for trial and error.
This post will point you to top ladies' electric shavers and remove the guesswork.
But having said that, please understand that even with the best electric shavers, no one-size-fits-all.
That is why we will show you different razors with great value for money as well as some Top Electric Razors For Women that may cost a bit more.

A good razor is needed for smooth and silky skin. It should remove any unwanted hair smoothly and efficiently. This is not always achievable with straight blades as you can not always move them well in some places.
An electric razor goes well with sensitive skin, better than manual razors there are fewer chances of razor burn or a cut and you don't need to throw it away after several uses.
Types of Electric Razors
Foil Razors: It has a thin, metal foil or a mesh that covers the blades.
Rotary Blade Shavers: It is made up of 3 or 4 round, spinning heads along with a rotating blade underneath a fine grid.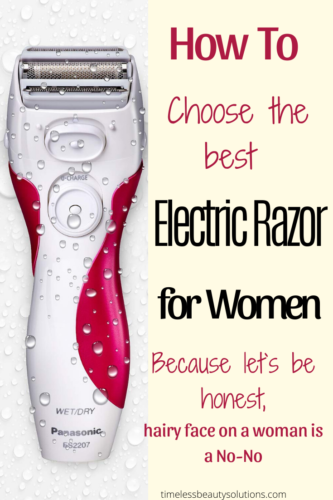 Things To Consider While Buying An Electric Razor
Before buying any kind of razor, you should have some questions answered.
That way, you`ll get the best your money can buy but also meet your shaving needs.
You might have fewer questions or you might have more.
But, below I have listed some important points you need to have clear before making a purchase.
Cordless one or a plugged-in one?
Do you want a wet or dry razor or a combination of both?
Is it for multiple areas of the body or a specific body part?
What is the battery life of the razor?
Does it have a low battery indicator?
Is it equipped with an auto shut-off feature?
Is it easy to clean or does it have a flexible head?
Does it have a pop-up trimmer?
Does it have an ergonomic design that makes it easy to hold?
For safekeeping, does it come with a case?
Can it be used in the bikini area as a bikini trimmer?
Choosing an electric razor from so many available out there is not an easy task.
At-home hair removal requires products trusted by women, not just brand names.
Silkn's is designed and crafted for optimal ease of use and results that your beautician will envy. Seamless hair removal is guaranteed every time with this device.
Any at-home hair removal should give you salon results if done correctly, no buts and this is why we love Silkin`s results are great.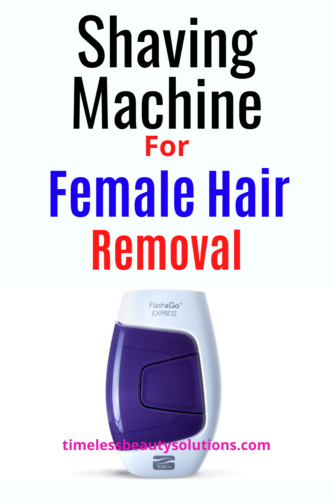 This is what you get with Silkn`s hair removal.
Lasting Results:
No more daily shaving, no more appointments to the salon.
Remove hair at home with salon-quality products and achieve salon-quality results.
Silkin`s is easy and safe to use, a simple button is all you need to control the settings, it doesn't get easier than that, does it?
Comfort and Privacy:
Now don`t tell me you never feel uncomfortable having hair removed in the salon.
With Silkn`s you shave in the comfort of your home, no more painful waxing or razor bumps because you used a razor blade to shave.
Faster Hair Removal

This offers quick and painless hair removal with an uninterrupted gliding motion that even a beginner will achieve perfect results.
Smooth finish is guaranteed with no ingrown hair or razor burns as mentioned in an earlier post here.
We have made it easy for you by listing some of the best electric razors for women you can find in the market. 
Panasonic ES2207P Ladies Electric Shaver
This is one of the best electric razors for women's legs. It is a wet/dry razor and uses a three-blade system.
It has 3 independently floating blades. These blades glide naturally along with the curves and creases of your skin for clean and smooth shaving.
The Panasonic shaver pop-up trimmer helps remove unwanted hairs easily and quickly from sensitive and delicate areas without any effort and you can be assured, no razor burns.
This product has over 16,000 positive customer reviews with 61% giving it five stars on Amazon, you can check verified user reviews here.

Philips Satinelle Advanced Wet & Dry Cordless 10-Piece 
For starters, this product has so many customers rating on Amazon, all these people can`t be wrong. See what users have to say about the product.
Philips Satinelle has rotating trimmers. They remove hairs efficiently. It can remove very fine hair. Hence, it makes for a better choice than traditional waxing.
What I love more about Philips is that it also has a hair trimmer in case you find that your hair is too long,you just chnge it to a trimmer head.
It is equipped with an efficiency cap that ensures that the epilator stays positioned correctly to pull out as much hair as possible in one go.

The razor runs at two different speeds – gentle and efficient. It has an ergonomic design which makes it easy to hold.
Panasonic ES2113PC Facial Hair Trimmer
This is one of the best female facial hair removals, this facial trimmer is there to ensure that your face remains hair-free.
It has a smooth pivoting head which helps the razor glide smoothly along the contours of the face.
Its blade is super thin and is hypoallergenic and the round tip ensures that the skin remains safe from any cuts and irritation.
Remember that any time you shave, the shaver or razor you use will make the difference in razor bumps and ingrown hair, the better quality razor you use the less chance of having to deal with ingrown hair.
You might also like
Facial Hair Removal TipsWomen Trust
How To Avoid Razor Bumps And Ingrown Hair
Panasonic ES246AC Bikini Shaper & Trimmer for Women
This is one of the best electric razors for removing hair from the bikini area. The razor runs on 2 AA-size batteries.
It is slim and lightweight which makes it easy to carry.
The stainless steel blade, the five trim settings, as well as a shaping guide help in maintaining the exact hair length that you want.This is especially useful for those who do now want a clean shave.
If you`re looking for bikini hair removal creams, you might find this post helpful.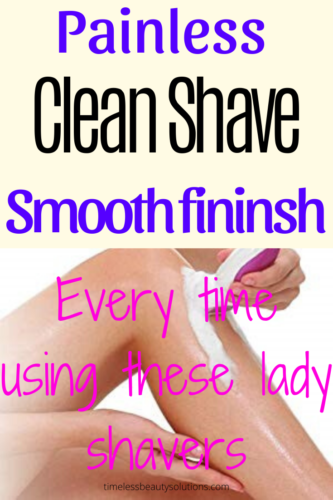 Braun Silk-épil 9 9-579 Women's Epilator
This is one of the best wet and dry electric razors. It has a wide head that allows more coverage.
The MicroGrip tweezers pull hair 4 times shorter than the wax can. The SmartLight ensures that no hair is missed.
The vibration offers a gentler sensation as the head pivots to adapt to the body's contours.
Schick Hydro Silk TrimStyle Moisturizing Razor
I just could not resist adding Schick Hydro here. With over five thousand user reviews on Amazon, I felt it`d be unjust not to put it here.
It is a two-edged razor with a hydrating razor and a bikini trimmer on either side. It has water-activated serum along with shea butter.
The serum moisturizes the skin while removing unwanted hair.
It has 5 curve-sensing blades that are equipped with unique skin guards to prevent any cuts, nicks, or irritation while achieving a close shave.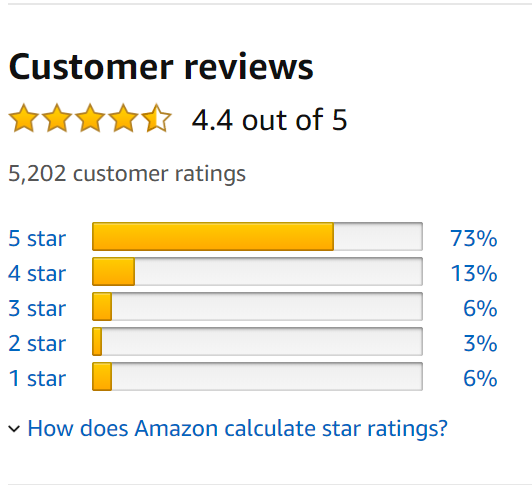 Want to check user Reviews then click here.
Panasonic ES-ED50-N Multi-Functional Wet/Dry Shaver And Epilator
This is not just an electric razor but an epilator as well that can be used in wet as well as dry hair situations. It can turn into a bikini trimmer.
Panasonic ES-ED 50 is reasonably priced considering its multi-functionality.
It has four snap-on heads/attachments. The dual-speed motor removes hair efficiently.(bur something we forgot to mention, do trim your hairs first if you have long hair)
Remington Smooth & Silky Smooth Glide Rechargeable Shaver
This is an electric foil shaver that has a unique open blade system. The flex dual-sided trimmer helps in guiding the hair towards the Lift Logic Foils.
It has an almond oil strip which is there to moisturize the skin to keep it soft after shaving.
The anti-microbial finish helps in preventing irritation and infection. It is 100% waterproof.
Check Remington F5-5800 men electric shaver
Yes I know this was supposed to be a post about ladies' electric shavers but I could not just ignore this.
Skull Shaver Pitbull Silver-Plus Electric Razor
It is one of the best electric razors for women who can shave from multiple directions.
It is equipped with pivoting blades that can remove any unwanted hair.
Skull shaver has an innovative design as well as a strong casing which makes it durable and long-lasting. This works well on the legs and body.
Remington WSF4810 Women's Travel Foil Shaver
This is a small and portable shaver for emergencies. Although small in size, this is a full-size foil shaver.
It has dual trimmers with an angled head as well as hypoallergenic foils, this is a wet and dry electric shaver, so no matter when, you`re ready to go. It is 100% waterproof.
Do Electric Shavers For Women Work?
Honestly, both Electric and manual shavers work and produce perfect results, you just have to use them safely.
You don`t want any nasty accidents in your precious part I do love manual shavers just as much as I love to use the best electric shavers.
If I'm going on vacation, I usually just take shaving cream and a manual double-edged razor for my bikini line.
It`s very important that whatever razor you use, make sure it`s clean and sharp.
I don`t mind shaving my legs manually, but for pubic hair, it feels safer with electric shavers as the blades are not exposed, reducing the chances of accidental cuts.
But, it`s totally ok to use a manual razor blade in your privates, just be sure to do it when you have time, you don`t want to be rushing when shaving with a sharp object down there.
Having said that, I`d prefer using hair removal creams(specifically for pubic hair) than using manual razors, but this is personal.
What is the best wet and dry lady shaver?
We love electric razors as we find there are so many choices as most lady shavers we mentioned here can be used wet and dry.
we love dry shaving as you can do it any place. They're gentler and can be quicker to use.
Since they don't have exposed blades that require you to maneuver as carefully or slowly to avoid nicks and cuts.
I find that Panasonic Electric Shaver for Women ES2207P takes the top spot here. It works so well dry or wet you`ll not be able to tell the difference if it was a dry shave or a wet shave.
The price tag too is quite affordable and the shaver works as well as some high-priced shaving machines.
Now To some tips that I find usable
If you are taking your lady razor with you, take interchangeable heads so should something happen with one, you still have a head to change.
Find a shaving routine that works best for you, it`s your body, there is never one size that fits all.
For those who prefer to shave in the shower, I always recommend a cordless shaver, you don`t want cords dragging you while in a wet and maybe slippery shower.
Although I gave you the best women's razors find what`s best for YOU. A razor that can comfortably get to those hard-to-reach places and leave you with hair-free skin.
If you choose to use a manual blade razor (not everyone can afford or want an electric razor)try to use new razors as they will give you a super close shave to avoid skin irritation and ingrown hairs.
Skin types also play a role in how much hair you have, for example, darker-skinned people have more coarse hair, so shave carefully not to overstress the hair follicles.
I know that when we shop, the price point can determine if we buy or not, top electric razors may have a hefty price, but there are top electric razors that are affordable.
when using a rechargeable battery check for minutes of use the first time you use it so you don`t end up with a shaved body.
A good quality new electric razor can sell for as low as $80 which is a great  value for money so don`t settle for second best.
Conclusion On The Best Electric Razor For Women
Electric razors are not all made equal. There are plenty of good-quality razors. From budget-friendly to some higher-priced electric razors for men and women, if you want the traditional manual razor, the choice is yours.
Then there are those that are most talked about like the Brori electric razor yet they are affordable and give a close shave in hair removal.
Cheap/affordable does not mean lower quality, I have a shaver I`ve had for years and it`s still as good as new.
Still going as strong as it did the day I bought it(not bad for a $30 shaver) although the price has increased since then. The best women's electric razor for you must not always be the most expensive one in the market.
Deciding on the best one majorly depends on personal preference. All the razors above including the rotary shavers are chosen according to quality, price, and end results in mind.
I have shared with you all I can about the best women's razors now go out there and find one to remove that unwanted hair.
Let me know what you think, what`s your choice when shaving? do you use creams or do you prefer shavers? and please go ahead and share.