The best anti aging makeup foundation comes to mind once you reach your mid-30s and fine lines start appearing. When you realize that however you apply makeup foundation, you seem to be doing it wrong.
The needs of the skin changes in the 30s and 40s. They are different than they were in your 20s.
Extra care is needed while picking and buying makeup and skincare products if you want to keep your skin looking fresh and young.
The best anti-aging makeup foundation for aging skin help in this case to reduce the appearance of fine lines, hide dark spots(something common as we age).
Oil glands of the skin shrink in the mid-30s, which leaves your skin dry.
The best foundation for mature skin that has key ingredients such as hyaluronic acid, glycerin is helpful in keeping the skin well-moisturized and smoothing out fine lines and wrinkles.
Listed below are a few dermatologist-recommended, and some of the best anti-aging foundations, any of these will help restore skin moisture and cause wrinkle reduction making skin appear smoother.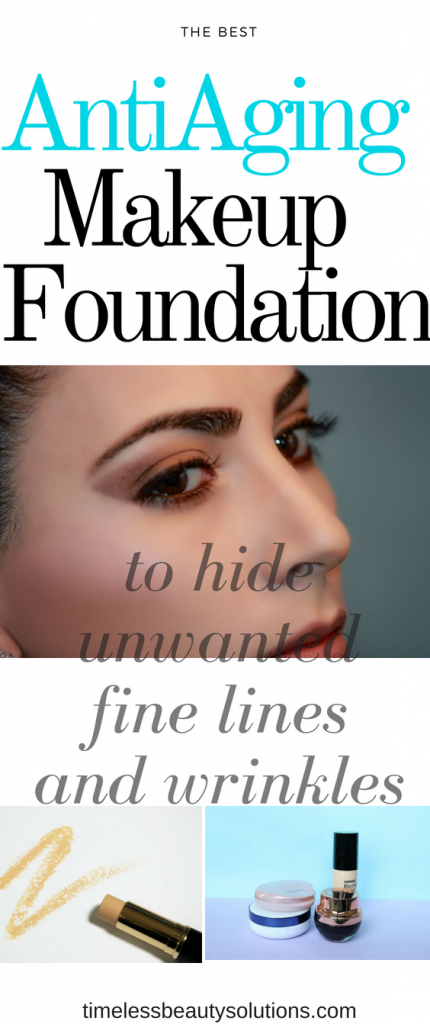 Maybelline Instant Age Rewind Eraser Treatment Makeup
Maybelline instantly erases the signs of aging such as fine lines, wrinkles, creases, and the appearance of dark spots.
This skincare product has patented the micro-corrector applicator which is vital to help to fill and smoothing the rough skin and give it a smooth finish feel.
The anti-microbial system protects the applicator. This anti-aging foundation comes with SPF 18.
Along with antioxidants, it helps to protect the skin from sun damage. The foundation hydrates the skin to give it a healthy glow.
The foundation is highly concentrated and is formulated with goji berry and collagen.
This helps in skin tightening, and improving skin elasticity. Its effectiveness is clinically proven.
Neutrogena Hydro Boost Hydrating Tint
Brought on by Johnson & Johnson Consumer Inc., Neutrogena is the number 1 dermatologist recommended brand.
Some of the world's highly demanded beauty and skincare products are manufactured under this brand.
Neutrogena Hydro Boost Hydrating Tint hydrates the skin flawlessly leaving the skin feeling smooth and fresh.
This foundation boosts the hydration, with hyaluronic acid and plumps the skin for the next 24 hours after application so application once a day is ok, no touch-ups needed.
It evens the complexion of the skin. This hydro boost hydrating tint is oil-free, is non-comedogenic.
It is specifically designed for skin hydration. It restores the suppleness of skin over time and to me, it`s one of the best antiaging makeup foundation money can buy from over the counter.
COVERGIRL + Olay Simply Ageless 3-in-1 Liquid Foundation
The best of both worlds: This is a medium to high coverage liquid foundation which combined with vital ingredients such as green tea, Vitamins B and E for your skin offers the best of both worlds to the skin.
It instantly reduces the signs of aging. The skin looks younger and fresh. It evens the skin tone, any skin discoloration, and provides hydration to the skin.
The foundation is available in 12 radiant shades that range from light to dark and buff to beige to translucent so you should find the shade you want.
Juice Beauty Phyto Pigments Flawless Serum Foundation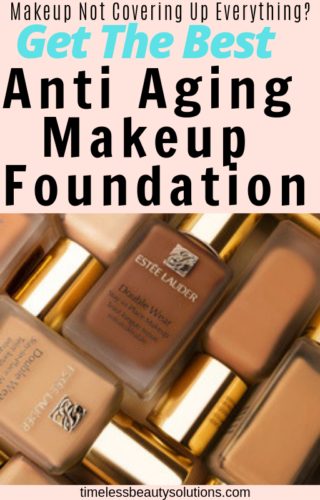 Juice Beauty Phyto Pigments Flawless Serum is an organic foundation that constitutes ingredients that are good for skin such as grapeseed oil, Vitamins C and E.
These antioxidants ingredients work to protect the collagen of the skin. It gives the skin a radiant look.
The foundation works on smoothing skin imperfections, something common as you get older. The age-defying serum is concentrated with a plant-derived Phyto-Pigments.
This formulated blend works flawlessly and delivers smooth,(forget makeup foundation that cakes as the day goes by) youthful, and younger-looking skin.
There are no silicones in the formula. The coconut alkanes present in the formula hydrates the skin, its antioxidant-rich technology soothes the skin and makes it radiant.
Check an earlier post on Coconut oil benefits for the skin if you missed it.         
It reduces the appearance of wrinkles and fine lines. The weightless texture of the foundation feels comfortable on the skin. Click here to view.
L'Oreal Paris Visible Lift Serum Absolute Advanced Age-Reversing Makeup SPF 17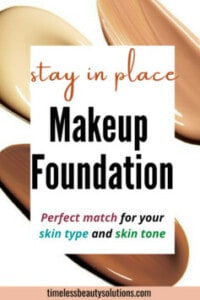 L'Oreal Paris Visible Lift Serum is a breakthrough in this age that perfects the makeup.
Visible Lift Serum Absolute Foundation provides an instant evening of the skin tone.
It smoothes out the fine lines and wrinkles without getting settled into the lines and wrinkles due to its lightweight.
It minimizes skin imperfections, reduces the appearance of fine lines and wrinkles, and delivers radiant skin.
This serum is more of a shot for the skin complexion. That is why this serum-spiked foundation is so very effective at fighting the signs of aging.
The serum formulation is packed full of pro-retinol A plus vitamin C which are the ingredients that reduce the look of lines and dark spots.
It instantly hydrates the skin and the skin looks smoother, brighter, and flawless. The SPF 17 provides protection to the skin from sun damage.
Estée Lauder Perfectionist Youth-Infusing Serum Makeup SPF 25
Estée Lauder Perfectionist Youth-Infusing Serum is developed using the same anti-aging technology as the other Estée Lauder's classic Perfectionist serums.
This satin-finish formula instantly makes the skin appear brighter and adds a glow to the skin.
You may like: Estee Lauder Cosmetics a staple in my skincare
It makes the skin firmer and hydrates it to reduce fine lines and wrinkles. It is one of the breakthrough makeup infused by the Serum Experts that have patented the age-defying Perfectionist serum technology.
The serum works on nourishing your skin. It is oil-free and the SPF 25 provides skin protection.
Click here to view similar products.
What is the best makeup foundation?
Now all the above makeup foundations are brilliant, come in different shades, and price tags.
Just remember that as good as a foundation was when you were in your 20s and earlier 30s, as you get older, you`ll probably need something different.
It's just important to know what you want from your foundation, full coverage, or a no-makeup-makeup filter for days when you want to go makeup-free but still need to cover skin imperfections.
Conclusion
The dermatologist-recommended best anti-aging makeup foundations' help in the masking of the fine lines, wrinkles, age spots, and dark spots.
These foundations are formulated with effective anti-aging ingredients like retinol and hyaluronic acid. They also provide protection to the skin and a clear complexion.
I`m sure any of the above mentioned best anti-aging makeup foundations will help you in covering wrinkles, and fine lines before you apply your makeup.
Remember to always clean your face well. If your face is not clean then it doesn`t really matter what product you use as it will not penetrate.
I recommend giving your face a good clean using any of these top-rated products for the best results.
If you have any questions, please leave me a message below and I will get back to you.