If you have acne-prone skin, finding the right moisturizer that works with your skin's needs can be a challenge. Let me introduce you to the best moisturizer with salicylic acid for acne-prone skin to help you deal with acne-prone skin.
While it may seem like a daunting task, having the right moisturizer on hand is important as it helps to lock in moisture and protect your skin from external factors.
Now forget not moisturizing your face because of acne breakouts, you can and should still use an oil-free moisturizer.
One of the most effective ingredients to look for is salicylic acid – an exfoliant that helps to reduce blemishes and promote healthy skin.
In this blog post, we'll discuss why salicylic acid is so beneficial for acne-prone skin, what to consider when choosing a good moisturizer with salicylic acid, and provide some great product recommendations that work even on sensitive skin and will help keep your oily or combination complexion looking its best all year round!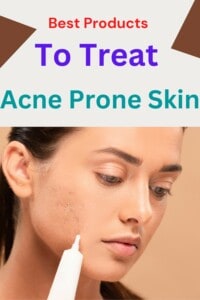 CeraVe SA Lotion for Rough & Bumpy Skin
Neutrogena Oil-Free Salicylic Acid
Paulas Choice- BHA Liquid Salicylic Acid Exfoliant
moisturizer with salicylic acid and benzoyl peroxide
Tackle your acne struggles with a secret weapon: azelaic acid! This special ingredient is under the radar compared to other popular contenders, but it works just as well – if not better- for fighting breakouts and evening-out skin tone.
Not only does this supercharged substance unclog pores and inhibit bacteria growth, but also helps lighten dark marks left by persistent acne flare-ups.
While commonly used ingredients like retinol and benzoyl peroxide can be very effective against pimples. For a more "under the radar" solution try azelaic acid!
Not only does it reduce inflammation and unclog pores, but the ingredients also help diminish dark spots left behind by blemishes.
How Does Salicylic Acid Work?
A salicylic acid is a powerful tool for keeping acne at bay. It works by dissolving the bonds between dead skin cells, enabling them to be released from pores more easily and preventing sebum buildup that can cause breakouts and dark spots.
When used on regular basis it helps keep your skin clear of pimples by reducing excess oil production so you'll have fewer blemishes in the future!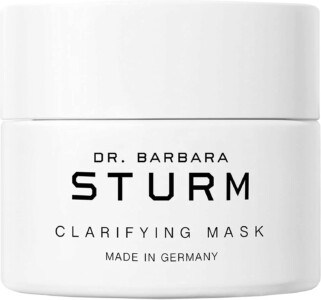 Salicylic acid is a powerful acne-fighter, with prescription grades available at strengths up to 20%. However, over-the-counter versions can be just as effective when combined with other active ingredients in the product.
A combination of OTC and higher-grade salicylic acids has been shown to be much more efficient than using any single ingredient alone!
The Best Salicylic Acid To Buy
When looking for the best salicylic acid to add to your skincare routine, it's important to consider what kind of results you're after.
Are you in need of spot treatment or coverage? because even the best salicylic acid moisturizers may not do everything the reason it is important to check the ingredient list.
With a variety of acids available on the market, making an informed decision will ensure that your skin is getting exactly what it needs without unnecessary acne breakouts!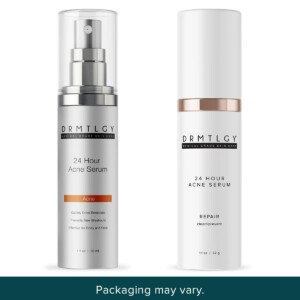 How Long Does Salicylic Acid Take To Show Results?
After beginning a prescription-strength Salicylic acid regimen, you can expect far quicker results than relying on OTC products alone. In as little as one month to three months' time.
Your skin should start to show promising signs of improvement with regard to lightening dark spots and hyperpigmentation.
However, please bear in mind that it could take up to 6 months for these over-the-counter ingredients to have any real effect. This is a long journey so be patient.
You may like:
CeraVe SA Lotion for Rough & Bumpy Skin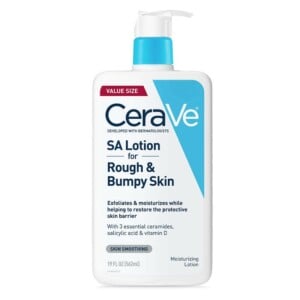 Cerave for rough and bumpy skin: This is a must-have for anyone looking for affordable skincare. Give your skin the luxurious treatment it deserves with this lush body moisturizer.
Its gentle exfoliating action helps soften and smooth dry, scaly, or rough patches on legs and upper arms while its velvety texture brings a touch of luxury to your routine.
Quick-absorbing yet non-greasy, you'll enjoy softness that lasts all day long! If you can only buy one product, then Cerave is one of the skincare products I`d really recommend and it works even on oily skin types.
Neutrogena Oil-Free Salicylic Acid: with 2% salicylic acid, this face scrub is safe to use daily for those who want clear skin. Refresh and revitalize acne-prone skin with this daily face scrub!
Its exfoliating formula helps dissolve excess oils, dirt, and impurities to unclog pores while leaving your complexion feeling smooth and clear with a matte finish every time.
Experience the #1 dermatologist-recommended skincare brand and get clear vibrant skin! This specially formulated oil-free face wash is gentle enough for everyday use. For breakout-prone skin, but powerful enough to tackle even persistent acne.
Enjoy the confidence of refreshed-looking skin with regular use. As part of an effective acne prevention regimen for acne-prone skin types.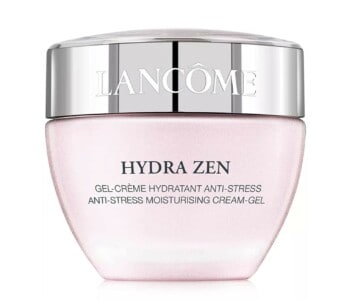 Lancome Hydra Zen Anti-Stress Moisturizing Cream Gel. Long-term hydration leads to a dramatic transformation: radiant, renewed skin with an even skin tone that glows fresh and fabulous.
This gel cream's active ingredients help to capture and retain moisture while shielding your skin from outside aggressors.
As a first step in any skincare routine, it helps you get the most out of all other products by forming armor around delicate facial tissues.
Clinically proven to reduce visible signs of aging like fine lines caused by dehydration. This formula also works as a brightening agent for dull complexions!
Lancome Hydra Zen brightening agent will help reduce the appearance of acne scars, giving you a balanced skin tone.
Perfectly balanced for morning or night use – shield yourself in moisture today with one simple product.
Paulas Choice- BHA Liquid Salicylic Acid Exfoliant: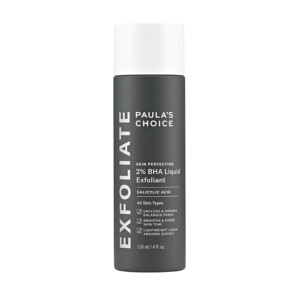 A Facial exfoliant for blackheads, large Pores, and blackheads. With green tea extract, this liquid formula is suitable for most skin conditions and all skin concerns. Oily, Combination, Dry, and Normal the active ingredient being Salicylic_acid, 2% Salicylic Acid (BHA).
This non-abrasive, leave-on exfoliant is designed to gently yet thoroughly take care of your skin on a daily basis! It can help maintain an even tone while reducing the visibility of fine lines and wrinkles.
The special formula caters to all types of skin and addresses blocked pores and skin barrier for ultimate clarity.
Additionally, it includes BHA which nourishes from within as it works to unclog those stubborn pores. Without causing any harm or micro-tears in the process.
Get ready to experience healthier-looking skin with this powerful facial product!
Moisturizer with salicylic acid and benzoyl peroxide
Salicylic acid is an amazing solution for oily and acne-prone skin types, particularly those with stubborn blackheads. Lipid soluble properties allow it to penetrate deep into the pores. Freeing them of any pesky debris which can block or lead to breakouts.
In short: bid farewell to clogged-up pores – salicylic acid moisturizers have got you covered for a smooth skin texture!
If you are buying a moisturizer with salicylic acid. Check the ingredients lists to make sure it has Hyaluronic Acid, Benzoyl Peroxide, beta hydroxy acid, aloe vera, and the rest of the good stuff.
Dermalogica: Discover a brighter, smoother complexion with this iconic exfoliating powder that gently polishes skin to perfection. Ingredients include Papaya Enzyme and Salicylic Acid.
You may like:
Dermalogica skin care products are the best
Cerave moisturizing cream ingredients
The water-activated formula removes dulling surface debris and helps balance uneven skin tones for an even glow. It's gentle enough for daily use! Revitalize your look each day with refreshingly luminous results.
Alpha Skin Care Renewal Serum: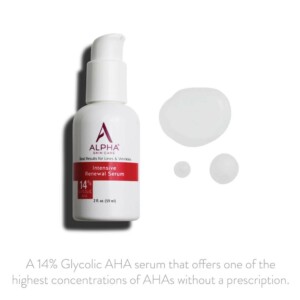 Maybe this should not have been here on the list. But after effective acne treatment. You need a clearing cream and this lightweight formula will remove dead cells and calm irritated skin with its anti-inflammatory ingredients.
This all-natural formulation is specifically designed to bring out your best skin yet! Experience the luxuriously soft sensation of newly exposed, healthy skin as you gently remove dead skin cells.
Enjoy an invigorating surge of vitamins and essential nutrients that penetrate deep into every layer of your skin. For a deeply nourished complexion free from wrinkles and fine lines.
Over time, the clinically proven ingredients work together to deliver younger-looking results. With each use while conditioning delicate facial tissue for effortless beauty maintenance.
So get ready to add this to your skincare routine- healthier more youthful radiance is just one application away!
Although MayoClinic recommends oral medications and therapies like steroid injections. I feel it`s way too much, you just have to work at your acne one step at a time.