Product: Cerave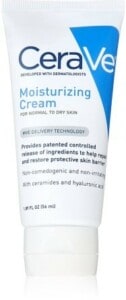 Moisturizer Type: Lotion – Cream
Packaging: Tube / Jar / Pump
Availability: Online and in Shops
General Cost:$15.00
Key Ingredients In CeraVe
Ceramide
Hyaluronic Acid
Cholesterol
Let's Take a Closer Look at CeraVe
Of course, I had to write about this cream! CeraVe's products are often recommended by my dermatologists (Tip: you can ask your dermatologist for samples of their products).
The CeraVe Moisturizing Cream is one of the most popular moisturizers out there that you can buy without breaking the piggy bank.
Let's take a more in-depth look at it and see the key ingredients if it really does what they say it does. I'll start with the basics. skin's natural moisture.
Appearance, Viscosity, no animal testing, and Fragrance: Although they market the Cerave Moisturizing Cream as a "cream" it's neither a lotion nor a cream.
CeraVe products' consistency is actually right in between. It's a bit thicker than your average lotion like this one but runnier than most creams (i.e. it will slide out of the jar if you turn it upside down so make sure to keep the lid tightly sealed after using it.
If you drop it with a loose lid it can spill out!) The cream itself is a white color and there is no added fragrance, which is a plus for people with sensitive skin types.
CeraVe Packaging:
This body moisturizer comes in a tube, tub, and pump form, but it usually comes in a large tub (which might gross some of you out due to contamination issues via finger dipping).
If you end up buying the tub version (instead of the pump) you can try transferring it into a pump bottle but I can assure you CeraVe works so well.
CeraVe Moisturizing cream has over 100,000 five star rating on Amazon, you can check user reviews here.
Availability and Cost:
CeraVe is a very commonly used moisturizer so you won't have any trouble finding it. If you live in the united states you can pick it up at your local pharmacy or at a larger department stores like Target.
Ordering this online is another option. skin's surface appears clear, smooth,well moisturized and cared for.You can get the tub version of this cream on amazon for a really affordable price.
To me, it`s the best moisturizer and also very affordable and feel comfortable making it my daily moisturizer and so does many who want value for money when looking for 24-hour hydration.
Now that that's out of the way lets do the real analysis.
My Ingredients Analysis:
Right away I see this moisturizer covers all the basics unlike other beauty products : Glycerin and Hyaluronic Acid act as humectants to draw moisture in to your skin and reduce moisture loss.
Cetearyl alcohol and other fatty alcohols act as emollients to soften and condition the skin. Dimethicone and Petrolatum are present to help prevent water loss and protect the skin.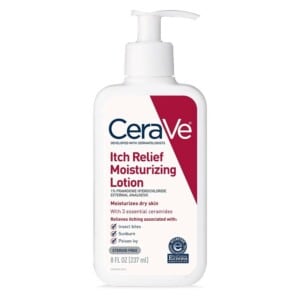 What really stands out among these ingredients though are Ceramide 3, Ceramide 6-11, Ceramide 1, and Cholesterol, ingredients that can help restore and maintain the skin's barrier simply said.
It`s a unique formula that gets you healthy skin. This is great for any skin type, but it's especially good for those with truly sensitive or problematic skin.
You May Like:
It`s confirmed having a weak barrier is one of the reasons why our skin is so reactive and prone to problems like acne,oily skin types redness, itchiness, fungal acne and so on.
CeraVe offers you protective skin barrier like no other product in this category. Check CeraVe Moisturizing Lotion for Itch Relief here.
Are CeraVe Moisturizing Cream ingredients Enough?
Cerave moisturizing cream might be too light for those with very dry skin due to the minimal amount of occlusive ingredients, ingredients that shield your skin from the outside world.
The main occlusive in this product is "petrolatum" and yes, I know Petrolatum sounds heavy (and it usually is, just think of Vaseline or Petroleum Jelly) but it's pretty far down the ingredients list so there isn't  a lot of it in this product.
The issue here is that although petrolium jelly is included in CeraVe Moisturizing Cream Ingredients it's so far down the list that it might not offer enough protection for those with very dry skin (especially during the cold harsh winters).
If you have severely dry skin or severe eczema then I'd be surprised if this product worked for you during the winter time.
 CeraVe also has a significant amount of fatty alcohols (i.e. Cetearyl Alcohol, Cetyl Alcohol ) which can possibly irritate the skin for those with sensitive skin.
If you have highly reactive skin or you know that fatty alcohols irritate and/or break you out, then this product may not be for you.
HOWEVER, keep in mind that Ingredient sensitivities in cosmetic ingredients vary from person to person! My skin HATES fatty alcohols but I know people who tolerate them.
On the flip side, CeraVe being a consistency between lotion and cream and having a small amount of occlusives means this product isn't heavy and should work for most people and your skin feels moisturized after just one use.
Your skin's moisture (including those with oily skin) so long as they aren't too dry and don't have any sensitivity to fatty alcohols.Sometimes it`s hard to decide if this is a moisturizing lotion(or is it only be being confused?)
One thing is Sure,CeraVe is one of those must have moisturizers whatever your skin is, you should give it a try.
You May Like:
Best body lotions for dry skin
Understand ingredients in skin care products
Rodan fields Microdermabrasion machine
For those of you with oily skin or the oily T line who may be afraid of the petrolatum please keep this in mind:
Petrolatum is not comedogenic, but it is a heavy occlusive and that could be bad if there's too much of it in a cerave products moisturizer.
Fortunately CeraVe has it in small amounts so it can still work for you I suggest testing it during the fall/winter time when the skin drier believe me you`ll have less dead skin cells.
CeraVe Ingredients Analysis Summarized:
Has the ingredients any basic moisturizer should have (humectants, emollients, and occlusives)
Has a number of barrier-repairing ingredients (which is great for everyone!)
Has a small number of occlusives (which can be good or bad depending on your skin's needs. Very dry skin types may find this isn't enough skin hydration
Has a high amount of fatty alcohols (this can be bad if you have a sensitivity to fatty alcohols as that can lead to breakouts)
I didn't mention this earlier, but this moisturizer isn't highly comedogenic so it's an option for those of you with acne (as long as you're good with fatty alcohols)and fungal acne check Cerave Itch relief here
Helps reduce fine lines
Comes in different sizes
The product package is simple but don`t let that fool you
Well that's it for for CeraVe's Moisturizing Cream! If you're interested you can check out their other products over here. This is one cosmetic product I always have Feedback is important to me so please don't be afraid to let me know what you guys think.
If you have any questions, comments, concerns, or criticisms go ahead and leave a reply for me.Just incase you didn`t know CeraVe is national eczema association certified.Cerave is brilliant for skin's natural barrier repair and protection.
CeraVe Moisturizing Cream Ingredients Summary
Purified Water, Glycerin, Ceteareth-20 and Cetearyl Alcohol, Caprylic/Capric Triglyceride, Behentrimonium Methosulfate, Cetearyl Alcohol, Cetyl Alcohol, Ceramide 3, Ceramide 6-II, Ceramide 1, Hyaluronic Acid, Cholesterol, Petrolatum, Dimethicone, Potassium Phosphate, Dipotassium Phosphate, Sodium Lauroyl Lactylate, Disodium EDTA, Phenoxyethanol, Methylparaben, Propylparaben, Phytosphingosine, Carbomer, Xanthan Gum
We hope you found this post useful and helpful,you can support us by sharing this post with friends on social media.