Hair extensions come in all different lengths but knowing which one is right for you can be tricky.
We've got extensions that range from chin length (the shortest) to waist-length wigs, so no matter what your natural hair color or texture looks like, we should have something perfect!
Options for hair extensions come in different lengths, but it's important to choose the right one.
This will help your artificial hair install look natural and blend with what you've got going on top!
For those of us who haven't worn clip-in hairs or any hair extensions before or if our own locks are awkward at best we need all the best when we get started.
We're here with some tips about how to figure out which option works best based off type (i e straight versus curly) as well as length.
To make life easier I'll go over all different extensions types
1-Clip-ins– these can be removed easily enough when going to bed, so they don't need much styling time;
2-Sew-ins-These are the cheapest permanent hair extension method, since they are easy and quick to fix, you`ll save money for fixing.
3-Tape-in hair extensions-As the name suggests, these artificial hair additions are taped into your natural hair.
 4-Micro bead extensions are made from Remy hair which is 100% human hair. This is made by clamping the hair with the artificial hair lying flat to the head to add volume and length.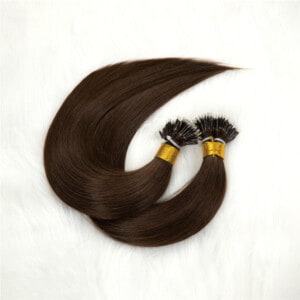 5-Lace front hair extensions: These are mostly to fill up bald patches on your hair or for when you need bangs without getting a haircut
.6- Bonded Hair
Bonded Hair Extensions: These are extensions that are bonded to your natural hair tiny piece at a time so when everything is done, it should all look seamless. Heat is used to melt and fuse the bonds to your natural hair, so if you have very short hair, this may not be the best method.
Length Of Hair Extensions And Price
The length of hair extensions might also determine the price in fixing, maintaining, and product cost. Quality also matters when choosing, since it`s hard to know which extensions you may like.Below I`ll share some rough guides on prices, they might not be 100% accurate as this depends on where you are buying the hair.
Check a product that got a 66% 5star rating from verified users.Now you should understand that prices may not be the same in every shop or online vendor, the prices shown above are close estimates to give you an idea. It`s also worth mentioning that the prices are only for the extensions, fixing prices again depends on your location.Now that we have that out of the way, let`s answer a question about why we are here:
How To Choose Your Length Of Hair Extensions
Hair extensions come in different sizes, colors, and lengths. The shorter they are (starting usually at 14 inches)the less they cost. Quality, the material used, and sometimes a color will determine the price of hair extensions.
What To Consider When Choosing Hair extension Length
Size: short hair extensions tend to have more volume, so if you want really full hair of extensions either buy shorter ones or get several packets to compensate for the volume. This is not to say that long hair extensions are dense, but they do appear so.Frame: Consider your frame(height) when purchasing hair extensions, 26-inch hair extensions on a 5-foot girl does not seem natural at all. I might be excused for saying such extensions look out of place.Right measurement for you: Once you know about what length hair extension you want, you can use a tape measure. Measure from just under your ear to where you want the extensions to reach when done.This way, you`ll know what inches of hair extensions to buy. You can always add or remove two inches according to your wish.As an unwritten rule, do not go for hair extensions that are too long, they`ll look unnatural and out of place especially if you have short hair, they`ll not blend in well and maybe a real hassle to style.Know Your Extensions
Shorter hair extensions 20-22 inches tend to have more volume once done and look much better and more natural compared to extra long extensions.
Kinky hair extensions can appear very large, not everyone can rock Diana Ross hairstyle and get away with it unless you are Khloe Kardashian.
Straight hair extensions may appear longer than the measurement.
Curly hair extensions do appear to have more volume compared to straight hair extensions.
You may likeHow much do hair extensions cost in a salon?Hair extensions for volume and length.Synthetic hair extensions are cheaper compared to Remy hair extensions but some synthetic extensions are not heat resistant or the quality is so poor you end up paying for more than if you had invested in better quality extensions in the first place.Extensions For Braids
These are made of synthetic fiber, making them very affordable. For a full head, you`ll need anywhere from 4-8 packs (they are about 90g a pack).Now, extensions for brains usually come in one length, your stylist should be able to trim and cut to your desired length.These are almost impossible to choose the length size as they come in one length(maybe an inch or 2 shorter. They are the only long hair extensions that can be as long as you choose but not short premade.Why Extremely Long Hair Extensions Are Not The BestIf you`re buying synthetic hair extensions, you are likely to get them longer, but do you really need them so long? My reasons why you should get an acceptable length
Very long hair extensions are hard to manage.
They tangle more.
Long hair extensions(especially synthetic) are hard to style.
More washing and styling products
Hard to dry after wash.
Time-consuming when styling
Not all activities friendly
May not look natural.
Maintaining Your Hair ExtensionsSome extensions last longer than others, budget may also come into play when you can remove your extensions or keep them a month longer, some extensions like bonded hair extensions may last you up to 6 months if cared for well.Now it`s worth noting that if you choose bonded hair extensions, you might need to visit a salon for a top-up, this is where the stylist might add new strands just to thicken the look.Sleeping With Extensions:If you put your hair in a ponytail, it will be easy to tie back the extensions so they don't get tangled while you sleep. I recommend a messy bun hairpiece elastic rubber band, it does not squash the hair and it`s not the mumsy hairband either. Washing Your ExtensionsWhile it is true that your extensions can be treated just like your natural locks, extensions do not produce any oil so washing once a week is enough.A good product like Botanic Hearth Biotin Shampoo and conditioner with ginger oil and Keratin should wash away the dirt and give your hair that fresh shine and glow.Styling Hair Extensions:Use Heat Protectant-Before you use any heated hair styling tools, apply a heat protection spray. These not only reduce fizz but they condition and will also reduce tangling. Check some top-rated heat protection sprays from allure.com.Use Low Temperature-When using heated hair styling tools use the lowest temperature possible. I mean you do need heat to style but try to keep it at a minimum to prevent hair damage.Coloring Hair ExtensionsHuman hair extensions are like your own natural hair you can blow-dry, apply hair care products, straighten(with low heat), or color them just as you`d color your natural hair.With synthetic hair extensions, you cannot color the hair as most dyes contain ammonia and the color doesn't hold anyway.
I have tried coloring synthetic hair and no matter how long you leave the hair color on, it will just not color, the little color that holds on to the synthetic hair strands will wash off almost immediately not to mention the stubborn residue ruining your blouse. Just find the right shade instead of trying to color it.

Real Human Hair Vs Synthetic Hair Extensions
Human hair extensions are made of real human hair. They are mostly known as Remy hair and the cuticles are intact. Most of these hairs are donated or sold by real humans.Now I know some people may find it unethical, but who`s to say what`s ethical or not? I found this blog post talking about selling blood plasma for money. I think if the seller is willing then why not.With synthetic hair extensions, it`s exactly as the name says, these are made of synthetic materials and plastic then finely refined to imitate human hair.
And Now To Some Q&A about choosing hair extensionsQ-What is the most popular length of hair extensions?A-Most people who want a real hair transformation, a real feeling of having hair extensions on prefer 20 inches, but with hair extensions, there is no one size fits all, find what works for YOU.Q-What is a good length for hair extensions?A.This will largely depend on the style you want to be done, how you can style at home, and your daily lifestyle need also be considered.But always look for something that will look natural and blend in seamlessly with your natural hair but still give your hair volume and length.Q-How do I choose hair extension length?A.There is no right or wrong length for hair extensions, some people want hair volume, some want hair length and some want both, I find 18 inches to be a good balance, but as said earlier you can measure to have a good idea of the length you want.
Conclusion On How To Choose Your Length Of Hair Extensions
I think choosing hair extensions does not start or stop with the hairstyle you want, consider the material, quality, aftercare, the attachment style you want, and everything in between.You can afford to make mistakes with clip-ins as these are easy to clip in and out, but when you`re looking for sew-ins and the likes, you should talk to a friend or a salon before settling in for an extension.I hope you found this post helpful, if you need any more explanations on hair extensions, just leave me a message below, I`ll be glad to answer your questions. Know someone who can benefit from this post? Share it with them on social media.