You`ve probably been there, had a friend fix your artificial hair and now it looks terrible, then someone says you should have had it done in a salon. But, how much do hair extensions cost in a salon?
Hair Extension Prices
This is a question that many women ask themselves when they are considering getting their hair done at home instead.
The average price for natural-looking extensions comes in around $500 upwards but there can be significant differences depending on where you go and what type of service package options your salon offers.
These will depend on color, length or texture adjustments, the time needed to fix, etc., so do check out all the different packages before committing!
Some salons depending on where you are will choose not to do hair extensions you bought somewhere else and bring them in with you.
It`s almost a numbers game, some hairdressers will charge you more if you bring in your own hair extensions from another store to be fixed.
But that does not mean it is cheaper if you buy artificial hair in the salon. If you have fixing your hair long enough, you`ll know if the price is right.
Hair Quality Choices
Not all hair extensions are made equal, you can find cheap synthetic hair bundles that sell for about $20.Your salon should be able to help you choose the best extensions for your money.
What is the best way for you to give your natural locks a boost? With synthetic hair extensions, of course!
These affordable extensions help achieve that perfect short or long look with just one touch. They're also durable enough so as not to damage whatever partial Fusat/Fullness texture we decide on.
Whether it's highlighted strands at crown area plus something underneath layers; thinning over top front section alongside temples down below middle backside synthetic hair is the best and quick fix if you are on a tight budget.
But as already mentioned, they might look glam when you first put them on, but depending on quality, some are almost impossible to re-use as they deteriorate so fast.
---
When it comes to the cost of human hair wigs, there are five types:
fake Remy (a mix between real and machine-made);
Virgin cuticle hair
Remy human hair
Synthetic hair: as already said, you can get these from as low as $20. if you want to keep your artificial extensions as good as new, It will take you about 20 minutes a day to take care of your hair extensions.
Spend at least 15-20 minutes in the morning and evening routines, so that they stay healthy and vibrant!
Do not use hot tools or blow-drying machines on 100% synthetic fibers because it will damage them over time. A good soft brush should do the trick.
This rounded brush with a clamp to separate your hair into sections is a brilliant buy if you don`t have any.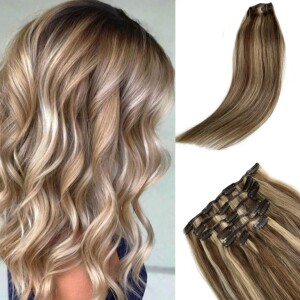 Again cheaper than the real Reamy hair extensions but still more expensive than the synthetic hair extensions.
These are some great extensions! They provide a long-lasting, high-quality feel. I ordered 100 grams of synthetic Remy hair with 24″ length for $80 and they have been amazing so far. even after just two weeks of use.
The feel is realistic enough to make you think it's human origin which means less time spent on getting bored or frustrated while styling your own hairstyle- plus there will.
Again, an improvement from synthetic pieces if you have the money.
You may like
Clip-in hair extensions for immediate length and volume
Best Clip in hair extensions for short hair.
Virgin Cuticle Hair
This is supposed to be 100% virgin hair, but as more and more women dye their hair, the integrity of it is slowly being compromised.
Dyeing causes damage which can lead to breakage for those who aren't aware or skilled enough; this means that your investment will eventually wear off if the salon buy cheaper strands without any cuticle alignment.
Skills applied in processing them also matter, you don't want your stylist cutting out parts in order not to have enough to work with when everything else was already done by professionals before sending your final product.
Now, these are more expensive than other hair extensions in this post but that is for a reason. These are premium quality human hair extensions, very clean and natural.
The softness of the hair extension makes it easy to comb or brush through your locks without any tangles or snags!
They're also great for those who want a straighter look with less frizziness in their tresses- you'll have more shine than ever before thanks to these synthetic-free Brazilian virgin hairs.
Now they might be more costly initially but in the long run, they beat synthetics any day.
Synthetic hair extensions are one-time use, but with Remy's hair, you can reuse them several times after the initial use, just take them out, wash, let them dry and you are ready to use them again.
The same can not be said of synthetic hair extensions, there have been times I put in synthetic and had to remove them the next day because they were just so bad.
Hair extensions pros and cons
Every product does have its bad side, so we`ll look at some pros and cons for hair extensions so you can make an informed decision when you buy.
Pros
Immediate length to your hair
Different hairstyle in no time without visiting a salon if you choose clip-ins.
With good care, they can last a long time.
Add color or any chemicals like it's your own hair.
Affordable(in some cases)
Cons
Can be expensive if you do not choose well.
Your hair can feel heavier. Especially if you chose synthetic hair extensions.
Some hair extensions may damage your real hair

---
How Can I Save Money When Buying Hair Extensions?
Ask for various discount cards.  Many salons offer frequent member cards or first-time visitor cards. 
Try and find a beauty school near you.  Many schools will do many services for a fraction of the costs. I should know I`ve been doing my facials at a cosmetology school for years.
Don`t worry, they`ll not give you brand new students, you get the almost qualified students to work on your hair"
How To Save Money In A Salon After Buying Hair Extensions
This is for you if you choose to purchase your hair extensions in a salon that will also fix your hair, salons to push you to blow, Flaten, apply shine gel, and whatever.
Tell them you`ll do all these at home because I find that oiling and styling hair for $5 when you`ve just had it done is way too much and kind of ripoff.
All these can add up as fast you`ll not even know so ask questions, let them tell you what a whole package will cost.
Another way of saving serious money at the salon is to buy your won extensions on platforms like eBay or Amazon, they cost a fraction of what the salon will sell you.
Another way to save money is to find someone do it for you privately, you can`t imagine how many hairdressers are out there and they`ll get glad to do it at a fraction.
Is the cost worth it?
For someone like me, I've never had hair all my life so I invest in lovely hair extensions and I'm sure there are many of us out there,
Let me know what you think
Leave me a message below, will you be investing in hair extensions for the festive season? what color will you be putting on? talk soon.