Hair extensions especially hair toppers come in different names. No matter what you call them, these wearable hair have to serve the same purpose cover up thinning hair and give you immediate voluminous hair.
Introduction To Hair Toppers
A hair topper is one of the quickest and most effective methods to add volume to your hair without burning a hole in your pocket.
Hair toppers are also dubbed by other familiar names such as a half wig, top piece, hair enhancement, or top extension. As already said, whichever way you prefer to call it, human hair toppers for women are a life-changer for women with thinning hair.
If you are wondering about coverage, a hair topper is essentially a hairpiece that covers the top portion of the head with varying coverage. (we`ll get more to that later)
Hair loss is a condition that is more prevalent than we perceive. There is a circulating misconception which associates hair loss with aging, but a temporary and chronic loss of hair can happen to anyone of different age groups.
Different recognized factors that can contribute to this phenomenon include hairstyle, hair care routine, hormonal imbalance, and even hereditary hair loss.
Fret not, however, there are a handful of verified and tested methods to improve the appearance of thinning hair; some of which can be easily done at the comfort of your home.
Benefits Of Using A Hair Topper
If you or a friend in your life is experiencing a significant form of hair loss, you should recommend a hair topper.
A hair topper can solve a myriad of problems related to hair loss or thinning hair. For instance, pinning a topper to the crown of your head can give an instant transformation to a woman's hairstyle without going to the salon.
You might like
Because it is essentially a top wig, a hair topper blends seamlessly with your natural hair to add volume to a thin and delicate hair within minutes.
The best part is, you can enjoy the full benefits of a wig by clipping a hair topper to only the affected area of the scalp without the extra weight.
Hair toppers are also a noncommitted way of changing your style without having to cut off your hair, there are days you "just" want short hair.
Hair toppers come in different sizes and you can easily purchase a full head cover hairpiece for days when you need a different style.
Say goodbye to a heavy scalp and headache by using a hair topper instead of a wig.
Who Should Use Hair Toppers?
I believe wiglets and hair toppers are not only limited to people with thinning hair, you can use hair toppers for women with thinning hair when you just want to add volume or fill in thin spots on your natural hair.
Will Hair Toppers Look Like My Hair?
Hair toppers come in different lengths and thicknesses, you can buy hair toppers with bangs and even with, lowlights, highlights, and other shades of hair.
How to Select A Topper
The first thing you have to remember when buying wearable hair is that there is no one size fits all. Good quality hair toppers for women with thinning hair or otherwise should offer you coverage where you need it and blend perfectly with your natural hair.Choosing the right hair topper is important and this is made easy by knowing what topper you want, this will depend on the exact place your hair loss is and you're planning to use the hair topper.No time to read the whole post? then click here to check the products that are top sellers.Now quality and price do play a big role when buying hair toppers, stages of hair loss will also determine what kind of hair topper you need because if you have complete hair loss, you may want to consider a full hair wig.Top 3 Hair Toppers For Women With Thinning Hair
This product receives rave reviews for the integration of reliable clips to attach the sections of the wig to the scalp.
As a result, the wig is guaranteed to stay in place despite a long day without compromising on comfort.
The manufacturers boast a 150% hair density to accommodate the majority of the head circumference with a seamless transition to give you the natural hair look with extra volume.
The lengths range from 12 inches all the way to 24 inches,  with 35 different colors to choose from, we`re confident you`ll find YOUR choice color.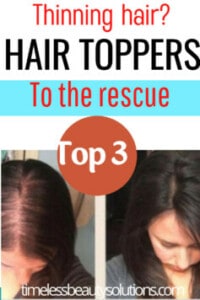 The unique factor about this product is, it is constructed from 100% human hair from select donors. Because it is not synthetic-based, it has the advantage of resisting heat and accommodating your hair styling needs depending on the level of applied use and care.
Many customers complimented the softness and the quality of the hair used in the topper as well as its comfortable silk base.
To meet the needs of different clients, the manufacturer has also created a wide range of topper length and colors two you can find your perfect match.
You can find lengths as short as 6 inches which are perfect for a front topper, the longest is 18 inches so if you`re looking for longer hair toppers, you could look for some other model.
My-lady comes straight and wavy so it will suit most hair types.
The complaints we could find are to do with size, the buyer complained of it being a 6 inch, sometimes this may happen is the hair toppers for thinning hair are too thin. Well, you buy longer toppers if you want them long.

This product offers an interesting twist from a regular hair topper with the addition of bangs.
Its easy application design is enhanced by the hassle-free clip to help the topper stay in place. The hair used is made from a synthetic source which increases its shelf life while allowing for washing and curling.
Reviews for this product reflect customers' satisfaction with its comfort, lightweight, and excellent blending properties.
You may like
BOLDIFY Hair Fibers for Thinning Hair. This is not a hair topper but a hair thickener spray for an undetectable finish.
Boldify Hair Thickening Fibers instantly cover bald spots, thinning hair.
The advanced hair powder fibers boast follicle-mimicking molecules that allow seamless blending and a real-hair finish you'd swear was natural.
Conclusion on Hair Toppers For Women
Whether you simply want to change up your style, explore the latest in hair couture, or cover your thinning hair, hair toppers or extensions are the way to go as they are temporary, and remove them the next day if you are not happy with the outcome.