When looking for the best home microdermabrasion products, it can be confusing, what with all the products out there claiming to be the best?this post will help you get the best for your needs.
Each year, new microdermabrasion products are launched and each such product claims that it has superior formulations. But many people are not even aware of what to expect from a microdermabrasion product and how to use them.
In fact, they do not know what their skin needs, and end up using products that don't give them good results because these products are not designed for their specific requirements.
Merely buying the most expensive microdermabrasion product is not the answer. You should begin with identifying what you need from a microdermabrasion product, before buying them as there could be some disappointment in store.
What can a microdermabrasion product do for you?
Basically, a microdermabrasion product is for exfoliation, i.e., removing any dead cells, grime, etc., on the external surface, as well as some layers beneath the skin.
It entails scrubbing crystals on the face,  which then remove accumulated dirt.Read more on how microdermabrasion works here if you missed it.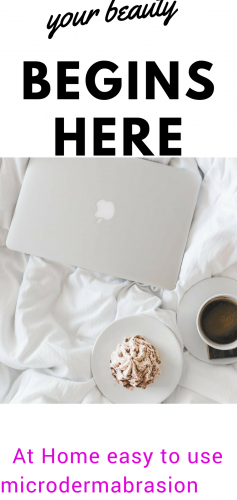 But there are additional benefits associated with these products such as removal of age spots, unclogging of pores, reducing wrinkles, and in general improving complexion.
Microdermabrasion products available for use at home can be broadly divided into those that merely focus on improving complexion.  Such products are available in the range of $20 to $75.
Microdermabrasion products that focus on unclogging pores, removing whiteheads, blackheads, and reducing the sizes of the pores by unclogging some of the larger cloggings in there, thereby making skin look good again, are available in the range of $45 and $85.
If age spots and uneven skin tone is the concern then there are microdermabrasion products that can help in addressing such issues and give a skin with reduced sun spots, age spots, and hyperpigmentation.The products that address skin tone issues are available in the range of $14 to $75.
The most expensive set of microdermabrasion products are for addressing skin issues such as scars, wrinkles, fine lines, and bumps. These are available in the range of $40 to $170.
Note that there are lower priced products in every type of microdermabrasion product that is available for use at home.  There would invariably overlap of functions as well.
Therefore, the product that is good for improving skin tone, can be slightly good for addressing complexion as well.
Likewise, a  product that addresses pores issues can help to with fading fine lines, and wrinkles. But the help towards the second objective would not be as much.
Accordingly, the best microdermabrasion product list varies as per the purpose these products are to be used.
Best Microdermabrasion Products
Improving Complexion with Microdermabrasion
The best home microdermabrasion products for improving complexion would be Olay Regenerist Microdermabrasion crystals and Peel.
Olay Regenerist peel is actually a combination of microdermabrasion crystals and activator serum. The crystals are to be applied first, and massed in, followed by activator serum.
Sun screen is essential with this product because the product includes AHA, i.e., alpha hydroxyl acid, which is known to heighten the problem with sun's ultraviolet rays. The product can be used twice a week.
Microdermabrasion Products For Reducing Pores
The best microdermabrasion scrub for using at home to address pores issues would be Mary Kay.
Mary Kay has a range of skin care products but its Timewise line includes one with fine microdermabrasion crystals. It addresses pores issues and goes beyond that by reducing wrinkles as well as fine lines.
It is the size of crystals that matter, and this one has the right size for delicate skin. Mary Kay microdermabrasion scrub comes with a replenishing serum that is to be used after the microdermabrasion scrub. Using it once a week is enough.
Microdermabrasion For Skin Tones 


The three best Microdermabrasion products for giving even skin tones are Ponds, Neutrogena, and Micro Pearl Abrasion.
Ponds Age Miracle "advanced resurfacing microdermabrasion kit" includes a polishing cream and a glow enhancer that needs to be used after the treatment with polishing cream is completed as instructed.
The set includes a sponge applicator for evenly spreading the cream. It is quite effective against hyperpigmentation and helps to reduce fine lines as well as wrinkles. The results can be noticed within a month.
The product, however, should not be used more than 2 times each week. Moreover, people need to keep out of the sun for some time after using this product.
Skin Resurfacing Microdermabrasion
Two microdermabrasion products that stand out among the rest for resurfacing the skin are Youthful Essence and Dermanew.
Youthful Essence is a comprehensive set, including cleanser, and moisturizer, apart from resurfacing cream that enriches the skin with required vitamins, "facial toner and mist", resurfacing applicator and tool.
The moisturizer comes with SPF 15. This means people can use this product in daytime.
The procedure begins with cleansing the skin, followed by cream with microdermabrasion crystals being massaged in with the help of tool and applicator.
After this cream is massaged in for about 4 to 5 minutes, it is necessary to wash it away gently but till entire cream is gone, and then applying toner if needed. Finally, you need to use moisturizer.
The frequency of using the best home Microdermabrasion products can be about twice a week but can be increased to thrice a week if needed. The entire procedure takes just half an hour.
Other important aspects of microdermabrasion products.
Microdermabrasion products for face and neck differ from those that are used on the body. Therefore, you need to check the reviews based on where you want to use the product.
Conclusion On Best Home Microdermabrasion Products:
available in the market help to save a lot of money on beauty treatments.
They do need patience, but results are worth it. Most products offer all the benefits associated with microdermabrasion but the degree of such benefits vary.
Results from using the best home microdermabrasion products differs from person to person, as needs vary as per skin and its condition.
If you have any questions, please do leave me a message below, would love to hear from you.