Those shiny, lovely gel nails are not just for the rich and famous, movie stars, musicians, elite sportspeople, models, and beauticians.
Anyone can afford gel nails and this post will show you how to do gel nails at home and achieve flawless nails without visiting a nail salon.
You know the feeling of looking down at your hands and like what you see, your hands looking well taken care of and loved, fingers looking like you`re just coming back from a beautician.
Being busy with life, work, family, and whatnot, you might ignore your hands, or you may even find yourself thinking "who has time for that"?.
Truth be known, it's not difficult to keep lovely nails once you get into the habit and it will be quicker and easy.
Not to mention the feel-good when your hands look like you want them to, especially if you use chip-resistant nail polish so your nails look fresher and longer.
I first had gel nails done years ago when I was going on a blind date.
A word of caution here:
"If you`ve never had gel nails done, don`t do it on the same day you`re attending an occasion.

Have them done a day or two so you can exercise your fingers and get used to them.

I remember how  awkward they felt and I kept hitting the wine glass with my nails, or not being able to hold the cutlery properly during dinner, it was embarrassing"
I thought my date would be staring at my nails because they were short and ugly from not caring for them, so decided to get gel nail extensions "false nails" put on.
I was amazed when I saw the transformation. In less than an hour, I had pretty nails which made my hands look great. Since then I get it done all the time when possible.
My work has changed, I can no longer have long nails at work, but I still have them done, only short and colorless.
My friends always get gel nails with French tips but I can only do that when I`m on vacation.
The other choice is acrylic nails, which are slightly cheaper, but if you want a French tip manicure then you will need gel.
Now before we get into the supplies you`ll need, it`s worth mentioning that an initial investment it will pay off several times over because supplies like nail clippers, orange stick, buffing block, led lamp, cuticle remover, nail lamp, or Naildryer are a one-time investment.
Why French tips nails?
Simply because they're easy and because they go with all your outfits and any occasion.
If you choose red for your nails, and then want to wear a blue outfit – well you see what I mean.
French mani is a classic nail art because of the transparent nail polish used, it`s what you should start with.
French manicure is a safe color in my opinion and, you can`t go wrong with them.
Supplies You Need For Gel Nails At Home
These are in no specific order as I`d not want you to think you need one more than the other so I listed everything (BUT ALL) at random.
This is a one-time investment.MelodySusie Portable UV LED Nail Lamp has over ten thousand positive customer reviews, it`s portable and compact you can travel with it anytime.
If you`re getting the items you need individually, get a base coat and topcoat. You just can not use one without the other if you want the best results.
I HIGHLY recommend using a glass nail file, they are gentle on the nails and cuticles. This one is a great option! But feel free to use any of your choices.
I love O.P.I for quality, and affordability and this high-gloss shine with topcoat & natural base coat bundle is a brilliant choice. Check user reviews here.
Nail polish soaks off clips(they make removing the gel nails a breeze).
And some of these you may already have at home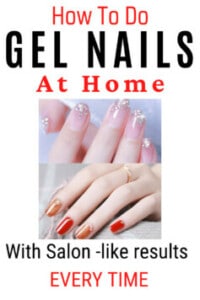 Nail clippers

Acetone to remove the polish.

Cuticle remover and cutter

Cuticle clippers

Cuticle remover liquid

Nail buffer block

Cotton pads

Rubbing alcohol
Now as mentioned above, you`ll have to check what products you already have( if you`re purchasing the items singly).
But there are great gel nail sets that are affordable, they come complete with everything that you need now and for your refills and future new sets.
How To Do Gel Nails At Home
This is assuming you have everything for gel nails ready and in place.
It`s more economical to get a gel nail kit or an acrylic nail kit than to buy pieces differently. This way, you and your friends can have a girls' night ins doing your nails.
Check these gel nail kits with a minimum 4-star user rating.
This is a step by-step from start to finish
To start off, make sure to have everything you need in one place that`s easy to reach. You need to have your hands clean, nails filed into shape, dried, and oil-free.
After your hands are clean and dry, use a buffer to shape your nails. Buff the tops of your nails, just enough to take off a bit of the top layer of your nail. Wipe the residue(dust I call them) away with acetone.
Apply the cuticle remover liquid onto your cuticles and rub in. Use

cuticle remover and scraper

to push down your cuticles.
-Be gentle, and know when to stop, you don't want to push your cuticle way too back. Use a cuticle clipper and cut off any extra cuticles from your nail.
Again taking care not to chip the skin near the cuticles. So it helps if you have steady hands. Wash your hands clean but don`t use any soap, just water is enough.
Apply PH Bond from the Gelish kit to help dehydrate and prep your nails. Now, this should be left on for a minute or less. ( I don`t use any timer for this).
After 30 seconds to a minute have elapsed, apply a thin layer of base coat gel polish.
Now for first-timers, you might be tempted to have a thick coat of nail polish, but to achieve flawless nails, that`s exactly not what you need, the coat has to be as thin as possible otherwise you`ll be dealing with nail lifting because your nail plate will not hold it well.

Now apply 2 thin coats of the color gel nail polish or transparent nail polish. Dip cotton in acetone and use it to wipe the edges of your nails and cuticle line. This helps stop your polish from lifting as it grows.
Always take care not to get polish on your cuticles, as they will start to peel much faster ruining your nails.
But as already mentioned, any excess paint and sticky residue can be easily removed with acetone. When purchasing, avoid harsh acetone.
Let the polish cure under the nail lamp for 120 seconds, then do another layer and cure for another 120 seconds.
Some lighter nail polish needs the 3rd layer, and if so, do the 3rd layer of polish then cure for 120 seconds.
After your polish has cured under a nail lamp for about two minutes, add another layer then cure again for two more minutes.
If you want to, you can add a third layer of polish(if you feel the color is too light). Again, cure for two minutes.
Apply this top coat then cure it under the lamp for two minutes.
Finally, Soak a cotton pad in rubbing alcohol and rub each nail. You're done and ready to go.
There is no waiting for it to dry and you can touch anything without ruining your nail manicure. Gel polish is so easy to do, giving you that manicured look in minutes in the comfort of your home.
Salon Gel Nails
Now this post is about how to do gel nails at home so I`ll not dwell much on salon gel nails but below I have covered what you can expect in a salon.
The results will be the same, only that DIY gel nails, you save loads of money and, you can do it at your convenient time again and again. Making it worthwhile to learn how to do gel nails at home.
After the nail prep
The nail artist glues a false white talon to the end of each nail and then cuts the nail tips to the desired length. The rest of the nail down to the cuticle is painted on with gel from a jar, or gel powder mixed with water.
Personally, there's no big difference between premixed gel, and gel powder, except that I think gel powder is slightly cheaper.
The nail is sanded from time to time with an electric sanding tool similar to that used by manufacturing jewelers or you can call it a grit buffer. This makes it smooth and even.
The nail artist will ask you if you prefer a square or a rounded look for your nail (or any particular look I`ve seen some zigzag) and will then file your nails accordingly.
You may be asked to place your hands in an infrared type of heating device to set the gel.
The nails are then brushed with oil before being painted with a top coat of clear or pink-tinted nail varnish (depending on your preference).
In some nail salons, they paint or airbrush the French tips on with white nail polish, on top of a clear talon. Some people prefer the method of using white talons as they feel it lasts longer but that`s really not the case.
Gel nails last around 2-3 weeks before you need to get an "infill". This means just filling in the spaces where your own nails have grown.
Infills are less expensive than getting a full set of new nails, and you may be able to get 2-3 infills before you need to get a full new set of nails.
If you break any of your nails, you can get singles replaced at any time or when you do your infill, so your nails can always be looking good.
Just to let you know if it`s a nail lift, it can get very uncomfortable.
A quick search on google for "good nail salons near me" will help you find a salon that`s ready to take you in.
I can`t imagine going days with a broken or lifted nail. A good salon might offer to do it free as it`s just one nail if you`ve been a client in the past.
You may like
How to treat brittle nails at home.
The price of a full set of gel nails varies from $50 to 90, depending on where you get them done. It's my impression that a higher price doesn't mean a superior set of nails. Infills vary from $35 to$50.
I have had my nails done at different places, often run by Asian people (who seem to be great at it,) and I've always been very happy with the service, creativity in painting the nails, and quality.
One final word:
When you do get the old nails taken off to get a new nail set, some nail practitioners are very rough, even to the point of making your fingers bleed as they wrest the old artificial nails from your own in the removal process.
You don't have to put up with this! The nails can be soaked in acetone if you don't mind waiting a little longer. If it hurts, request someone else to do it, because good practitioners never hurt you!!
If you're using a fake body tan, be warned that it can stain the gel nails so that they end up looking brownish.
When this does happen, you can use Windex to clean them, but be sure to do it within 30 mins of the staining happening.
Removing Gel Nails At Home
Removing gel nails is an important part of a lady's beauty routine. There comes a point when your nails begin to look "tatty" and infill will no longer do the trick.
Then you must get the whole set of gel nails removed and start again! This happens every 6-8 weeks, depending on how fussy you are and how good your nail practitioner is.
There's also a yellowish coloration under the nails which is unattractive and fake looking.
Expand the picture size on your computer for a clearer look at the banding, the discoloration and the tired-looking French tips.
It's a personal decision, but once you've had gel nails for a while, you'll easily decide for yourself when it's time for a new set.
Most ladies persevere with infills for as long as possible because they are less rough on your real nails and also less expensive, but there comes a time when only a new set will do.
Replacing The Gel Nails
The next thing is to choose who is going to replace the gel nails for you. There are many practitioners around but they're not all the same, so through trial and error, you need to choose the one you trust.
Highlights of a good gel nail practitioner are – they're quick, they don't hurt you when they remove the nails (very important), do a great job on both nails and French tips, and don't overcharge.
Removing Gel Nails
The old gel nails are firstly clipped back short and then the remaining nail is prised off with an acrylic talon. This is slipped between the gel nail and your real nail until the old gel nail can be lifted off
This should not hurt. If it does it's because the practitioner is inexperienced or doesn't care. Best to choose a practitioner who is gentle.
Applying White Acrylic Talons
If you're having French tips, you can get white acrylic talons applied when you are having a new set of gel nails.
The long white acrylic talons are simply stuck onto your own real nail with strong glue and then trimmed back.
These are good because the tips are indestructible for as long as they last. When you have your first infill these acrylic white tips need to be cut back and so you must use nail polish for the new French tips.
Painting on the Gel Powder
Gel powder is then painted in from your cuticle right over top of the remaining acrylic talon.
Gel powder is a fine white powder (see pic left below) that is turned to gel using a liquid spirit substance that hardens with time and heat.
Once the gel has hardened, it is smoothed over with an electric tool, (see pic below)and then a couple of coats of clear or pink-tinted nail polish are applied.
The Result
Removing gel nails and replacing them with a nice, fresh set, results in a well-presented, manicured set of nails.
It's well worth the effort to keep your nails looking well presented. Guys, your friends and you too definitely notice your manicure and pedicure.I hope you enjoyed this post on how to do gel nails at home and you feel confident enough to give it a try, believe me after one or two trials, you`ll be wondering why you visited the salon in the past.
When Doing Your Nails For The First Time
It won`t be perfect the first or second time you try it, but practice makes perfect.
And Now To Some Q&A On doing Gel Nails At Home
Q-Is doing gel nails at home easy?A.
Like everything else DIY, I`d say practice makes perfect. Do-it-yourself gel nails at home are doable for anyone provided you have the right gel nail home kits.
Anyone can learn how to apply gel nails at home and achieve salon-like results.
Q-Is it easier to do gel or acrylic nails at home?
A-I think it's safe to say it depends on your choice of nail extensions but both are "almost" the same process as explained above, and both are just as easy once you know how to.
It`s safe to say you should experiment with both and see what works best for you.
Q-Should I choose acrylic or gel nails?
A-This depends on what you are most comfortable with.
Unlike Gel nail extensions that are softer, Acrylic nails are harder but and having said that, Gel nail extensions are softer and more flexible and this makes them(Gel nails) look more natural.
How can you make a DIY manicure last longer?
As with any DIY nail manicure, it helps if you have a strong base coat and a top coat. Try to avoid chemicals, excessive use of hot water, and nail biting(although it`s almost impossible to bite your nails when they are so beautiful).
Don't forget to seal your manicure, by painting around the nail tip with a top coat to protect against damage.
But if it`s worth mentioning, acrylic nails are cheaper than gel nails.
Sources:
www.nailsmag.com-How to prevent acrylic nails from lifting.