Microdermabrasion crystals home use make it easy to have microdermabrasion treatment any time at the comfort of your own home.
Microdermabrasion is one of the safest and most effective technologies discovered for exfoliation. Exfoliation results in the removal of dead cells lingering on the skin's surface.
Such dead cells make skin trap dust and grime, preventing the new cells from breathing. Therefore, the skin looks tired and dull. It can also lead to infections and acne.
At times, there are time constraints that may stop you visiting a beauty spa. Such problems should not come in the way of looking beautiful. This is the reason there are special microdermabrasion crystals available for use at home.
Microdermabrasion is better than chemicals used for the process as this is a mechanical process and would not cause any adverse side effects. Nowadays, most spas use this method of exfoliation, extensively.
But going to spas is expensive.This post will explain how to use microdermabrasion crystals at home which is quite straightforward really.
Below are tips to choosing home microdermabrasion crystals grit and what you should look out for.
Selecting The Right Type Of Microdermabrasion Crystals
Note that microdermabrasion is basically a scrubbing process. Crystals are used for it. But such crystals should also be of the right shape, and skin friendly.Check an earlier post on how Microdermabrasion works
Some microdermabrasion products available in the market for use at home are mostly made from salts or sugars, which are also crystalline in nature. Others may contain coarsely ground apricot seeds.
These agents are skin friendly, but not as effective as the regular microdermabrasion products that are used in spas or takes longer for you to see desirable results.
Moreover, such products at spas may actually result in acne and other injuries because they may be made from salts and sugars that are not right for the skin.
The microdermabrasion crystals used in the spa are Aluminum oxide crystals(more on Aluminium oxide crystals here). These crystals are obtained by subjecting naturally found aluminum oxide to some processes such that it is reduced to crystals of varying sizes.
Microdermabrasion Crystals Differences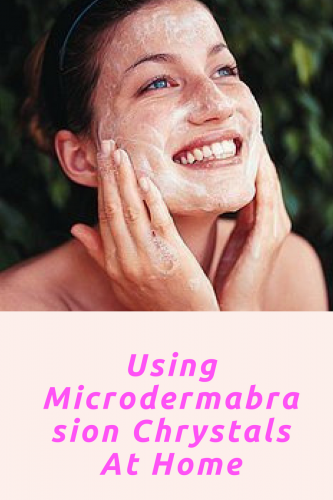 Smaller crystals tend to be more abrasive than the larger ones. Grit is the measure used to refer to the sizes of these crystals.
The crystals that spas use for neck and face is 120 grit. For limbs, they use 80 grit. Purity is important too. 99 percent purity helps to achieve better results.
Therefore, you need to look for the microdermabrasion crystals for home use, products that offer same or similar grit products. Once you have purchased these crystals, the next step is to follow a specific procedure.
How To Use Microdermabrasion Crystals
Microdermabrasion Crystals are abrasive, so rubbing them without oil, lotion, or cream can hurt the skin. If you have dry skin, using shea butter, or jojoba oil when applying crystals can be helpful.
The process begins with ensuring that you do have warm running water. Here is what you need to do.
Begin with cleansing skin lightly. This removes some of the oil and superficial dead cells and keeps the skin moist to an extent.
Gently massage microdermabrasion crystals in cream oil or lotion onto the skin. Use circular motions for such massaging. Basically, it should be a painless procedure. Such massaging should last for about 10 minutes or so.
Next step is to rinse it all away with the warm water.
After this use some moisturizer.
Frequency Of Using Microdermabrasion Crystals
Because microdermabrasion can result in mild swelling and some redness, this process is best restricted to night time so that your skin has time to relax during sleep.  The results would seem positive the next day itself.
The process needs to be repeated for three consecutive weeks if you`re just getting started, and thereafter once a month. After five or six weeks, the results are more lasting and definitely perceptible.
Conclusion On Microdermabrasion Crystals Home Use
Microdermabrasion is a much recent remedy for the dull skin. It not only prevents acne, wrinkles, fine lines, age spots and skin dullness but also makes the skin glow, without causing any adverse side reactions like some of the chemical exfoliation peels do.
By carefully selecting microdermabrasion crystals home use products, and following the simple procedure, people can save a lot of time and money that they would otherwise spend at spas.
Such crystals are also cheaper than expensive products offered by personal care businesses.
After checking different places, the best place to buy Microdermabrasion Crystals online is Amazon you can click on the link to check.But you can check other online sellers to compare prices.
Have any questions, please leave me a message below.