If you're thinking of buying a hair wig for the first time, there are some things you need to know before making your purchase.
There are two types of wigs available on the market: synthetic and human hair wigs.
Both have their own advantages and disadvantages, so it's important to understand what each type entails before making a decision.

When buying a hair wig, you want to get it right.
We`ll look at some of the best high-quality human hair wigs for women in the market today and where you can buy them.
In this blog post, we'll take a closer look at both types of wigs and help you decide which is right for you.
The difference in Hair Wigs Explained
Choosing Hair Wig Type: Synthetic or Human Hair Wigs?
Which wig is best for special occasions or everyday wear? How do you choose the right type of wig? what types of wigs are available for you? Let`s check the materials first.
Synthetic hair wigs
Human hair wigs
Remy hair wigs
Virgin hair wigs
Synthetic Wigs
Synthetic wigs are affordable, so for those looking to change styles again in a shorter period of time, they are a good investment but they have limitations when applying styling products and also a shorter lifespan than human hair wigs.
You'll also notice that a synthetic wig has a more unnatural shine which makes them look less real in daylight hours compared to the sheen on real human hair wigs!
Pros Of Synthetic Wigs       
Affordable
Different styles available
Come in many colors
Easy To wash
Cons Of synthetic Wigs
Not easy to style
Most do not have a long life
Can not be heat styled
You cant dye or color synthetic hair
Synthetic wigs are a good investment for those who want artificial hair for a short period of time, since they are affordable, you can change your wig as often as you please.
Human Hair Wigs
Want to look like your favorite celebrities, but don't have the time or money? Invest in one of these great wigs! These real hairpieces will make you feel confident and fantastic.
So, here are some things that you need to consider before investing in a new human hair wig.
Quality
Understanding what type of wig will suit you best
Price: this varies depending on the length of the wig you choose
Where to buy
Maintenance
And most importantly which style fits your personality( I love Sha'Carri Richardson colorful blue or orange wigs)
Pros of Human Hair Wigs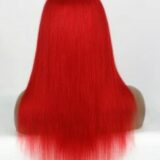 Easy to Style
Easy to wash
Can style with heated hair stylers
Natural look
Unprocessed
You can bleach and color human hair wigs
Cons Of Human Hair Wigs
Wigs vs. Toppers: Is There A Difference?
If you're looking for full head coverage, then a wig is your best choice, wigs generally are for full head cover before styling.
If you want to add length and volume on the whole head for that thicker hair look, without putting excess strain on natural hair then a wig is your best option.
But if you want to cover a part of problematic areas and boost to length and volume, a hair topper is your go-to. Hair toppers are mostly for improving places where hair growth is not doing well.
You May Like:
Hair extensions for clip-ins and clip-on
Hair extensions for instant volume.
Don't settle for the same look or be bored with the same hairstyle. Try a new style each week and a different color without the commitment of cutting or coloring your natural hair.
What's The Best Type Of Human Hair Wig?
Human extensions are a great way to add length and volume. They can be used on any head shape or size, making them versatile enough for everyone and they make brilliant wigs!
The material also isn't as delicate as synthetic fibers so they will last longer even with regular use.
European hair wigs with synthetic lace fronts offer a natural-looking appearance with minimal tangling under wig caps because there are no knots between each strand.
But if money is not an issue, Remy virgin human hair wigs are perfect for those who want something full and feel natural.
Finding The Right Wig Cap Construction 
So you're looking for the perfect wig cap construction, but don't know where to start. The first thing that comes into play when finding your favorite kind of headwear is materials and what they feel like on the skin.
Wigs come in many different styles and brands, but they all have one thing in common: The plastic or rubber bump at the back of their head that you slide over your head.
When shopping for a new wig cap, it's important to find one that has the right construction. Some caps are made of artificial materials like plastic or latex which will not offer your head any real protection against styling features such as heat tools and curlers.
These types may also cause skin irritation in some people. Remember your wig might frame your face, make sure it`s ok under makeup products where they touched potential allergens like hair dye chemicals should you decide to dye your wigs. 
Let's explore some options!
Wigs come in all sorts of shapes and sizes because not every shape suits various face frames better than another.
You're not limited when choosing what kind, there may also exist straighter Human hair lace wigs available too but these ones take more work since we have curl formation.
There is no one wig that fits all, but most women find that an average-sized wig is a good fit. So if you`re looking for women`s human hair wigs.
Size should not be a real worry, not to mention that most wig straps will help you tighten if the wig feels a bit lose.
Human quality hair wigs continuation involves the following steps
Front of wig cap construction:
The #1 benefit of lace front wig caps is their 'natural' hairline. Lace front wigs are made to look like natural hair is growing out of your hairline.
The hairline of a lace front wig cap does extend from or ear-to-ear, this works well for if you like pulling your hair back into a ponytail make sure your wig has ear-to-ear construction.
Cons of lace front wigs
After a while, the front part of lace front wigs does tend to get loose(the grip is no longer ass tight) but this is something you can fic by tightening the wig, or you can have your hairstylist do it.
These are fine delicate hair accessories, put them in or remove hair wigs with care.
And now to some Q&A About human hair wigs.
Q-Do human hair wigs look real?
A- I think the most important question for anyone looking for a wig especially for the first time is to know if the wig will look real.
Human hair wigs are made from real human hair so they look and feel real.
But it`s important to find the right proportion and color that fits you. It`s also advisable to care for and style the hair just like you would your own hair after washing to help them look their best.
Q-How do you secure a wig?
A-To stop your wig from falling off or slipping away, every wig comes with adjustable silicone wig grip bands, they are non-slip and hold everything in place so you can run or perform any physical activity without losing your crowning glory.
Conclusion on finding High-Quality Human Hair Wigs For Women
When buying a new human hair wig, pay attention to the types of cap that hairstyle is offered with. Not every wig is made equal and not every wig will look good and natural on your hair, find what feels natural and comfortable but also suit your lifestyle.