Due to the increasing pollution and dirt in the environment, your skin is among the most affected part of your body.
To prevent infections such as chapped skin, lesions, scratches, psoriasis, etc. antibacterial body wash is quite perfect.
Antibacterial body washes contain chemicals that regular soaps don't. The chemicals used to manufacture antibacterial soaps and body washes kill more bacteria than regular soaps and body washes would.
Therefore, it's best to invest your money and time to find the best antibacterial body wash. There is no disputing the fact that body wash and some soaps kill bacteria, to some extent.
But to eliminate them entirely, one needs some kind of disinfectant. The disinfectant property prevents the bacteria from your skin from replicating.
There are numerous antibacterial brands out there who claim to offer 100% protection from germs, but can they be trusted? Unfortunately, most of these antibacterial products do not match up to their hype.
Not to worry,  you can still find some products that will effectively fight germs without harming your skin.
To steer you in the right direction, we have compiled a review of some of the best antibacterial body wash that women should try out. So, without further ado, let's get cracking.
Dettol Anti-bacterial pH-balanced body wash
Dettol has stood the test of time since the 1950s when it comes to antibacterial formulation. It ranks first when it comes to the antibacterial body wash category.
The broad spectrum property of Dettol is that it can wipe away Salmonella, E.coli, and influenza causatives.

It has pH balanced formulation, ideal for dry to normal skin as it retains the moisture level of the skin due to glycerin in it.

Good lather and easy rinsing.

Chloroxylenol is the crucial component that attributes for antibacterial properties.

Free from chemicals like TTC and Triclosan.

It has a mild fragrance in the liquid wash.

Aqua, Sodium Laureth Sulfate, Cocamidopropyl betaine, glycerin, sodium chloride, salicylic acid, perfume, chloroxylenol, tetrasodium EDTA, citric acid, sodium benzoate, polyquaternium-7, sodium hydroxide, methylchloroisothiazolinone, methylparaben, methylisothiazolinone, propylparaben are the chemicals used in the formulation of Dettol body wash.

Dermatologically tested and Doctor's recommendation.
The blended sweet, pine fragrance ensures you enjoy using the body wash daily. This body wash not only cleans but leaves you feeling refreshed and cooler.
Steller Naturals Antifungal Tea Tree Oil Body Wash
The natural ingredients-loaded formulation of this body wash makes it a top-selling antibacterial body wash for all skin types, even the sensitive ones.
Natural oils as tea tree oil, coconut oil, peppermint oil, and olive oil are present in the body wash.

Aloe vera and eucalyptus oil are also present.

Rich in vitamins that lead to healthier skin complexion.

Tea tree oil causes the elimination of strong body odor and keeps the body fragrant and fresh for a long. It has a citrus and sea salt fragrance.

Chemical-free and no parabens or artificial preservatives are present in the body wash. No animal products are used in the formulation.

Sea-salt or Himalayan pink salt for exfoliating and pH balance is there.

Peppermint oil, eucalyptus leaf, and aloe vera soothe and scratch and irritations on the body.
Remedy Soap Tea Tree Oil Body Wash
The body cleanser is an all-natural organic-based product. This antibacterial body wash is suited for all skin types and especially gym hitters.
Premium quality tree oils as jojoba, aloe vera, coconut, olive, peppermint, tea tree oil, and eucalyptus oils are incorporated in the formulation. The fragrance of peppermint keeps the body coolant odor-free.
Effective in infections of athletes' foot, ringworm, skin irritations, toenails, candida, eczema, chapped skin, and jock itch.
Free from chemicals, parabens, petroleum-based products, and synthetic dyes.
Omega-rich 3,6,7 and 9 are skin-replenishing agents present in the body wash. Vitamin C and E for healthy skin. 
The natural formulation makes it ideal for daily use from regular wash to sweat shedding activity people.
The body wash is the product of the Dil brand, which has a reputation for making antibacterial soaps and body washes.
Destroys the false smell causing agents like bacteria and germs and prevents their growth for a long time after showering. A unique classic gold fragrance is present in the body wash.
Keeps the skin hydrated for a longer time and prevents chapped dry irritating skin. Even several uses do not lead to dryness.
Ingredients used are Triclocarban, coconut acid, palm kernel acid, tallow acid, sodium cocoate, sodium chloride, and PEG-6 methyl ether. Check an earlier post on coconut oil uses here if you missed it.
Triclocarban is responsible for the antibacterial properties in the body wash. You can read more on Triclocarban here to understand the benefits, safety, and other uses.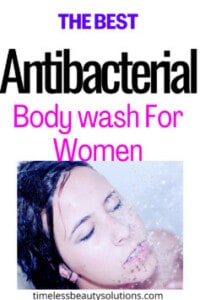 The body wash helps to replenish, rejuvenates, and removes fine lines from the skin. It is a biological-ingredient-based organic product.
It helps in eliminating the burn scars or itching scars. Subsides eczema, keratosis, psoriasis, and sunburns.

Minerals as calcium, copper, iron, magnesium, and zinc are present in orchid oil as the vital ingredient. 
Active ingredients are responsible for reduced fine lines, hydration, and act as antioxidants.
Ensures nourishment to the cellular level of the skin and nurtures the prebiotics.
Coconut oil, Acadian sea kelp, aloe vera, citric acid, plant glycerin, and dead sea plant are combined to produce this effective body wash. Get Aleavia in 3 travel sizes here.
FineVine Antifungal Tea Tree Body And Foot Wash
The body wash is formulated to prevent the growth of bacteria, germs, and fungus. The product is suitable for people of all ages and gender.
It helps in healing the damaged skin from UV rays. Ingredients present are olive oil, tea tree oil, coconut oil, and aloe vera.
Free from chemical preservatives, artificial detergents, additives, or artificial fragrances.
It has exfoliating properties for no fungal growth and removal of dead cells.
Tea tree oil fragrance keeps the mood fresh. It fights the foul odor-causing germs.
It is effective in an athlete's foot, ringworm, psoriasis, jock itch, toenail, yeast infection, and many other such problems.
Furthermore, it's blended with organic ingredients, i.e., aloe vera and olive oil, help remove the skin's dead layers.
Its soothing properties will keep your skin moisturized all day long. Also, if you experience skin trauma, this body wash supports faster healing.
ArtNaturals Tea Tree Body Wash
It is a chemical-free organic product ideal for all skin types. The formulation relieves the athlete's foot, psoriasis, acne, chapped skin, and jock itch.
Natural ingredients as chamomile, oregano, tea tree oil, and coconut oil are present.
Coconut oil, oregano, and chamomile keep the skin hydrated for a long. It is rich in lather and easily washes away. Makes skin soft and glowy.
It prevents the growth of causative agents of psoriasis, acne, and jock itch on the skin. It protects the skin surface from bacteria and germs. The fragrance of tea tree oil is mood uplifting.
All types of toxic and harmful chemicals are excluded from the formulation of this body wash.
Natural Riches Tea Tree Oil Body Wash
Do you have dry skin and are worried about potent antibacterial formulas causing extra damage to your dried skin?
Then you are the right person to try out the Natural Riches tea tree oil body wash. It has excellent antibacterial and antifungal properties.
This body wash is proven effective in cleaning away microbes, bacteria, and fungus. If you use this often, you don't have to worry about nail fungus, athlete's foot, or acne.
Besides, it prevents other infections such as tinea versicolor, ringworms, and jock itch.
This body wash is infused with natural ingredients, including Olive oil, coconut oil, and Tea Tree Oil.
These organic ingredients are rich in nutrients and vitamins suitable for healthy skin.
To sum up, there is a solution for you who if you are struggling with skin problems such as trauma, psoriasis, acne, eczema, etc.
As highlighted in the body washes above, antibacterial body wash offers multiple benefits.
The products mentioned above are not only the most effective but also the best-selling antibacterial body wash for women.
It's high time you become more mindful about your skin; proceed and try one of the products listed above. You will start noticing changes in a few days after you begin using them.
These are some of the best antibacterial body wash that can keep you fresh all day long.