As you get older, your skin changes, the once smooth skin starts to sag, you start thinking of facelifts preferably with no surgery. But what is a nonsurgical facelift? A surgical facelift was once almost the only hope of removing wrinkles and fine lines. But today there are different non-surgical facelifts that require no downtime, are more affordable. Facial contouring and skin tightening are what most people want today as they are quick with results visible in no time and not invasive. 
Skin tightening and lifting still remain the most popular when it comes to anti-aging.
In the past, skin tightening would have been very much like a facelift, incisions were required sculpting of the bone then the wounds had to be closed.
These invasive ways and methods are effective but in today's lifestyle, we need less pain, faster recovery time, and less medical attention and management of the new wounds.
Anti-aging techniques have advanced fast, at present, alternatives that produce rapid effects to restore youth are varied, creams, injections.
Microdermabrasion, and superfoods all help fight wrinkles. But this post is about nonsurgical so let`s concentrate on that.
---
Radio-frequency treatments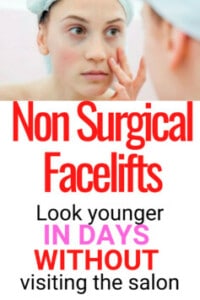 Radiofrequency is relatively fast and very effective in anti-aging treatments.
Thermage is a form of skin tightening process that makes use of a patented radiofrequency system.
Thermage works by warming up the internal layers of skin tissue so that collagen is shrunk in areas that are being administered to it.
The radio frequencies trigger collagen production that results are firm, tighter, and more youthful-looking skin.
Since thermage works in a way that excites collagen production, the outcome of thermage anti-aging treatment is visible within two days at most.
After the first course of treatment with improvements visible in weeks and months to come and last up to two years.
Thermage is non-invasive and you will not miss work to recover. The mildly visible effects immediately after treatment are reddening of the skin that was handled.
Another thing to note is that there might be a tingling feeling after the procedure but this too vanishes fast enough.
Thermage should be done with an approved physician or qualified professional. Check here for price guides and reviews. 
---
Injectable Fillers 
In the past, injectable fillers were more used to plump up lips and reducing fine lines, today it is widely used for droopy skin if you choose a less invasive procedure.
If you are looking for another non-surgical option then injectable filler is a good option. With injectable fillers, collagen is injected into your skin and the outcome can be seen almost immediately.
Injectable fillers give you fresh and younger-looking skin immediately after the procedure.
The advantage of injectable fillers is there is no time out recovering, you can have it done over the lunch break and be back at work. There is no additional maintenance and one procedure lasts up to 2 years.
As you get older, your skin produces less collagen and the restoration process is slower.
You can go for the non-surgical facelift by having a laser treatment to reduce wrinkles and fine lines, single treatment takes a maximum of two hours.
There is no downtime as there are no wounds during treatment, but expect to be sore and itchy for up to 72 hours.
Laser treatment removes old skin and new skin cells form. Formation of collagen and elastin through laser is quick and you can see the results almost immediately.
---
Botox 
Botulinum toxin is commonly and simply known as Botox.
Botox is a cosmetic injection performed to block nerve signals.
When injected, Botox relaxes and removes the appearance of wrinkles and crows feet.
Botox is injected mostly between brows and around the eyes. Botox is the most performed antiaging surgery with 4.6 million botox procedures a year in the USA alone.
According to guardian.com(this differs depending on where you check the statistics).
Botox treatment can take up to one week before you start seeing results.
You need to top up your botox shots every 6 months to keep the wrinkles away. Botox should be performed by a qualified doctor or physician.
Botox injections cost around $371 per procedure but prices may differ. Read more on things to consider before having botox injection.
---
So What Are The Best non-surgical facelifts?
This in my opinion is an individual decision, what works for one person may not be your top choice.
Try out anti-aging creams, NuFACE Mini Petite Facial Toning Device has been proven to reduce wrinkles and fine lines and is an FDA cleared system and will not cost a fraction of what a salon will.
You can read my other article about wrinkles and the best anti-aging moisturizers or go to amazon for the best anti-aging skincare products.
Conclusion on Non Surgical Facelift
I hope this article has answered your question on what is a nonsurgical facelift and you`ll try other alternatives before going for invasive operations.
The above-mentioned non-surgical facelifts are proven to work, whatever you decide to do your homework, and inform yourself of the aftercare or the rare side effects.
Inform yourself of aftercare costs involved to refresh your new youthful look.
If none of the above is for you or if you are looking for something different or cheaper, there are good and cost-effective, and top rated anti aging creams that you can use to fight wrinkles and still receive the best results.
Nonsurgical facelifts are the in thing, with no hassle and can be performed in a few hours, so if you want to treat yourself to a new fresher look before a party go a nonsurgical facelift is the way to go.
Need more info leave me a message below, have any questions then I`d be glad to answer you below, just leave me a message.