So, what happens if you don't remove blackheads? For most of us nothing really, the blackheads will stay put until they turn into deep blackheads or your body expels them in time.
You've dealt with an oily face, large pores, clogged pores and you just want to give your facial skin a break.
Blemish-free skin is the desire of many young women and men. Acne, pores, and blackheads can cause discomfort or embarrassment(especially in teens).
Tools you need
Makeup removal: there are products on the market that can remove even waterproof mascara.
Cleanser: Your pores need cleaning daily so they don't clog up with debris and dust or dirt particles that are too big for them.
Face Steamer: Steaming deeply hydrate and thoroughly cleanse your skin, also opening your pores so removing blackheads is a breeze. 
Exfoliator: Improves tone and skin texture for acne-prone skin, reducing large pores and blackheads.
Extractor: Skin scrubber, blackhead remover vacuum, blackhead tweezers there are just so many different ways to extract blackheads, find what works best for you
---
While there is lots of info for treating acne and pores, there is one solution for blackheads. Your weapons- the fingernails would often be pressing against the skin to remove the blackheads.


It gives satisfaction to get rid of these pesky heads in a few minutes. But, you certainly would have noticed them getting back no sooner to the same spot.
---
You might likeHow to remove blackheads from the nose area.Sometimes blackheads get confused in too many words.
To explain it in simple words that anyone will understand, blackheads are small dark(black)raised bumps usually on the face but can also appear on the shoulders, neck, and back.
Blackheads are usually caused by clogged pores in hair follicles.
Isn't leaving these blackheads as it is a good idea? No, they stay there for a very long time, so you will have to suffer after removing them, seeing them coming back repeatedly.
On the contrary, there are a few problems when you do not remove blackheads correctly.
Before getting into the details of removing them, here are few things you must know to have that clear, smooth, and fresh blackhead-free skin.
---
What are blackheads?
What are those pesky black things in the first place? The explanation above is what someone will give you about without thinking.
To explain in detail: When hair follicles on the face get clogged, the result is the formation of blackheads.
These black bumps happen when the dirt, sebum, excess oil secretion, and pollutants get stuck on the skin.
Apart from these, your cosmetic goods can also cause the formation of blackheads. Sunscreen, creams, and heavy makeup are a few examples.
A few medications, for instance, lithium, corticosteroids, and androgens, can result in blackheads.
When blackheads start appearing on your glowing skin, it can turn it dull. The healthy glow is lost in a few days. Most of the time, it is blackheads on the face that cause concern.
For a few, the blackheads can appear wherever are hair follicles, like the shoulders and back. When the excess oil and dirt form a camp on the skin, it is not an easy deal to remove blackheads.
---
What happens when you leave Blackheads Unchecked?
For most people, the blackheads stay on the skin. The body has its own mechanism to remove anything.
So, you have to wait for an extended period to get rid of them with no measures otherwise said, remove blackheads naturally. For a few, these can develop into deep blackheads.
The reason for this can be genetics, as a few dermatologists state. Professionals enunciate that the pores on the face can clean themselves.
Cleansing the skin and keeping it clean is the best way to counteract.
There are different ways to achieving blackheads free skin, from home DIY products to some very affordable methods that you can buy to remove blackheads from the comfort of your home.
---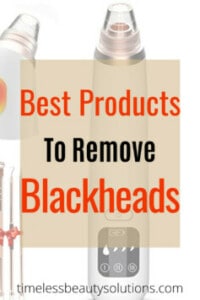 Check this post on how to remove blackheads.Blackhead Suction ToolRemove blackheads from the nose area.Facial steamer for home useThe best device to remove blackheads
While there are various methods to remove them, the worst is using your fingernails. An average person touches the skin 23 times per day.
So when you squeeze the blackheads with your nails, you accumulate bacteria and dirt on them. This practice can lead to the spread of the blackheads in the other pores.
Also, there is the consequence of pushing the excess oil and dirt back into the skin. Such things happen when you do not care about the removal of blackheads at the initial stage.
In fact, for many, the squeezing activity becomes an addiction. You will end up in inflammation and irritation of the facial skin.
When such things happen, the excess sebum secretion will also induce the formation of pores and acne on the skin.
---
Don't Leave blackheads untreated
You must not leave the blackheads untreated. You should only stay off from squeezing with your nails.
If left untreated, the blackheads can lead to skin irritation, causing acne, pores, and enough blemishes on your skin.
The formation of dark spots is one of the reasons why you need to attend the blackheads at the very initial stage.
This problem happens most of the time because one cannot prevent scratching the skin when it is irritating or itching.
The tissues around the blackheads are affected, and this leads to the formation of dark spots.
This condition is known as hyperpigmentation; when dark spots form at a specific part of the skin, the hazard of it spreading all over the area is unavoidable.


While it is good to know that there are no health concerns about leaving the blackheads, it is also essential to know that your skin's glow can affect your confidence levels.
So, it is necessary that you take the right steps to clear the blackheads off.
One of the best things you can do is to prevent the formation of blackheads. Refraining from a few things and following a few steps can help here.
---
Cleanse
There are brilliant skin cleansing products like this mentioned here, in fact, the choices are so broad it may ger confusing.
Cleanse the skin thoroughly every day.
When you remove the dirt, pollutants, and dead skin off your skin, the impurities come off, and glowing skin is assured.
You need a mild chemical-free cleanser to achieve the results. This moisturizing cleansing cream is brilliant and affordable.
I have covered Cerave in the past as it`s a great product. On Amazon, it had over 20,000 positive reviews from confirmed buyers.
Missed my earlier post, you can check it here to understand how this affordable product works and gives you results.
Microdermabrasion is my go to when in need of proper cleaning and removing deep sitting oils.Check this earlier post on top microdermabrasion machines.
---
Exfoliate
Exfoliation profoundly cleans the pores off impurities. The dead layers of skin can be peeled off with the right exfoliator.
Choose the one that has BHA. It evens and smoothens the skin and helps in keeping the skin healthy.
Paula's Choice-SKIN PERFECTING 2% BHA Gel Salicylic Acid Exfoliant works brilliantly on all skin types and results are visible in just a week.
---
Remove makeup before bed
When you are all set to hit the bed, ensure you have removed the makeup.
If the makeup sits on the face overnight, the pores are clogged, which is the primary reason for the formation of blackheads. The leftover can also contaminate your pillow.
Even when you have washed your face all the other nights, the bit of one night can lead to blackheads.
---
Other Ways To Remove Black Heads
The other tips for removing blackheads include using oil-absorbing masks and pore strips.
You should also focus on cleaning your skin soon after a sweaty exercise.

Gut health can also play a vital role in your skin condition. Watch for the food intolerance if you want blemish-free skin.

Keep your hair clean, as this can also be the culprit.

The lesser recognized culprit is the phone that homes bacteria of various kinds a lot these days. Keep a watch on them, and keep acne and impurities at bay for a blackhead free and glowing skin.
I hope these DIY tools to remove blackheads will help you get rid of these pesky little things. Leave your comment below to add on more tips if you know!
If you have any questions, please leave a message below and we`ll get back to you.