Product Name
: Cosmedica Skincare's Hyaluronic Acid Serum for Skin
Price: $10.95 for 1 Fl oz. bottle, $15 for 2 Fl oz., and $23.95 for 4 Fl.oz.
Owners: Cosmedica Skincare
Website: www.cosmedica-skincare.com
Overall Ranking: 4.5 out of 5(over 8,900 reviews)

Introduction
Cosmedica Skincare's Hyaluronic Acid serum is a specialized and specific anti-aging product.
Most skin care products contain many different ingredients each of which has a different function, and some may serve multiple functions.
The reason this product is a specialized product is that it has only one main ingredient, i.e., Hyaluronic acid in the form of Sodium hyaluronate.
The other ingredients are benzyl alcohol, and distilled water, which have little benefit to offer to the skin per se, other than becoming the medium for the serum solution.
Repair The Skin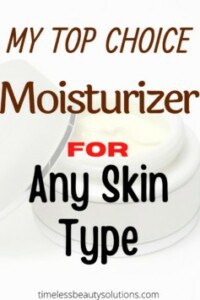 Hyaluronic acid exists naturally in the body. Its function is to repair the tissues.
The repair process usually involves regeneration, inflammation, and angiogenesis. Cosmedica is up there if you want one of the best hyaluronic acid serum in the market.
It is not necessary that all three methods of the repair process are used by the body in that sequence. Nor is it necessary that all three processes have to be used every time.
Therefore, some repairs may simply entail regeneration, while others may begin with inflammation, and then it would be followed by regeneration or angiogenesis.
Cosmedica is the best hyaluronic acid serum skincare that should be on your list when shopping for a nongreasy anti-aging product.
Angiogenesis is a process that regenerates even the capillaries. The fact that hyaluronic acid plays a role in all three processes of repairing tissue makes it a rather crucial chemical.
Hyaluronic acid is also needed for granulation and cell migration. Granulation is that part of wound healing when the connective tissue is used to replace the uneven clot.
In so far as cell migration is concerned, hyaluronic acid becomes like a smooth passage or matrix that facilitates the movement of cells from one place to the site of injury or clot.
Hydrate And Moisturize 
The primary reason for including hyaluronic acid in skincare products is, therefore, skin repair and regeneration.
In addition to this function, hyaluronic acid hydrates or moisturizes the skin.
Different agents hydrate the skin in different ways. Some draw water to the cells.
While others like hyaluronic acid are humectants, i.e., they prevent the moisture from evaporating and draw moisture from the air on to the skin. 
Hydrated skin cells are naturally plump, and this means the skin is supple and soft, unlike the dry skin that tends to develop wrinkles faster.
Check skin supplements here that plump the skin and reduce wrinkles.
Hyaluronic acid is one of the naturally present chemicals in the body and does not react adversely with skin cells.
Therefore, Cosmedica Skincare Hyaluronic Acid Serum can also be used by people who have sensitive skin. Or you can choose another product with similar results here.

The other benefits from this acid include its ability to prevent pollutants from entering the skin's pores, thereby preventing blackheads, and whiteheads. 
Hyaluronic acid also defends the skin from fungal and microbial infections. Besides, it helps to eliminate free radicals that are released by the sun's ultraviolet rays.
These free radicals bounce against collagen, which is an extracellular material, like hyaluronic acid that we wrote about here.
Collagen tends to provide a structure for skin cells to be systematically stacked.
If it is broken or damaged, skin cells start falling out of place, and wrinkles are formed. 
Cosmedica Skincare's this product is a vegan product, i.e., though it is a natural product.
The hyaluronic acid in it is not obtained from any animals. It is also free from oil, dyes, parabens, fillers, and even fragrances.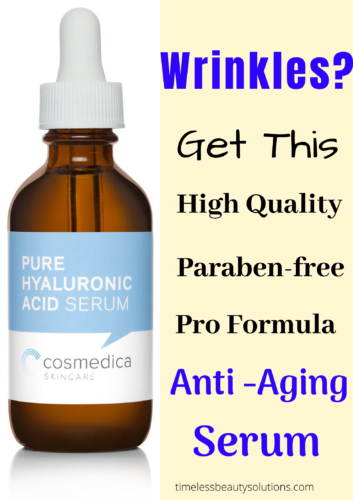 Pros
As explained, Cosmedica skincare hyaluronic acid serum serves as a moisturizer, and therefore, all benefits of moisturizing the skin can be expected from it.

It reduces wrinkles, scars, age spots, pimples, inflammation, scars, etc.

Really affordable

Very easy to use.

Results can be expected within a few minutes

This product can be used by people with any skin type, and therefore, this is one of the products that people with sensitive skin can use.
Cons
Like any moisturizer, this product needs to be used regularly. It does not offer a permanent solution like laser, or surgery.

It becomes ineffective in sunlight. Therefore, it is to be used at night.

While it repairs the skin and moisturizes it, the process is slow.

It is effective only in places that are humid.

Other products such as vitamin c, vitamin e, etc. are needed to give better results.

The size of its molecule is big. So it does not get into the skin.
Who It Is ForThe product is for those who have age-related skin issues such as age spots, liver spots, wrinkles, etc since the naturally produced hyaluronic acid starts coming down with age. Hyaluronic acid also helps with acne and scars of acne, etc., so even youngsters can benefit from it. The product is primarily designed for beginners and people with slightly more age-related skin problems though this would not be the product to be used without other products to supplement it, in case of more serious skin damage.OverviewSalient features of Cosmedica Skincare's Hyaluronic Acid Serum for Skin:
The product offers all properties of hyaluronic acid, without any adulteration. This enables people with skin ailments to combine cosmetics in a personalized fashion.

It is basically for skin repair, moisturizing, and collagen regeneration.
PriceAs of date, it is available in three different sized bottles. They are priced at $10.95 for 1 Fl oz. bottle, $15 for 2 Fl oz. bottle and $23.95 for 4 Fl.oz.bottle.

Where To BuyThis product is available onwww.amazon.comwww.allbeauty.comwww.cosmedica.skincareSkinstore.comFinal VerdictCosmedica skincare hyaluronic acid serum is affordable and available in smaller bottles. People with skin-related issues should try this product.Did you find this review helpful? Leave us a comment below and share what you found helpful. Feel free to share on Facebook or Twitter by using the share buttons.