Hyaluronic acid is a word you mostly hear when talking about anything beauty, skin care or serums. Hyaluronic acid is a natural substance that is often used as a supplement, serum or in other forms.

If you choose not to consume a diet rich in hyaluronic acid, you can still use hyaluronic acid supplements for the skin. This post will help you understand and earn more about hyaluronic acid, its benefits, uses and side effects.
Hyaluronic acid, which is also known as hyaluronan, is a polysaccharide naturally found in the human body.
The main function of Hyaluronic Acid is to provide lubrication to the joints in order to keep them moving smoothly, keeping eyes lubricated, and hydrate the skin.
Many beauticians love Hyaluronic acid as it suits most skin types, whether you have dry, sensitive or oily skin, and has no severe side effects.
The lightweight texture makes it ideal for oily skin or for use during the hot, humid summer months as it never feels heavy on your skin. Check an earlier post on sensitive skincare products here if you missed it.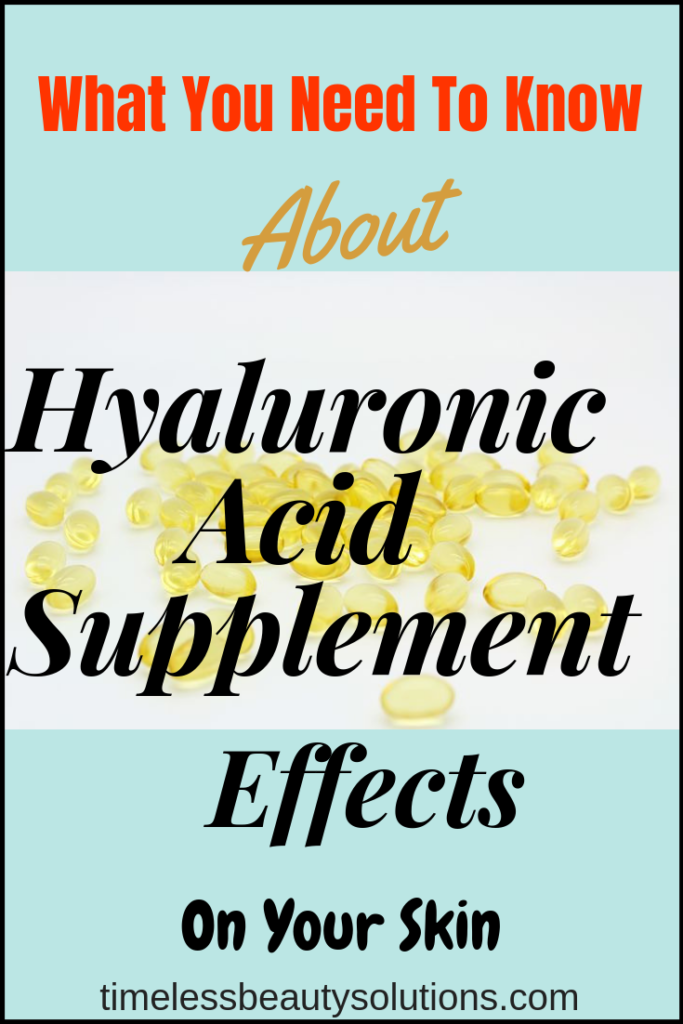 Benefits Of Using Hyaluronic Acid
Promotes healthier and more supple skin

Speeds healing of wounds

Relieves joint pain by keeping the bones well lubricated

Soothe Acid Reflux Symptoms

Relieve dry and discomfort

Preserves bone strength

Could prevent bladder pain
The decline in hyaluronic acid can cause skin problems, joint, and eye problems. Even though this acid is naturally manufactured in our body, you can also supplement it through food such as
Possible Side Effects of Hyaluronic Acid
Hyaluronic acid generally does not cause any significant side effects. Still being vigilant never hurts. Some of the rare possible side effects are:
Trouble moving

Muscle stiffness

Joint pain

Swelling or redness on the joints

Bleeding

Blistering

Skin discoloration at the injection site.

Dryness
Best Hyaluronic Acid Supplements For The Skin
Neocell for Improved Health and Wellbeing
The company manufactures dietary and vitamin supplements that promote the overall well-being of the human body.
Neocell hyaluronic acid supplement improves the health of the joint, eye and promotes the suppleness of the skin.
It offers multiple benefits. Take one pill and wait for about 20 minutes before you eat anything daily for the best results. You get 30 pills in a single bottle. It is affordable and fulfills a wide range of dietary needs. 

Nature's Way Hydraplenish Hyaluronic Acid
Nature's Way hydraplenish moisturizes and rejuvenates the skin. It helps lubricate and cushion the joints to reduce friction. It consists of the patented BioCell Collagen II complex that is vital for maintaining healthy connective tissue and the synovial fluid.
This HA supplement is superior in its bioavailability and has a lower molecular weight than other available sources of hyaluronic acid.
NOW Hyaluronic Acid Firming Serum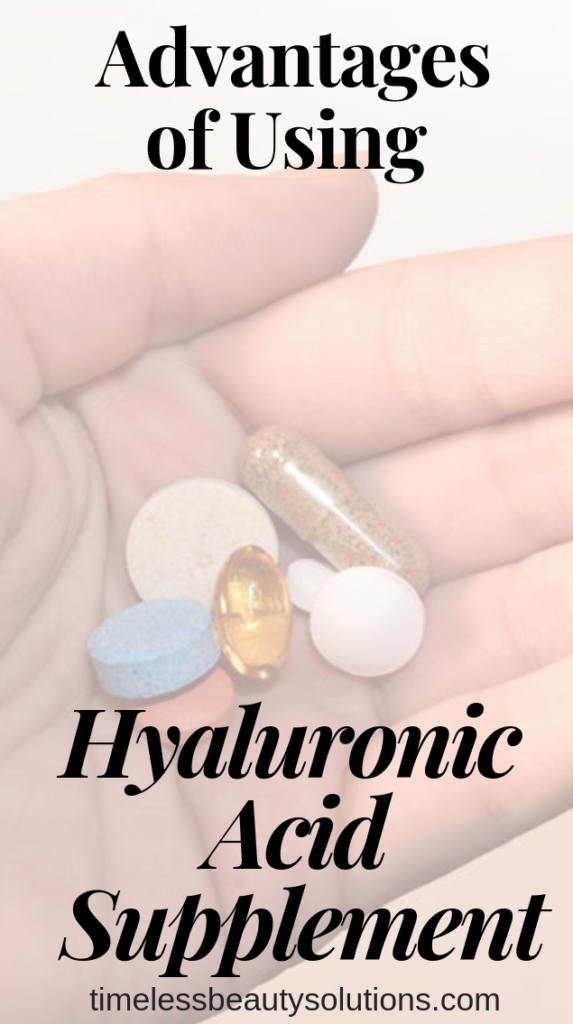 NOW Hyaluronic Acid Firming Serum is a paraben and gluten Free supplement that works on maturing the skin.
This HA supplement is an ultra-concentrated HA gel developed to increase the natural elasticity of the skin while reducing the signs of aging such as the appearance of wrinkles and fine lines.
It is one of the most sought-after in the anti-aging range of products. It is safe to use, is very effective and is capable of absorbing large amounts of water that helps support the elasticity and youthfulness of skin.
The Revolutionary Product Thomson Hyaluronic
Thomson Hyaluronic Acid capsules are a budget-friendly supplement for supporting healthy joints and skin suppleness. An excellent HA supplement that helps in optimizing the absorption of hyaluronic acid by the human body.
Thompson company is an 80 years old company manufacturing an excellent range of vitamin supplements and skincare items. The product price is attractive. Use one capsule each day for the best results.
Supplements like Organika BioCell Collagen help support joint health through an active ingredient called Hydrolyzed Collagen.
This ingredient helps in supporting the development of cartilage that surrounds the joint in order to reduce the pain and increase mobility.
Organika is another standout Hyaluronic Acid supplement product that helps joints.
It also offers relief for more severe joint issues such as osteoarthritis. Incorporating it into the diet today makes way for instant joint pain relief.
Source Naturals Injuv: The Revolutionary Dietary Supplement
Source Naturals Injuv is a dietary supplement that helps maintain or regulate the joint tissues and muscles to promote the flexibility of the joint.
The Hyaluronic Acid in the gel capsules is a form of hyaluronic acid that has undergone an enzyme cleansing technique and a modification for better absorption.
Take two capsules twice a day for 3 weeks. You can reduce the dosage later. Use it with the hyaluronic acid cream for better results.
Regular usage helps in maintaining an adequate level of HA in the body. This supplement offers great value for money.
AOR Lysine, Vitamin C & Hyaluronic Acid
AOR Lysine helps reduce joint friction and osteoarthritic pain. It prevents inflammation and supports the synthesis of cartilage and collagen.
It is a gluten-free product that contains ingredients that help in the development of bones and cartilage. AOR Lysine also helps in the formation of collagen and connective tissue. Check more on gluten-free foods here.
Lysine, Vitamin C and Hyaluronic Acid are combined in one formula to reduce arthritic pain and improve mobility.  It is very beneficial in promoting healthy and youthful skin.
SkinCeuticals is a must-have if you want to fix your fine lines "yesterday", it hydrates, plumps fine lines, and enriches the complexion with hyaluronic acid as well as soothing licorice extract and purple rice.
The serum also helps to leave skin looking firmer, fresher and healthier and can be used once or twice daily as to your needs.
Check our other post
Kendal Professional Diamond Microdermabrasion Machine
Conclusion
In case, hyaluronic acid abnormalities continue to persist, you can consider a hyaluronic acid supplement.
But before that, keep in mind any potential problems especially those who suffer certain health problems. These supplements are not recommended for them. Such as:
People susceptible to allergies

Those currently on medications

Those who suffer from a blood clotting disorder

If you have recently developed an infection

Pregnant and breastfeeding women
Only adults that are over the age of 18 should take the hyaluronic acid supplements and as prescribed.
If you happen to develop any side effects after taking the supplement then contact your doctor immediately. But generally, supplements should not have side effects.
Hope you found value in this post, if you have any questions, please leave me a message below and I will get back to you as soon as possible. If you have a friend who you think may like the post or find it useful, please share on social media.