Product Name
: Christina Moss Naturals Organic Face Wash
Overall Ranking: 4.4 out of 5
Price: $22.99
Owners: Christina Mass
Website: www.christinamossnaturals.com
Introduction To Christina Moss Naturals
Christina Moss Naturals Facial Wash is a daily use face wash to prevent acne and I consider it one of the best non-drying facial cleansers.
This organic face wash is formulated to accommodate all skin types.
But it works well for people who have sensitive skin and for skin that is prone to acne. It is not an exfoliator.
Exfoliation can irritate the sensitive skin and the skin that is already prone to acne.

What is the reason for dry skin?
You know what, "Dry skin isn't usually serious." In most cases, it's caused by factors like hot or cold weather, low moisture in the air, and soaking yourself in too hot when taking a bath as this will strip your skin of natural oils.
But there are some things that can also help improve dryness such as avoiding harsh soaps and using moisturizers, and that`s what brings us to Christina Moss Non Drying facial cleanser.
Christina Moss naturals organic face wash constitutes four certified natural ingredients which are listed below:
Rosemary Extract:
Rosemary with its great antiseptic properties makes this face wash perfect for cleansing impurities out of your skin.
It can also act as a protective barrier for the skin cells to help prevent the skin from sun damage and free radicals in the environment.
Olive fruit oil acts as an antioxidant. It can help in preventing damage to the skin. It works to repair and heal the damage caused to the skin by excessive sun exposure.
This is an ingredient that can also help in the lessening of acne by eliminating acne-causing bacteria.
Aloe Vera can soothe irritated skin and rehydrate dry skin. It is anti-inflammatory which helps in treating acne-riddled skin. 
Coconut oil is equipped with great moisturizing properties and can also help in healing any skin irritations. Check an earlier post on other benefits of coconut oil in this earlier post.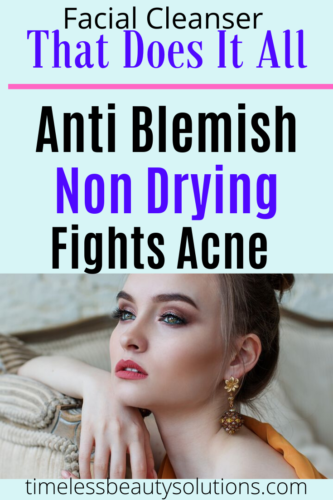 The four base ingredients found in this face wash work together to provide great benefits to the skin.
This facial cleanser stands out just because of its organic formula.
As a bonus, it also is efficient in skin cleansing and nourishment of the skin.
It helps the skin in regain its healthy glow and beauty. This face wash can be used in the morning and at night.
Take a little bit of it for application. It lathers well and rinses clean perfectly. Because of its ingredients, it is soothing and comforting to the skin.
It does not leave any residue behind and does not cause the skin to dry after use.
It does not remove natural oils and moisture from the skin another reason I consider this the best non-drying facial cleanser.
There is no clogging of pores due to this face wash. It has a strong fragrance which is likable.
Your face remains well balanced and the cleanser doesn't leave an oily feel. A little goes a long way and the skin remains soft and clear.
The cleanser is clear and pretty concentrated.
Pros
It has naturally derived and organic ingredients

There are no chemicals

This Organic Face Wash is concentrated and effective

Naturally derived, organic, and beneficial ingredients

Comes with Certifications to prove what you`re buying is real

It deep cleanses the skin and also nourishes it

This product leaves the skin looking healthier and younger

Christina Moss Naturals Organic Face Wash is a strong yet nice fragrance

This organic face wash is gentle and hence, can be used on the sensitive skin

The product is environmental friendly (BPA free)

It is certified vegan

This is a cruelty-free skincare product

It has no GMO
Cons
Each skin reacts differently to skincare products. One may experience rashes or irritation after using it but that applies to all skincare products. 

It is not soap-free

It is expensive
Who It IsChristina Moss Naturals Organic Face WashFor?
It is formulated to suit all skin types.
Overview
After taking a good look at all the ingredients found within the formula, you can surmise how this face wash works better than most face wash found in the market and how it works for many.


Organic Coconut Oil:
This is a safe ingredient found on the face wash. It removes impurities, makeup, and helps hydrate the skin.
The anti-bacterial abilities of coconut oil help deep gently cleanse the skin. It protects the skin against sunburn as it has SPF4, also diminishes the appearance of wrinkles.
Organic coconut oil is anti-aging and can soothe cracked skin. It is also hypoallergenic.
Organic Aloe Vera:
Aloe Vera can heal sunburns and can diminish symptoms of eczema and psoriasis. It slows down skin aging and reduces the appearance of stretch marks. It is also great for skin that is prone to acne. 
Citric Acid:
Citric Acid evens out the skin tone opens and clears the clogged pores. It also diminishes sun spots, fine lines, and wrinkles, also prevent acne.
Organic Shea Butter:
It has anti-inflammatory properties. It also helps moisturize the skin.
Organic Rosemary Essential Oil or Extract:
It relieves pain and puts skin acne under control. This anti-inflammatory ingredient helps in improving circulation and helps protect the skin from sun damage. It is also a mosquito repellant. (Check how to use essential oils from an early post here). from an early post.

Organic Olive Fruit Oil:
This anti-aging ingredient help in regulating the production of skin cells and also helps in shedding dead skin cells. It makes the skin smooth and firm. It helps seal in the natural moisture of the skin.
Organic Sunflower Seed Oil:
It contains Vitamin E which protects against the harmful UV rays of the sun. Sunflower seed oil improves the overall appearance of the skin.
The sunflower seed oil has anti-aging abilities. It is great for dry skin and is efficient against acne. Organic sunflower seed oil soothes and heals the damaged skin.
The formulation of the face wash contains no harmful chemicals whatsoever.
It does not contain parabens, sulfates, SLES, SLS, dyes, PG or even PG derivatives, synthetic fragrance, or any anesthetizing agents.
You really need to try this if you want the best non-drying facial cleanser at the right price.
To top it all off, this facial wash is also environmentally friendly. Each of its bottles is biodegradables made from recycled plastic. 
And Now To Some Q&A
Q-Anything worth knowing?
A-All Christina Moss skincare and Haircare products are clean, with no preservatives, fragrances or harmful chemicals.
According to skinsafeproducts.com Christina Moss, facial moisturizer is 91% allergen-free, making it safe for all skin types, free of Gluten, Nickel. So it`s safe to say Christina Moss Naturals products are a must-have.
Q-Any Guarantee?
A-According to their site, there is a 30-day money-back guarantee if for whatever reason you`re not happy with your order.
Price-I find that all their products are fairly priced, from skincare to haircare to Christina Moss Lip balm, no one is trying to rip you off.
What I Don`t Like
You can only purchase their products online, although online shopping has been a while, still many people prefer to buy what they can see and touch before paying money for it.

Final Verdict
According to the consensus after taking a look at all the reviews, this product does its job. There are always exceptions.
This is a face wash loaded with natural and organic ingredients.
They are reliable ingredients and certified. This is a good choice for the environmentalist.
The downsides aren't many. If you are ready to shell out a bit more, then this is a good product to go for.
At A Glance 
Product Name: Christina Moss Naturals Organic Face Wash
Overall Ranking: 4.4 out of 5
Price: $22.99
Owners: Christina Mass
Website: www.christinamossnaturals.com