Before we start, I thought it might be important to answer a basic question because as easy as it may sound, not everyone knows exactly so………
What Is A Tinted Moisturizer?
So basically, a tinted moisturizer is exactly what the name says, it`s a moisturizer with some tint in it, offering your skin hydration with a hint of healthy radiance and sheer coverage.
You can use a tinted moisturizer instead of a foundation to even out dark spots or other skin imperfections.
So it`s safe to say that a tinted moisturizer is a makeup item used to even skin tone, cover light blemishes, and provide sun protection.
These products are very popular because some women find them more cost-effective than foundation and they last longer than typical face moisturizers or lotions.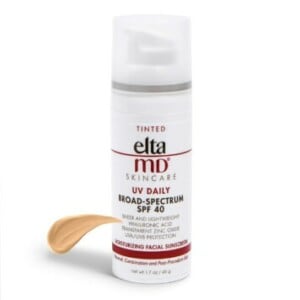 Tinted moisturizers are available in a myriad of shades, from light to neutral, then there are very dark. colors,
Some brands incorporate a range between 10 shades while others may offer over 30 shades for more accuracy and customization.
Everyone seems after the radiance of natural skin. But that smooth, healthy and glowing complexion is not something we are all born with, we have to give nature a helping hand.
And the answer is a tinted moisturizer, so join me as we look at the top tinted moisturizers to get you that flawless skin tone
With so many options out there, you might ask,
"What is the best-tinted moisturizer?"
There are times you want to go out without foundation feeling heavy on your face, or those days when it`s too hot your foundation seems to be melting and streaking your face.
To get it right with tinted moisturizers go with what`s close to your skin tone,too light or too dark and you`ll lose the natural shimmer you`re after in the first place.
Now thinking of the best-tinted moisturizer, there is no one size fits all, we`ll look at different brands, skin tone, and price ranges so you get exactly what works best for YOU.
You need to get that no makeup natural look but without your face feeling too bare, then it`s time for a tinted moisturizer.
This post will help you understand different tints so that when you go shopping, you can get the best-tinted moisturizer for your skin tint.
We`ll look at different moisturizers for different uses
What is The Use Of Tinted Moisturizer?
Tinted moisturizers are for those occasions when you want a healthy glowy complexion without using makeup.
These moisturizers range from light to dark tints, giving you a chance to pick what works for your complexion giving you that matte finish look without being heavy on your face like makeup sometimes does.
Today, most tinted moisturizers have sun protection in them as well so you can skip your sun protection when using a tinted moisturizer(not recommended, I still use sun protection).
Revlon Colorstay Whipped Foundation for Combination/Oily Skin SPF 15
This tinted moisturizer is among the best out there at it's affordable price of around $10.
The best-tinted moisturizer is Revlon Colorstay Whipped Foundation for Combination/Oily Skin SPF 15 because it contains oil-absorbing powders to help keep skin shine-free.
It stays moist on the face and feels soft without making the face look greasy or oily.
You know the feeling when your face feels cakey because a product sits badly on your face? not with Revlon.
This foundation also comes in eight different shade formulations to help customers find the perfect match.
Mousse foundation is a mid-weight coverage with light to medium fullness.
This type of foundation is very popular because it provides great application and easily buildable coverage.
The creamy formula mousse foundations provide can also blend easily onto the skin-
this makes them perfect for disguising problem areas like unevenness in tone due to scarring or discoloration from acne or breakouts.
Revlon ColorStay Whipped Foundation has become somewhat of a cult classic drugstore foundation.
It has proven itself as being one of the best foundations for its price range, working well with all skin types and color ranges.
The formula is whipped to lighten up texture yet not lose any coverage properties.
Its claim to fame is its long wear time, but this foundation can be quite dewy if you are not careful with its application.
However, for those who like a little more glow going on, there are ways to solve the problem.
This whipped texture also requires a bit more product because it has so much air in it.
A little goes a long way when applying this foundation, so try not to get too carried away when using your sponge or brush;
it will work wonders for helping your foundation last longer.
For the color selection of Revlon ColorStay Whipped Foundation, there are 18 different shades from the lightest fair ivory to the darkest deep ebony.
There are some qualities of this foundation that do not make it ideal to be worn on the most humid or hottest days because of its dewy finish and long wear time, but on other conditions, it works perfectly.
The packaging has gone through several changes over the course of its production, but most recently Revlon has introduced an airless pump into its design.
This helps with hygiene issues sometimes associated with mousse foundations since germs tend to love mousse textures better than the stick or liquid types.
The new packaging makes it much easier for travel purposes too due to the lessened risk of spills or the foundation drying out.
Revlon ColorStay Whipped Foundation has been known to last all day without fading, smearing, running, or feeling greasy on your skin.
It is truly a long-lasting foundation that will not be easily removed with sweat, tears, or water.
As far as the application goes for Revlon ColorStay Whipped Foundation, use either a sponge or the new airless pump.
Try your best to apply this product in thin layers to avoid looking cakey.
Also, try to blend it into your skin as evenly as possible instead of piling on thick amounts onto the problem areas you are trying to cover up.
This foundation is able to completely cover up skin flaws while leaving a beautiful radiant finish.
What People Say about Revlon ColorStay Whipped Foundation
I think Colorstay Whipped might work better for those who have dry skin since it settles into the cracks and lines of your skin if you have oily skin.
I've found that when I wear this foundation in the morning my face looks oily by lunchtime and without even touching it.
I personally like the pump as you can control how much product comes out on your brush or sponge when applying to your face.
But remember what we`ve always said, no product will work exactly the same for two different skin types.
Other Products Worthy of mentioning are:
This is one of the best high-end tinted moisturizers in the market at $79.
Just Skin® Tinted Moisturizer SPF 15 is a sheer, lightweight tint that evens out discolorations and instantly brightens skin.
A mineral sunscreen formula protects against UVA/UVB sun damage. It can be worn alone or under make-up.
Among its advantages is that it has an even coverage that is light enough to wear with no makeup in the Summer, but still gives you the confidence you need to go without it during the colder months.
It compliments pale skin tone and it looks really natural, and it doesn't have a strong scent or smell like sunscreen, which I appreciate greatly.
The downside is that it is really light coverage, so if you're looking for something that covers anything besides redness and discoloration, this isn't the product for you.
If you want to hide under-eye bags and puffy eyes then this product may work better for you.
L'Oreal True Match Super-Blendable Makeup Broad Spectrum SPF 17
If you are on a budget but still want the best, this tinted moisturizer sells at $5.40.
L'Oreal True Match Super-Blendable Makeup Broad Spectrum SPF 17 is a foundation that provides flawless, natural-looking skin.
It blurs imperfections and evens out tone to make your complexion look noticeably smoother and younger with just one application.
This formula blends easily for seamless coverage without feeling heavy or greasy.
The fine-milled powder creates a lightweight, buildable coverage that adapts to your skin tone.
With just one application, the foundation reduces the appearance of pores and imperfections while providing moisturization for up to 24 hours.
It helps fight against premature signs of aging due to its sun protection features.
Are you having trouble deciding which tinted moisturizer to choose from or are you looking for an alternative to your current one?
The Revlon Colorstay Whipped Foundation for Combination/Oily Skin SPF 15 is the best overall tinted moisturizer to choose from.
If you are on a budget and would love something that works best for you and saves you money, then go for the L'Oreal True Match Super-Blendable Makeup Broad Spectrum SPF 17.
Are you going for a tinted moisturizer that matches your class and gives you the radiant look that you deserve? Go for the Just Skin® Tinted Moisturizer SPF 15.
Although there are many products out there in the market, the best one for you should be WHAT YOU can afford.
What Is The Difference Between A Tinted Moisturizer and A BB Cream?
Simply said, BB creams are like your foundation only lightweight, for this reason, it gives you a matte
complexion and conceals blackheads and other skin imperfections including blemishes while also moisturizing your skin at the same time.
Now maybe you`ve seen the term BB cream and you don`t know the meaning.In beauty language,BB cream stands for Beauty Balm, most BB creams contain ingredients that may be lacking in tinted moisturizers.
Some of our Top Recommended Tinted Moisturizers For Different Skin Needs
I hope the list above will help you find the best-tinted moisturizer to fit your needs because like with any skincare product out there, not every product suits everyone and you should always find what works for YOU.
If you have any questions, just leave me a message below and I`d be glad to get back to you.
Thanks For reading this much and I hope you found this post useful.