What should you give your better half for valentine`s day? I know we sometimes say "he`s lucky enough to have me and needs nothing" but is that really true? this post will give you tips on Valentine's Day gifts for husband, we`ll cover presents that are useful even after the lovers' day is gone, presents he can still keep using.
Unless we express our love for our husband, he will never know how much he means to us and how we really feel for him. And, with February 14 approaching fast, it's a perfect time and opportunity to show him your love in a tangible form of romantic gifts for husband.
Finding the right Valentine's day presents for men can be tricky, you want to get him something he will treasure but at the same time, not something that will break the bank. But then, what do you get the man you love most, the man you spend every day of your life with?
What are the right valentine`s day gifts for men? or said otherwise, what do men wish they`d get as a present? do they prefer something they`ll have for a long time or is it ok to give a box of some expensive chocolate?
Should you give your husband flowers for valentine`s day or are flowers only for women?
Should you be reasonable with your presents or practical and meaningful make more sense when giving a present?
There are just so many questions to answer as we are all individuals, we all have different needs, like and love different things at different times, some have to make sense and some just have to be fun.
We sometimes want presents that will last years but there are times we are just happy with a box of chocolate or a bunch of beautiful flowers, never mind that they will wilt in two days.
There are days we are very happy with a romantic meal for two, then there are days we feel "it was really not worth it, I could have been just as happy at home in an old trusted sweater watching TV.
Presents can never be the same, what we like today will feel different tomorrow.
Let's have a look at some unique valentine gifts for a memorable Valentine gift for him to make the day even more special:


Camping Hammocks: Best Place To Buy Is Amazon Price varies
One of the precious things that one can gift is the time and space away from the busy and chaotic life to decompress. And if your loved one is an outdoorsy type then this can be your gift of choice this valentine.
Who wouldn't like a break from the chaos? Just think about how would it feel while you are laying in the hammock with your favorite band playing in the background and watching the bonfire.
It is one of the most peaceful you can get. And the good news is you don`t have to break the bank to buy this valentine`s day present.
So, just go ahead and plan a weekend camping trip with your husband or for both of you as a special surprise. Show him that you care for his likes and appreciate him for being him. Let him have the relax away from the hectic world and be at home away from home.
14 Cups of smooth and low-acid coffee from a single Carafe. Quick and easy to use! Useful and affordable, it brings out a lot of flavors, without the bitterness. Gift this to your coffee-loving husband to make his mornings delightful. After all, nothing screams love like the gift of coffee!

Coffee Mug: (To go along with the Coffee Maker) Amazon Price Vary
Because it never hurts to remind your husband how awesome he is! You can also get it personalized. Better yet, it can be used by you all at home. How good is it to know he thinks of you every time he brews that coffee?
Cigar Humidor: Available from Amazon
One of the most popular choices as gifts for him especially for someone who is fond of cigars. Elegant and stylish! A rosewood and Cherry product with fine finishing. You can't help but admire the workmanship even if it just manages the basic needs like holding the humidity.
A good product at an affordable price for gifting. Even the most demanding will love this so impress him easily this valentine`s day.
Most smartphones are already equipped with the most amazing cameras. The Pocket Lens adds two new dimensions to the pictures by delivering a professional quality close-up image.
Great product to discover a whole new world of photography through mobile where everything becomes amazingly beautiful.
This one is for your loving shutterbug of a husband. This lens is small and compact and comes with a nifty little bag to store it in to keep it from getting get damaged or dirty. It is fun to play with.
Vinyl is in again! This is a good record player at an affordable price for a novice that gets the job done. The sound is crisp and clear. It is a little small and the casing makes it easy to carry and travel. A great way to indulge your husband's vinyl love. The super cute of this product look doesn't hurt either.
Surprise your husband with this beautifully designed pocket watch with a premium zinc alloy chain and melt his heart!
If your husband has been itching to get back in shape, give him a dose of motivation mingled with love. The fitness tracker monitors the health data including the heart rate, amount of calories burned, sleep quality and calculate workout duration, etc.
Or how about getting his and hers to Keep your health in check anytime and anywhere the best thing is that this is quite affordable and cost the same a meal at a regular restaurant.
Be ready to knock one back at a moment's notice! Only need to flick your wrist and your trusty beer glass magically extends before your eyes. Something that you both can enjoy together!
Victorinox Swiss Army Classic SD Pocket Knife

This is an all-round gift any man will love, get him one tool for all while still fitting comfortably in any pocket without being bulky, while also making the perfect addition to any set of keys. Victorinox provides a lifetime guarantee against defects in material and workmanship.
Rekindle The Romance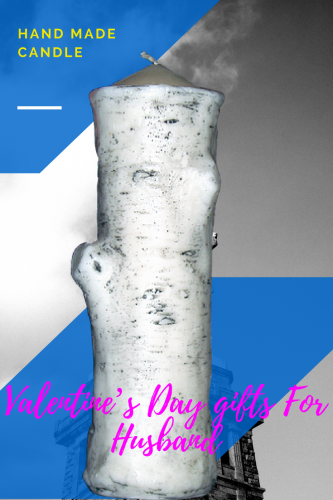 Valentine's Day is a day for celebrating love! Small and simple things with meaning always work the best. It is important to keep the flame burning in your married life. You can do that by:
Leaving "I Love You" notes in the pocket of his shirt
Posting love quotes on Facebook
Sending "I Miss You" text message while he is at work
If it is a special occasion for a wedding anniversary or his birthday then go a step further and write a heartfelt message on a greeting card for him.
Use your imagination and let your heart do the talking. Your own personal touch, however clumsy, will add authenticity to the message you wish to deliver to your spouse.
The romantic gestures like above can very well become the foundation of the intimacy in your relationship as husband and wife.
Conclusion
Valentine's Day can be the perfect day to be a little goofy, select any of the above valentine`s day gift for a husband that he will really love. He`s still a boyfriend? check an earlier post on gifts your boyfriend will love. Don't put so much pressure on yourself to be super romantic. Just be yourself. A little inspiration and a nice card can go a long way!
Looking for more gifts? check this earlier post to check other gifts that are really useful and long-term. Have any questions? leave me a message below. Know someone who could use inspiration for getting gifts, share this post with them.