Product Name: Kendal Professional Diamond Microdermabrasion Machine HB-SF01
Overall Ranking: 4.0 out of 5
Price: Approximately $200.
Manufacturer: Kendal
Introduction
Kendal Professional Diamond Microdermabrasion Machine HB-SF01 is one of the best Microdermabrasion machines around. This product has specific abrasion tips for different areas of the body such as for neck, eye area, face, etc.
While this does complicate the usage for most people accustomed to simply using a single machine without bothering to check the tip functionality, it also ensures better and long-lasting results that professionals offer.
The Assembly in Kendal Microdermabrasion machine includes
9 "diamond" tips, ranging from fine, to coarse.
2 dermabrasion handles made of stainless steel
Plastic "oil filters" that are cylindrical in shape
Cotton filters
Air Hose
Power cable
Machine with vacuuming included.
The machine comes with 30 inHg vacuum power. It works with 110 plug.
Pros:
Affordable
Better vacuuming
More tips so more effective results as well as less painful. It can be used for areas under eyes, as well as legs, by just changing the tip.
Perpetual system, unlike crystal based microabrasion products, for which crystals have to be bought.
The design ensures that the vacuum is not damaged. This is done by including cotton filter between the vacuuming interface.
The screws or threads of screws in this device are superior, and do not get damaged easily, unlike in many other microdermabrasion products.
Durable.
Its suction power can be used to remove blackheads. For that it should be slowly moved to 3/4th of the suction power.
Because the wand is made from Stainless steel, it does not crack unlike in other products in which they are made from plastic.
It is CE certified in so far as safety is concerned.
Its parts are also available and will be available for the lifetime of machine.
It helps to recover cost of facial at regular beauty parlors within two or three usages.
Cons
People with sensitive skin may have trouble with this product so the tips need to be sterilized before usage.
While it does have superior suction capabilities, the medium level suction ability is a suspect. Best level is around 15.
The machine is not too small, to be carried out in handbags. It also looks too ordinary.
It does not have many technologically sophisticated features like some of the other microdermabrasion machines currently available in the market.
Tip can bruise if not moved constantly or suction is too high, or the tip is pressed too hard on the skin. Therefore, experience with using such product is almost necessary.
Assembly directions are not easy for everybody to understand and there are too many parts to be assembled.
It works with 110 plug and cannot be used with 220 v plugs.
Rather expensive.
Who It Is For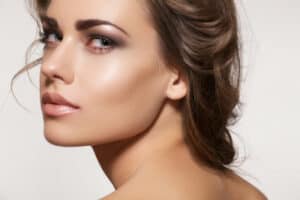 Kendal PROFESSIONAL DIAMOND MICRODERMABRASION MACHINE HB-SF01 is an ideal product for reducing wrinkles, creating an even tone, apart from reducing scars, acne, blackheads, and other skin imperfections.
To me, this is the go-to for that lasting healthy glow and confidence without visiting a salon.
Therefore, it is a product for women of all age groups. However, the complex assembly makes it more of a product for older women, and professionals. Many aestheticians use it and have satisfied customers.
The product may be best suited for the intermediate level of skin damage as there are products with better features around for the advanced level but that's not for here or now.
This product is designed to
Exfoliate skin, and remove debris on the skin,
Resurface it.
pigmentation reduction,
Reduce wrinkles, scars, and blemishes.
Remove acne and acne scars.
The end result is glowing skin that looks considerably younger, and supple. The effect lasts longer than conventional methods.
The effect of this machine is considerably cheaper when compared to cosmetic surgeries, apart from being less risky. But that is what all Diamond Microdermabrasion machines do, or claim to do.
Kendal PROFESSIONAL DIAMOND MICROABRASION MACHINE HB-SF01 scores above them, because of diamond tips of different sizes.
It is useful for penetrating delicate skin areas as well as more rough and tough areas, without causing much pain. It also scores because of better vacuuming machine power.
Any microdermabrasion machine should have good quality vacuuming integrated.
Why is that? so that the dead cells and debris that microdermabrasion tips manage to dig out, are sucked away immediately, and do not land in any other skin pore.
You may like
Home use microdermabrasion machine
Microdermabrasion machine benefits
Not only is its suction power good, but the design also ensures maintenance by integrating the filtering mechanism.
Support
The product comes with a one-year warranty. There is no customer support.
Price
As of date, this product is available in the range of around $200 but remember there might be shipping charges.
Final Verdict
The extent of skin damage should be considered before purchasing any skincare product. Kendal PROFESSIONAL DIAMOND MICROABRASION MACHINE HB-SF01 offers many of the benefits that are expected of it.
There are cheaper microdermabrasion machines around, which may not be as durable, or well designed.
This product gets strong recommendations because of better results, even though it is pricy. But having said that, pricy is always a question of what you`re ready to pay.