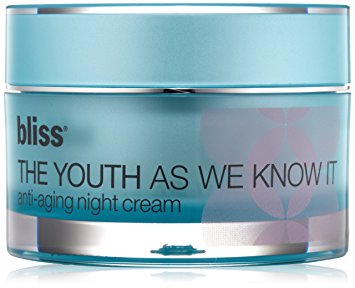 We all know how the story goes.  We notice a few wrinkles appearing on our face and run to the drugstore to find the best anti-wrinkle creams or maybe a miracle cure.
You and I know there is no such thing, but we can invest in quality anti-wrinkle creams and reduce the looks of those wrinkles.

Today, I present to you the 3 best anti-wrinkle creams you can buy.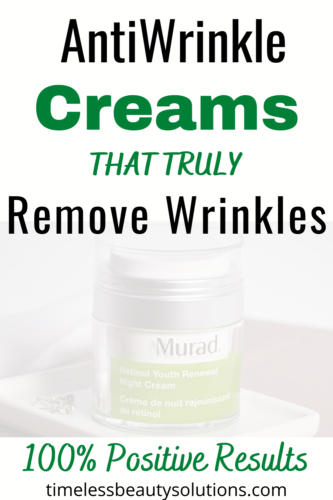 As we grow older, our skin loses the elasticity, moisture, and thickness it once had.
Wrinkles and fine lines start appearing and the creams you used before no longer work as well, that`s when you need to find the best anti-wrinkle creams.
The ability of our skin to protect itself from environmental damage is decreased as we grow older.  Sooner or later, creases and wrinkles form. It's that simple
The 3 Best Anti Wrinkle Creams You Can Buy:
Elizabeth Arden Ceramide Capsules
:
Elizabeth Arden has developed an amazing product with Ceramide.  Ceramide is the necessary lipid that makes up our outermost skin layer.
Simply put, it's the mortar that holds the cells of our skin together.
This product is a single-dose intensive treatment that comes in a capsule.  Applied to the face and neck it revitalizes and retextures the skin.
It is lightweight and silky.  Also, being non-greasy it absorbs quickly which provides a nearly instant result.
Some of the other great benefits this anti-wrinkle product provides are:
 Supports the collagen that is naturally in the skin
Improves clarity and tone
Relieves dryness
Hydrates the skin
Softens and smoothes the skin.
These capsules are easy to use by twisting the tab gently twice and squeezing onto the fingertips.
Then, just smooth over clean skin. It can be used both morning and night.
I highly recommend these capsules this is one of the best anti-wrinkle creams out there and is truly amazing. It can be used both morning and night.
---
This product is also another very good anti-wrinkle cream.  It contains three ingredients that are perfect for skin regeneration and smoothing those wrinkles and lines.
Let's look at these three amazing ingredients:
Retinol SA works at continuously renewing your skin all day long. Retinol SA has scientific research proving it is better than Vitamin A when it comes to absorbing into the surface of the skin.
Hyaluronic Acid reduces the appearance of fine lines and wrinkles by speeding up activity on the surface of the skin.
Glucose Complex plumps up the lines of the skin by hydrating and leaving the skin smooth and rejuvenated.
Neutrogena Wrinkle Repair has an exclusive sustaining action that works at renewing the skin all through the day.
This helps reduce the wrinkles and fine lines fast while diminishing the look of age spots.
I recommend this product to anyone that is looking for a mid-price anti-wrinkle cream that does a fantastic job!
While using Neutrogena wrinkle repair, you should also have at-home Microdermabrasion to speed up the process of removing fine lines and wrinkles.
Read my earlier post on how microdermabrasion works.
---
This product is a bit on the high end when it comes to price, however, it is well worth it!
It has a clinically tested mixture that reveals fresh younger appearing skin in eight different ways.
Nuskin AgeLOC Future Serum mixes the wonderful benefits of other different anti-aging products into one product.
The key ingredients in this product are:
Equol helps skin act like younger skin. It helps improve skin cell turnover, which gives your skin glow, smoothness, and resilience that is more youthful.
A blend of bamboo and pea extract mixed with glucosamine is a blend that is a very strong anti-aging combination.
These together reduce wrinkles, fine lines, and accelerate the turnover of the skin cells.
Some of the great benefits of this product include: reducing the appearance of pores, increasing hydration, reducing the look of wrinkles and fine lines, evens skin tone, firms and brightening the skin, reducing the color of age spots, and other discoloration. increases skin turnover for smooth skin.
The Best Wrinkle Cream Need Not Cost A Fortune
Treating age spots, fine lines and wrinkles don't necessarily mean countless visits to a salon for facials.
Choosing the best anti-aging night creams, anti-aging moisturizers, SPF creams, skin serums, and high-quality eye creams can make a real difference to your skin.
There are brilliant skincare products out there that are affordable and easily available over the counter.
How To Choose The Best Anti Wrinkle Cream
No matter your skin type, as you get older and start looking for the best ant wrinkle creams and products they should contain  Retinoids, Hyaluronic acid, Ceramides, Peptides and Antioxidants.
Know your skin type:
Skin types differ and so do anti-wrinkle creams, so it pays to buy products that suit your needs and skin type for best results.For winter months, the skin is drier so you should use rich moisturizers. If you live in hot and humid areas, you tend to sweat more and should use mattifying creams or moisturizers to reduce the shininess.
For those with sensitive skin, you should use gentle washes and moisturizers and avoid anything that will irritate your skin.
Neutrogena Hydro Boost is gentle, fragrance-free, and hydrates the skin while restoring the skin's natural barrier against moisture loss.
What About Product Packaging?
This is something many are not familiar with but some skincare products downgrade when packaged wrongly.
Retinols should be packaged in dark containers and you should always close tight after use.
Have you ever noticed that your retinol has reduced since the last time you used it? this is because if not stored properly in a dark container and stored in a dark place, Retinol will evaporate.
Conclusion On The Best Anti Wrinkle Creams
There you have it, the 3 best anti-wrinkle creams that I highly recommend for your everyday skincare.
Each product is easy to use and each gives your skin a more youthful and brighter appearance that I think, you will agree, are products worth trying.
To speed things up, I`d suggest having weekly microdermabrasion check my earlier post to understand more
You can purchase any of the above wonderful products at Amazon or any other online stores, personally, I do prefer Amazon because they do have free shipping and Amazon is trusted and ships to almost all countries.
Any product you need a review let me know. If you liked this post, go ahead share it on your social media.