This post will cover ways to remove age spots at home, because, you can achieve so much at home at a fraction of a salon.
Age spots are a bane; a dead giveaway of the person's age.  They appear on parts of the body that are frequently exposed to the sun including, the face, hands, shoulders, arms, and back.
Many creams and different methods like microdermabrasion or botox fillers have been launched in the market, which promises to help with these aging signs.
But the effectiveness of those creams and concoctions ceases after some time because the skin gets accustomed to such formulations.
Luckily, there are some home remedies with long-lasting results. These remedies that are meant to remove age spots at home only require some regularity in the application and take slightly longer to show results.
Therefore, you can use these remedies and expect just as good results without spending the cash you don`t have to.
Advantages Of Home Remedies For Age Spots
They have a lasting effect;
They don't cause any side effects and if any, fewer side effects.
They are easy to implement.
Most you already have at home.
You know exactly what`s in the product.
You are free to experiment.
The products you need are affordable.
Most have no chemicals or preservatives.
You can make as much or as little as you wish.
They don't cost a fortune
Different Types Of Home Remedies To Remove Age Spots:Lemon juice
Almost every kitchen has this fruit. It is used almost every day in cooking or at least every other day.
Lemon juice is known to be good for removing any dead cells blocking the pores on the skin.
Citric acid is the agent in lemon juice that helps to remove those dead cells. It also kills any bacteria.
But the best part of lemon juice is, it bleaches age spots. It needs to be applied once or twice each day.
Though the age spots will not disappear completely, they will be less pronounced after some time and will take some time to look dark again.
That is when the process can be repeated. Note that lemon juice needs to be dabbed, and not rubbed.
The very little quantity of juice is needed for it as citric acid can also burn the skin. Therefore, diluted lemon juice can also do help in achieving the objective.
Peroxide is available at any chemist's shop and is perhaps the most effective agent against age spots.
But the concentration is crucial. 3 percent of this compound is all that is needed to fade age spots.
The method of using it is slightly longer. After applying it, some moisturizers may have to be rubbed in as the skin feels dryer because of hydrogen peroxide.
Ideally, use a facial cleansing brush like this one to rub in the moisturizer.
Facial brushes may seem the unnecessary addition to the already complex and confusing beauty regimens.
But there are some merits in the claims of these brushes manufacturers.
Basically, these brushes exfoliate, and rejuvenate the skin, removing dirt, grime, and any makeup.
In the process, they also make it easier for any agent, cream, oil, moisturizer, etc., applied to the skin to enter the skin.
Effectively, the skin is better moisturized. Such moisturizing is crucial for preventing the skin from looking aged.
Hydrogen peroxide needs to be applied once only each day.You would need cotton swabs for applying this compound.
Aloe vera
Removing age spots is one more benefit from Aloe vera gel. This can be applied once each day although twice a day would give better and faster results.
Like lime juice, aloe vera gel also removes dead cells. But unlike lime juice, aloe vera gel helps to promote the growth of new skin cells. The only drawback is that not everybody has access to aloe vera.
But there are stores that sell aloe vera gel with some additives. Use one that has very few of those additives.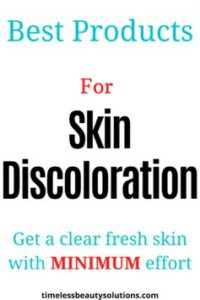 Buttermilk
Buttermilk can be applied to the skin like lime juice or aloe vera gel. Again, it may be applied once or twice each day and left on the skin for a full half an hour or so.
Lactic acid is the agent in buttermilk that works the miracle by exfoliating the skin's pigmented areas.
The drawback of this remedy is that there may be buttermilk smell, which may have to be washed away and covered by other scents. Read more on buttermilk here.
Concoction
There can be a concoction made from vinegar (acetic acid), lemon juice (for fragrance), horseradish root (grated), and rosemary oil (essential).
The rosemary oil soothes the skin while the acids do their job of exfoliating the skin and bleaching. Check a related post here if you missed it.
This concoction in your kitchen can be used twice each day though applying even once over a long period can help to reduce those age spots.
Remove Age Spots At Home With Over The Counter Products
Not everyone has the time and patience to use DIY products, if you want faster-acting, more potent treatment, these over the counter products are affordable and will produce results in no time.
It helps to clean your face well and remove dirt and oil, microdermabrasion removes skin deep dirt and oils that manual washing will not do.
Skin discoloration shows your age more than it should, but there is no reason you should not be able to remove these age spots with ease.
Check this post on different microdermabrasion machines meant for home use at your convenience.
Conclusion on Age Spots Removal
Hope you realize you do not always have to spend a lot of money to fight those unsightly dark spots, everyday items mentioned above that you already have in your kitchen work just as well.
Any of the products you might not have in your home will cost just some cents in your local supermarket, and best of all these are items you can use later to remove age spots at home.
What are your home remedies for fighting wrinkles? what works for you? would love to hear from you so do leave me a message below.