The best portable microdermabrasion machine that you can just pop in your handbag and use anywhere as it is also battery powered.Welcome
Pro Diamond Microdermabrasion Handheld DermaBraze MD System
The DermaBraze MD system is a portable personal diamond microdermabrasion device for exfoliating, bright therapy dermabraze and resurfacing the skin, apart from extracting away the dirt, whiteheads, blackheads, sebum, and dead cells on the skin.
The overall weight of this product is about 172 grams.This best at home microdermabrasion machine is about 20.3 cms in length, 5.1 cms in breadth, and 3.8 cms in width.
The system can be used in different parts of the body as well, making this microdermabrasion system one of the most comprehensive devices in the market as of now.
The handheld device is ergonomically designed with contours that make holding it easy.  The top part of this handheld unit holds the replaceable tips. There is a lithium battery integrated within the handheld unit.
The tips are for different skin types and are classified as Standard Diamond, Sensitive Diamond, and Precision Diamond. The unit includes a vacuum motor for facilitating suction.Check an earlier post on microdermabrasion tips here if you missed it
In all, this unit is capable of four different speed levels, letting the user infuse any creams or serums deeper and more easily apart from letting the user select speed of suction.
Usually, microdermabrasion is a complex procedure. But this product is not only small in size; it also has tips that are easy to orient towards wrinkles or age spots for better results.
It is easy to carry from one place to another and has a lithium battery in it for a wire-free performance.
Different diamond tips are there for skins varying insensitivity. Therefore, it need not be too painful a procedure for people with sensitive skins.
Likewise, those who do not have sensitive skins would be glad to find a product that gives them better results.
Pro Diamond Microdermabrasion Handheld DermaBraze Kit includes:
• A hand-held unit;
• A charging cord;
• 3 diamond tips;
• A small stand.
How does this product work?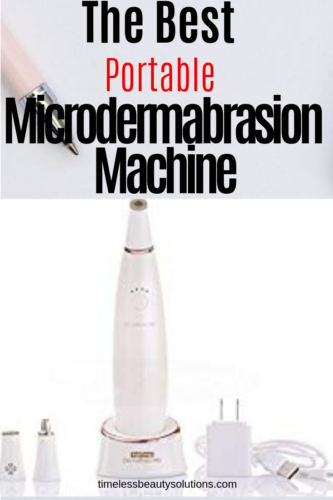 Basically, the product scrapes the dead cells, and debris accumulated on the skin, using the diamond tips.
Once this is done, the vacuum motor sucks away the loosened dead cells, sebum, dirt, etc.
This process manages to remove the dirt blocking pores on the skin, helping them to be squeezed back into their original shapes which the dirt had distorted. The skin also breathes more easily.
The scrubbing process increases the blood circulation prompting the cells to produce collagen and other proteins that help to firm up the skin as the cells on skin receive more nutrients now. In turn, improved circulation leads to an increase in the birth of new cells.
Some of the skin care products such as creams, serums, and lotions can also be rubbed in using Pro Diamond Microdermabrasion Handheld DermaBraze.
Such mechanized tools offer better results from such products than manual application because of the creams, lotions, serums, etc., penetrate deeper.
For now, the product seems to have only two major drawbacks, i.e., it has a small Lithium battery which may have to be periodically replaced. It is a tad expensive, though the overall expenses on skin care would come down with this product.Check out an earlier review here. 
Considering the expensive laser treatment as an alternative, this product is definitely worth a look.



Benefits of using Pro Diamond Microdermabrasion Handheld DermaBraze
Reduction of fine lines, and wrinkles.
Reduction in age spots, liver spots, whiteheads etc.
Makes the skin supple and resilient
Where To Buy A Portable Microdermabrasion Machine
You can buy Dermabraze portable microdermabrasion machine from different online vendors, the best place I find to purchase is Amazon.
Benefits Of Purchasing From Amazon
You can read reviews from other users before you buy
Quick and secure shopping
Return policy
Free shipping
I hope you found value reading this post if you know anyone who can benefit, go ahead and share with them in social media. If you have questions, please leave me a message below, would like to hear from you.