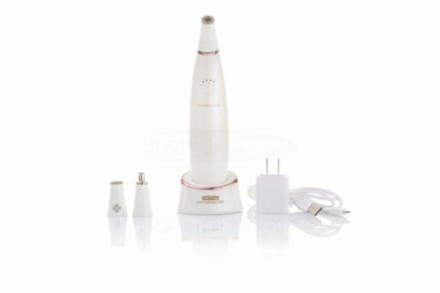 The Pro Diamond Microdermabrasion Handheld DermaBraze MD system is a professional grade skin treatment device designed for home use. It comes with a spa-quality diamond tip and 4 level suction extract to remove debris, dirt and oil from clogged pores to reduce breakouts. It also helps skin care products get deeply absorbed by the skin for a healthy glow.
Skin treatment using Pro Diamond Microdermabrasion handheld device can be used on your face, neck, chest, hands, feet and stretch marks to remove fine lines and wrinkles. It depends on what you need but all Microdermabrasion machines are set to deliver great results for your skin.
It reduces enlarged pores including whiteheads and blackheads. It exfoliates the skin thoroughly so you can discover a younger and fresh looking skin.
This 3-in-1 multifunction device is safe and effective to use, even if you are a beginner. The lightweight and portable design of the product makes it possible to carry it around with ease. You can actually put it inside your purse and carry it with you even on holidays.
It takes just a few minutes to use this device on your face and neck, and you are ready to go with spa-like results. Before using the product for the first time, you must make sure that the device is fully charged. When the charging completes, all four lights will lit up indicating that the device is ready for use.
After you are done with treatment using this device, you must apply a good toner followed by a moisturizer to prevent your skin from drying out. You must also clean and sterilize the device using some alcohol and hot water. Read the instructions on the manual to clean the machine.
ThePro Diamond device comes backed by 60 Day Money Back Guarantee and full one year warranty so this is a no risk deal.
Features:
Spa-grade microdermabrasion machine fights signs of aging
Professional quality diamond tip to exfoliate skin
Easily adjustable suction levels to get best results
3 different tips – sensitive diamond tip, precision diamond tip, and standard diamond tip
Portable and easily rechargeable
Easy and simple to use with 4 power levels
60-day money back guarantee
Pros Of Pro Diamond Microdermabrasion:
The Pro Diamond device comes in well-packaged unit with the 3 different diamond tips and many filters. You can use different tips for different areas of the body to get maximum results.
There are four different power level settings for the device and you can use the one that suits your skin type. If you are a beginner, we would recommend that you start with the lowest power level and then move upwards if required.
You need to charge the device completely before use, and when it is fully charged you can see all four lights lit up. The product comes with an easy to read manual containing instructions on how to use the product correctly.
If you lose the diamond tips or they get damaged, you can always get the replacement tips and filters within a few days.
This easy to carry and use device can give you wonderful spa-level results in just a few minutes. It is definitely worth the price as you no more have to visit the spa or clinic for a microdermabrasion session. You can get it done at home at a fraction of the price.
Cons:
We felt that the device is not as powerful as other rival products available in the market. So, although it may be a good beginner's product, it might not work well for those with stubborn skin problems like deep wrinkles and acne scars.
Some customers had problems with the charging port that seemed to not work at times. There have also been complaints regarding diamonds falling out of the head. However, in case the tip gets damaged, you can always order a replacement part or return the product if it has been less than 60 days.
Verdict:
If you are looking for a light and portable microdermabrasion device that you can carry around with ease wherever you go then the Pro Diamond Microdermabrasion Handheld DermaBraze MD system can be a good choice.
However, most customers have said that the product is not very powerful although it does its job well. It can remove dead skin cells and fight the various signs of aging such as fine lines, wrinkles, sagging skin, age spots and so on.
You can expect to see visible results after a few uses. If you are looking for something more powerful please check our other top microdermabrasion machines here.
If you are a beginner in your 30s, seeking a microdermabrasion device that you can use at home, the Pro Diamond is a good choice. Those with deep wrinkles and stubborn skin conditions may need a more powerful device to get desired results.
You can purchase Pro Diamond Microdermabrasion offline at your local store, if you shop online, Amazon is the best place to buy, they have free delivery and prices are the best I could find while comparing online stores.
If you have any questions, please do leave me a message below, will be glad to hear from you.