There is no denying it, we are sometimes forced to guess when it comes to affordable dry skin care products and body creams, or feel compelled to buy foreign products we`ve never heard of and can`t even pronounce the active ingredients.
The most difficult thing to do when it comes to your skin is to find the perfect skincare line suitable for your skin. There are so many choices out there.
It is actually no wonder you as a consumer gets confused by all these choices, should you go for luxury brands to get it right or just settle for hero ingredients in affordable products?
All the claims of a product being "the best skin care line" is usually hype because I don't think there is one skincare product that can be called the best among the thousands of products on the shelves.
Skincare lines might have the best facial cleanser to remove dead skin cells but then you find that their other products do not meet specific skin concerns you may have and you have to look elsewhere.
That`s totally ok, go for what works for YOU. An effective skincare routine does mean using products from one line. Find a good skin-care routine then use products that suit you and your budget.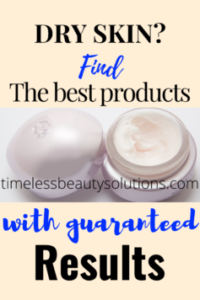 We have to also understand that there are many different skin types, and therefore varieties of products are made to suit each skin type.
Only a few products will be suitable for all people with different skin types.
Like everything, sometimes just because something is more expensive does not mean that the quality is higher, and some of the best dry skin care products and brands are not the most expensive skincare brands.
Should You Buy Cheap Dry Skin Care Products?
When it comes to skincare, it is also true that paying less is not worth it when your money is getting you a second-rate product. So as already said go beyond your favorite products and try drugstore products.
Because of this, it's often a good idea to test the products before you decide what you think is the best skincare brand for your skin.
The best you can do is find skincare products that have natural ingredients that won't be harmful to your skin and also affordable for you.
In this post, I will give you some skin care tips to achieve the best using affordable dry skincare products and where you will not likely have to break the bank to buy them.
We have decided to do the job of listing out some of the best affordable skincare brands in the beauty industry that folks swear by to make the decision for you. They are:
Check
Neutrogena Hydro Boost Fragrance-free Hydrating Body Gel Cream
This is a super hydrator that penetrates the skin almost immediately after application. It is clinically proven to be fragrance-free, and paraben-free, and a  pea-sized amount goes a long way. The body gel cream with Hyaluronic Acid instantly hydrates dry. skin.
Weleda:
CeraVe Skin Renewing Night CreamYou can never go wrong with CeraVe's Skin Renewing Night Cream no matter how demanding your skin is. Cerave works well even for those with acne-prone skin. Simply said, a good all-around product.
This is a dermatologist-recommended product( also developed with dermatologists) and contains three essential ceramides: Niacinamide, Peptide Complex, and Hyaluronic Acid.
With over 33,000 4.5 stars from users on Amazon alone you know it will be right for YOU too.
What makes Cerave so dear to many is not only the quality but value for money.
I`m never one to go for cheap products when it comes to skincare but Cerave is a staple in my skincare cabinet.
With its creamy texture, this is suitable as an all-body or as a face moisturizer.
You may like:
Cerave moisturizing cream reviews
Another all-rounder face cream and rich moisturizer for those who want everything in one bottle.
Dry skin tends to break out in eczema, and this lightweight formula works brilliantly for eczema and sensitive skin.
The downside to some might be the eucalyptus scent which can be overpowering if you have a sensitive nose but it is non-irritating.
I love that it`s suitable for all skin types and safe enough even for those with sensitive skin. Even if you have the driest, flakey skin, after just one use, your skin feels hydrated and smooth. The dry patches on your skin will soon be history.
These are a few of the top dry skincare products and brands we're able to speak about, but there are still others that also have quality products that might turn out to be well-suited for your skin.
A good example is la Roche-posay, I did not include them on the list because I wanted this list to be more on affordable products that get you results.
The body shop products should have made it to the list too( they have brilliant products)but I`ve always had mixed results with the body shop skin care products line.
The best skincare brands are certainly not necessarily those which are expensive, the best skincare products for you will be one which is affordable for YOU and that has proven to be safe, and gentle on your skin.
When deciding to pick the best skincare product, forget the brand name and give attention to picking those products with natural ingredients that have been scientifically proven to repair, rejuvenate and make the skin look younger and brighter.
Surely this is also not one best natural skincare brand. You will need to research extensively and find the product that is best suited for your skin.
But if you`d like to try any of the above products click here to view them from Amazon as they offer the best prices online or you can purchase from your local store.
Dull skin tone, dead skin cells, cracked dehydrated skin, there is no overnight formula for dry skin, improvement to the flakiness on the skin is to care for it every day if possible.
If you have any questions, please do leave me a message below, would like to know how you choose affordable skincare products, do you go for the brand names or do you try things first? Leave me a comment below.