One of the most common problems that women face is puffiness under the eyes.
It reduces the size of the eyes and makes you look older.
I`m sure you`ve seen yourself in the mirror and for a minute wondering where the fresh-faced woman went when you`re faced with a tired, saggy face you feel is a stranger.
Dark circles and puffy eyes are normally associated with aging or ignored as a genetic condition but is it true?


This post will check at different ways on how to get rid of dark circles from under the eyes.
Eyes are the most striking part of the face, allowing expression of a gamut of emotions without using a single word.
To top it all, they can be used to make the face seem more attractive thanks to mobile eyeballs, graceful eyelashes, and eyelids.
Many are fortunate to be blessed with beautiful eyes.
Some go to extra lengths to make the most of whatever God blessed them with, while others have no clue about how to use the potential of these beauty assets.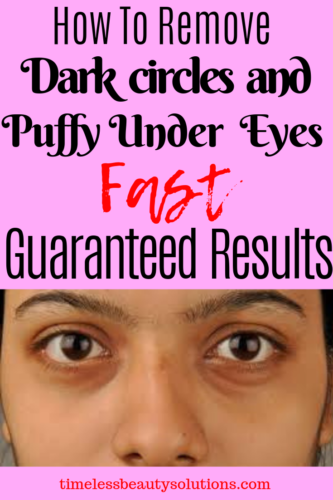 Causes Of Puffiness Under Eyes
Puffiness under the eyes is not always because of aging, or genetic makeup.
It can also be because of sinus, crying, salty foods, allergies, sleeping position, dryness of the eyes, inadequate sleep, excess alcohol intake, UV rays, smoking, or even letting the makeup remains on the face at bedtime.
So no matter how tired you are at the end of the day, always remove your makeup before bedtime.
A more serious condition that shouldn't be ignored is related to a kidney problem.
In such a case, the turgid bags can be found both in upper as well as lower eyelids, and they tend to shine like balloons.  The thyroid problem too can lead to puffy bags under the eyes.
Health conditions such as lupus connective tissue related problems and dermatomyositis also cause puffiness under eyes but that`s not here or now.
How To Reduce Under Eye Puffiness
As you`ve read above, most of the causes are simple and easy to prevent.
For example, people need to get adequate sleep and try changing their sleeping positions for reducing puffiness.
Your sleeping position also helps reduce wrinkles as mentioned here.
Reducing salty foods, smoking, and alcoholic beverages help, as does removing any makeup before going to sleep. Dehydration and heat can lead to the mucous membranes in the eyes being irritated.
A preventive method is to drink plenty of fluids, and use cucumber or cold tea bags on them for some time for relief.
Ideally, though, drinking water should be avoided around bedtime, if possible.
In so far as sinus related puffiness is concerned, there are ways to clean up sinus by pouring some saltwater, into one of the nostrils and draining it out from the other.
(sounds nasty I know) Allergies can be avoided, but not prevented all the time so they may need some medication.
Sunscreens are available for applying under eyes, or on a face. Likewise, there are eye creams like this which is my favorite from Amazon too for preventing dehydration of skin near the eyes.
As the skin around your eyes is more delicate when compared to the skin in other parts of the face.
Camouflaging And Treatment Of  Dark Circles From Under The Eyes
The question of puffy eye treatment, or camouflaging it arises when such puffiness cannot be prevented by simple methods.
It is obvious puffiness caused by health conditions such as kidney problems, or a thyroid problem, needs to be treated by a medical professional.
Allergies and other health conditions too require medical treatment. In the case of genetic-related or age-related puffiness, camouflaging is used widely.
Concealers are used for such camouflaging.
Puffiness related to age usually results in dark circles as well. Therefore concealers should be selected carefully.
You want your concealer to blend with the color in other parts of the face while covering those dark puffy regions under the eyes.
There are top eye creams available in the market for increasing collagen production near the eyes.
These reduce the bagginess under eyes that are usually associated with age so if you`re thinking of how to get rid of dark circles under the eyes Collagen creams are what you need.
The effect of concealers is temporary so such creams have to be used regularly for a longer-lasting effect.
Chemical peels are effective in some cases as they tighten the skin, which in turn reduces the baggy appearance under the eyes.
Check an earlier post here on chemical peels and how they work.
Expensive options such as laser surgeries are available, but they are better avoided as results depend upon the competence of the cosmetic surgeon undertaking such surgeries.
Surgeons also use fillers to ensure the evenness and tautness of the skin. The corrective surgery for eyelids is known as blepharoplasty.
When done without laser it can cost almost $2500 or so, while laser surgery cost may be almost $5000 as of date, and depending on where you have it done.
There are no miracle remedies for puffiness under eyes and there is no quick permanent fix either, you have to work at improving things.
Best Creams To Get Rid Of Dark Circles From Under The Eyes
Elizabeth Arden FLAWLESS FUTURE(please note that the image above is not of the product, I could not get a clear image of the product)
Powered by Ceramide Eye Gel Elizabeth Arden does it again with her advanced formula containing Ceramides, which have a protective protein complex and strong brighteners that help reduce signs of aging.
I found that this gel has a luxurious feel and brightens instantly.
It seemed to lessen the signs of fatigue or stress that I get around my eyes and caused me to look more awake and fresh.
It has a sensation that is refreshing in contact with the skin and helps reduce the signs of crow's feet.
They have added Algae Extract which helps to reduce the look of puffiness and dark circles.
Benefits You Will See Immediately:
Stress on the skin is relieved.
Skin texture is improved and gives you a radiant, smooth look.
Skin is moisturized and hydrated
Benefits Of Long-Term Use:
The look of dullness is minimized.
Repair the early signs of aging.
Reduction of the appearance of pores.
Correct the appearance of crow's feet and lines.
Eye fatigue is relieved.
Clinique has improved the formula in this wonderful product and it now provides longer hydration.
It has added macro-molecules that allow faster and more effective moisturization.
With these improvements, this formula gives you immediate moisture and helps plump up the skin's resistance to dry and fine lines.
Moisture Surge Extended Thirst Relief is light and leaves your skin plump with hydration for 24 hours.
It diminishes flakiness, tightness, and fine lines, leaving the under-eye skin and face feeling firm, vibrant, and supple.
What I like, too, is that it accommodates a shift in environmental humidity.
Benefits Of This New And Improved Formula:
Has a calming effect on your under-eye area skin.
Can be used on all skin types.
Lightweight.
Absorbs quickly.
Protects against irritants from the environment.
For diminishing the fine lines, under-eye puffiness, and wrinkles that are caused by aging, sun exposure, smoking, and squinting, this product will help add moisture to the area and plump up the skin.
It also provides protection from environmental damage, which is a huge benefit.
I highly recommend both products to add to your daily skincare routine and you will notice a difference in those under eye wrinkles in no time.
Under-eye, wrinkles are a no-no if you want to look your best, fight them with one of the wonderful products.
While using under eye cream, always apply the best under eye concealer for dark circles.
Creams, moisturizers, and Serums do not work overnight so concealing is advisable till you start seeing the changes you want.
Before applying any creams I`d advise on treating your face to microdermabrasion as it smooths out lines, wrinkles and helps remove dark spots.
The good news is that there are home Microdermabrasion machines so you can treat your skin whenever you want.
Another reason I really like any of the best under eye cream for dark circles above is that they are quite affordable, dark circles under eye cream must not cost a fortune, both come at under $40 each, so well worth the money.
Both products can be bought from Amazon, or here your local beauty store, or at one of the many online shops.
Conclusion On Getting Rid Of Dark Circles From Under The Eyes:
As can be seen from above, puffiness under eyes is not the end of everything but you should also remember there is no fix it all remedies for puffiness under eyes.
There are simple preventive measures that can be used by one and all. In addition, there are treatments available.
If you feel that your puffiness can no longer be camouflaged, find a better product, work with creams and concealers.
There is a remedy there for every age group notwithstanding the fact that they have such puffiness due to genetic factors.
It is time to cheer up indeed as more and more research will only help to bring more solutions, which is not only effective but also long-lasting, the beauty industry never sleeps.